Riding critique, please.
---
I only have one picture sorry, hopefully somebody can still find something... The comments can be geared toward me or the horse. Don't worry about hurting my feelings, i'm striving for perfection. ;)
I am aware of mulitple things already.
-I fixed my helmet after this picture
-Bend my elbows
-Work on my heels
-Thumbs up
Anything else?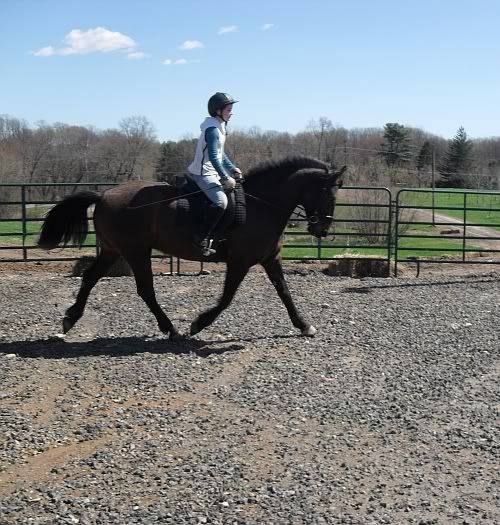 ---
emmy &TOBY

my blog-- coming soon ♥
I ride western, but maybe lean back a bit more and put your legs forward? Gorgeous horse! :)
Weanling
Join Date: May 2009
Location: Charleston, South Carolina
Posts: 601
• Horses:
8
You look nice.
What jumps out at me is that you could lengthen your reins and sit back a bit. The line from your ear, shoulder, hip, ankle is a bit off. You need a bit more bend in your elbow (again, lengthing the reins will help this) and you need to reposition your hands so your thumbs are on top.
I like the position, just maybe lift hands and shorten reins to keep the line. Your hands are low and that is what is distorting your line from elbow to bit. Very nice position though!
Are you trotting?? because if so then I dont think you are on the correct diagnal (can't spell) you also look like your body is turned into the inside. other than that you look great! I love the horse by the way!
If anything I think you need to shorten your reins and carry your hands higher. That will give you the elbow to bit line that you're looking for. Were you siting or posting the trot? If you were sitting I'd like to see you sit straight and tall, right now you do have a slight lean. Also, make your you don't slough your shoulders, roll them back and almost push them down. Make sure you're riding with your core. (All advice I was just given myself! Ha ha)

I'm schooling the basics as well, and while I can never seem to get pictures on our good days, which are starting to become almost EVERY day, we seem to be in the same place as you. I'm telling you, you can never do enough of the basics. I just recently tweaked this one thing about my position after seeing some pictures and was riding a totally different animal.

I overall really like your riding from what I see in this picture, and your horse is great.
Keep at it!
---
I give myself very good advice, But I very seldom follow it
You look good. I like your posistion. Lift your hands up a bit thumbs up. Also are your heels down? I cant tell from the picture.
Weanling
Join Date: May 2009
Location: Charleston, South Carolina
Posts: 601
• Horses:
8
I'm not being smart.. but seriously ... if she shortens her reins any more the horses chin will be touching his chest. I'm just not seeing how they can be much shorter. Just Saying.

She should be driving him into the bit with her seat/legs, not by keeping such a tight hold on him. No?
Weanling
Join Date: Jul 2009
Location: The great, white expanse of Maine...ugh!
Posts: 400
• Horses:
3
Rather than equitation (although it is important), we need to analyze our riding pictures for function. Although your basic eq is pretty good, you need to be more of a 'rider' and less of a 'passenger.' Now, this is all just from one picture, but in this shot you're very much riding 'front-to-back,' when the opposite is what you want. What I'm infering from this picture is that you want your horse in a 'frame' (hate that word.), but you haven't taken the necessary steps to get that nice, round outline we english riders like so much. If you take a look at the training scale: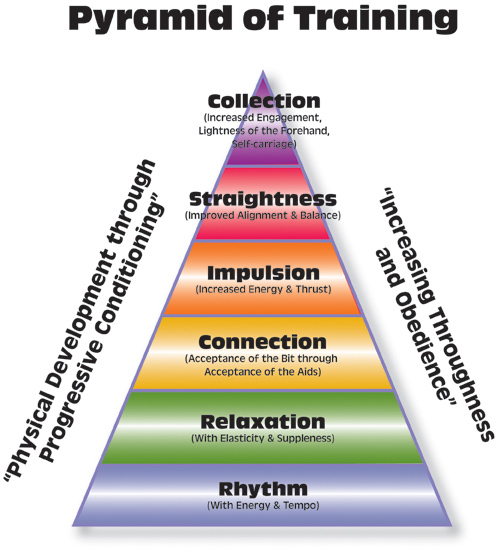 you will see that collection - or, the time when roundness and on-the-bit comes into play, is the very last factor. Everything else needs to be in place first. What I'm seeing is a lack of hind end engagement, because the rhythm and impulsion was sacrificed in exchange for a pretty headset. There is also limited relaxation, because of your tight hold on his mouth. Roundness needs to come from the hind end - and consequently, from your legs. It would do you and him well to do a lot of loose-rein work, to give you the feel of adjustability exclusively through your seat and leg, and him the chance to really use his hind end and start working over his back on his own. He'll figure out the balance better without help. Right now it seems like the reins are your lifeline - it doesn't look like you would be confident to get rid of them and ride without his mouth. That's not the case - once you do a ton of on-the-buckle work, you'll both be much more responsive to one another.
Basically, once you've got the hind end, you can start to work on riding into a soft half-halt up front. Between half-halts there needs to be a 'give' - basically a steady outside rein and elastic inside rein to encourage him to accept the bit. It may take a while - he may be evasive at first because I think he's used to an overly tight rein and a twist-and-pull flexion to get his head down. But putting the time in will definitely be worth it.
Sorry for the novel - I always get carried away with critiques ;) But it's important for us to ride our horses correctly and sympathetically!
---
And now, the men of the Second Armored Division with their famous close-order swanning about.
I want to thank everyone! Love the comments, I enjoyed reading through all of them.

I agree I do need to drive and engage his hind end. Also the comment in regards to rolling my shoulders back, i've heard that before many times, I really need to work on that... I always forget. I will try to work my elbow to bit line and my heels. I was leaning forward and need to get my shoulders back.

Thank you very much Dante, I am aware of the training pyramid however I haven't really taken the time to examine it and translate it during my rides. You comments were very true! I have skipped important levels and do feel as though my horse is in a fake frame, this would explain his terrible curling problem. I agree with the tight hold and am going to try your suggestion with letting the reins out and teaching him to use his hind end.

When you say on-the-buckle work does this mean that I should give away all of the contact and build up to it or have light contact just not be so strong in his mouth?
---
emmy &TOBY

my blog-- coming soon ♥