Riding lesson
---
So today was my first lesson in 9 months. I did pretty good. I rode a 16.2 hand Tb Gelding named Cool.
He was really good. I have a few things I need to work on.
Heels are in progress of being completly better. I have gotten better still need to work on my bending in the elbow. Also we worked on a lot of lunge work and transistion.
Hes really bumpy at the trot. but amazing at the canter like ahh it was smooth i wanted it to last forever lol.
But yea I worked on bending him and pushing his head down. I know his head looks horrible here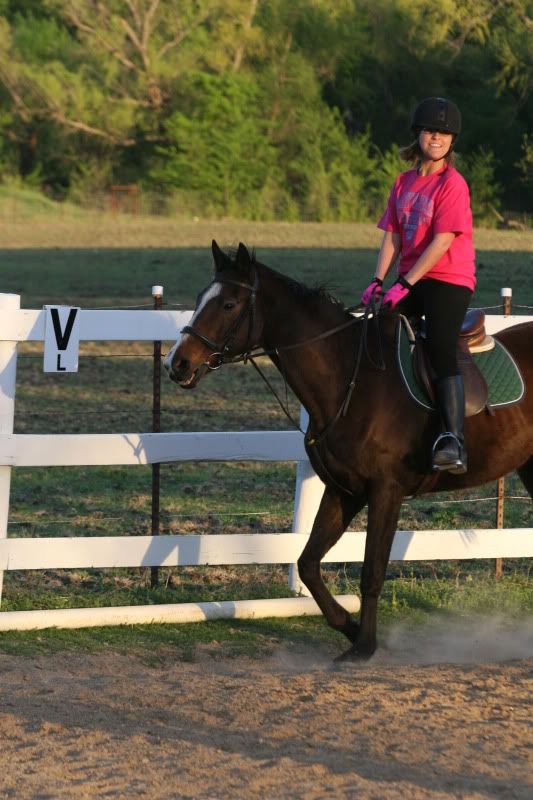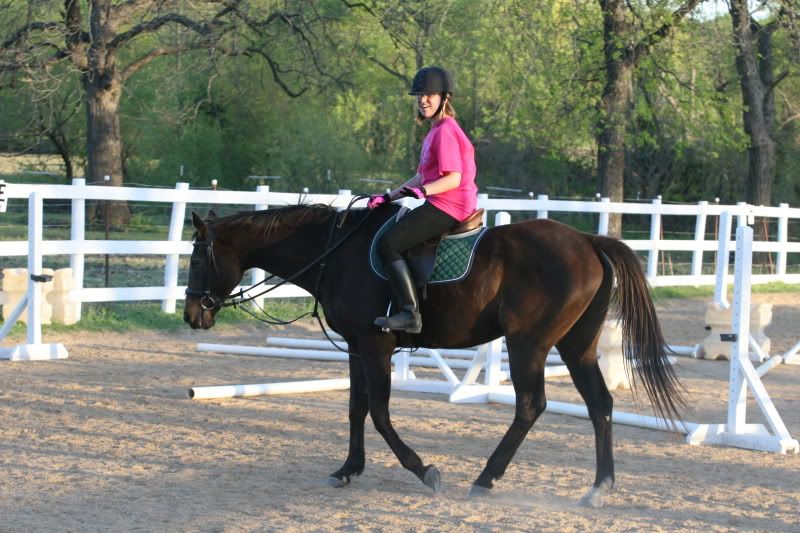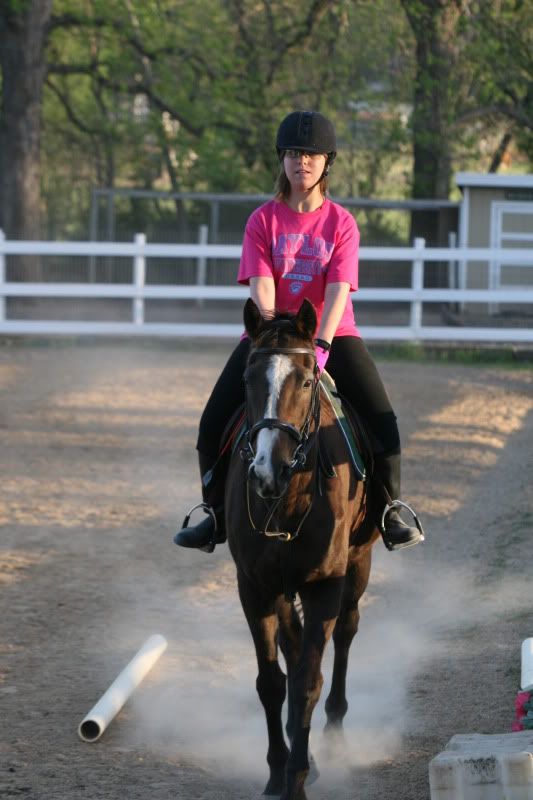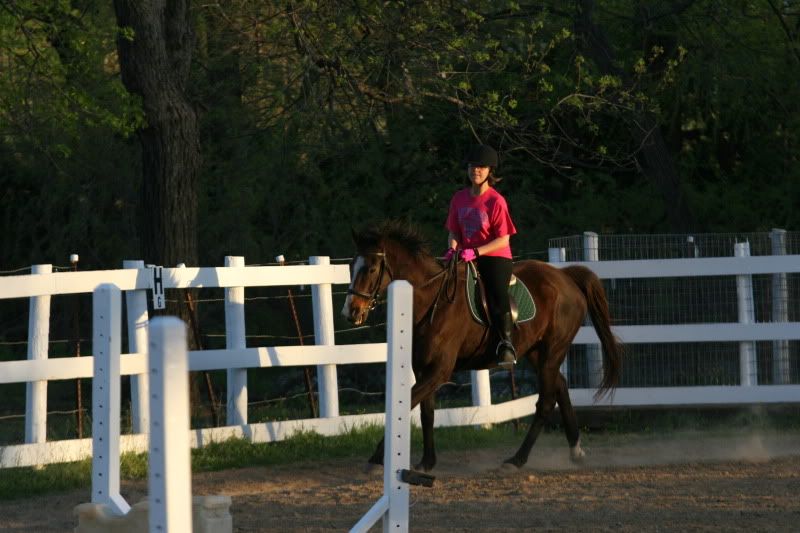 ---
Last edited by EventersBabe; 04-10-2010 at

12:29 AM

.
Anyone want to give me a critique? I really would like critiques?
i think you kinda already pointed out on what you could do better ;) id love you give you critique but im terrible at it probably because i have so many bad habits due to being pretty much self taught.
I think the biggest thing I would say you could work on is your back. You look like you are letting it collapse a bit when trotting/cantering. Think about keeping it straight and still and working from your hips, that'll help straighten our your back. Rolling you shoulders back as well will reduce the amount you are collapsing.

You pointed our your heels and albows.

You look good though :)
I want to add I think the reason you may be collapsing a bit in that back is because you are balancing off your hands (so you are basically using the reins to keep your balance).

If you work towards riding off your leg and seat your back will stop collapsing and I think you'll see an improving in both your heels and your hands.

And when you are posting, between the first and 2nd picture it appears that you are allowing your legs to slip out from under you. Try to keep them really still. And you could even post less, basically just let his natural rhythm keep your going up and down in your post, not you doing the work to post (I do it too, its hard not too!)
Mkay.
Thanks :) I will write that down and work on it next week when I go for my lesson
:) No Problem. You look good though, fix that and everything looks like it'll fall into the right place.
Picture 1:
-the line from his mouth to your elbows should be the same, in this picture it is broken.
-thumbs on top instead of pointing in.
-lighten your hold on the reins a bit, particularly the inside rein. If you need to get more contact, move your hands out instead of back.
-relax in your arms/shoulders and roll your shoulder blades back.
-Toes parallel.
Picture 2:
can't really critique this one unless I know if you are in 2 point or if you're posting.
Picture 3:
-you have a chair seat in this picture, try to sit more on your seat bones/pelvis instead of your butt.
-the saddle looks a little small on you, again I'd say lengthen your stirrups if you can bear it.
-lean back and open your chest and shoulders.
Picture 4:
same as picture 1 pretty much.
Picture 5:
-lean back and open your chest/shoulders.
-try to move your hips deep and with his movement.
-avoid perching on your hands, and loosen the grip on the reins if you can.
-your arms are clenching, they should be loose and move with his neck in the canter.
---
"The trouble with the world is that the stupid are certain and the intelligent are full of doubt"
-Bertrand Russel
Okay thank-you. I will work on all of that :)
Idk what the seat size of the saddle is. I usally ride in a 17.2 if not small depending on the saddle. I will ask her about that..