Riding lesson from end of September
---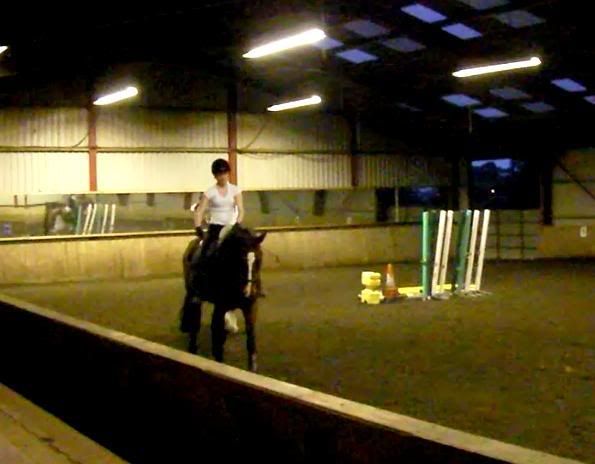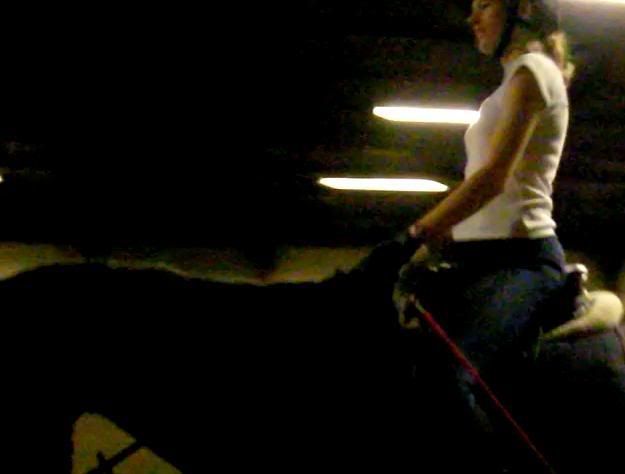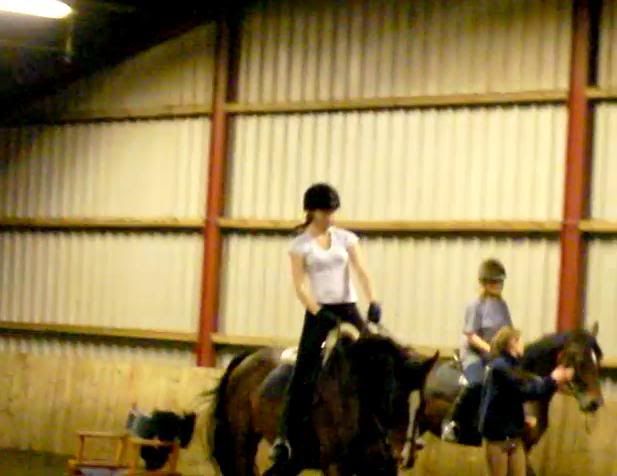 Video from some of the lesson
This is from over a month ago, my last lesson at my old stables for a while. It was my first time riding in a group; there were five of us in the 40mx20m arena and we were riding in open order.
I was riding Xavier (Zavvy-air, not Professor X) for the first time. Xav is a French thoroughbred and reasonably well-muscled; he's not ridden by the beginners. He's wearing a bungee - an elastic cord that goes over his poll, through the rings in his bit and is then attached between his legs to the girth - to encourage him to round out his back.
In the lesson we did lateral work: leg yielding in and out of a circle, and also leg yielding and shoulder-ins on the straight. I didn't do the shoulder-ins, just the leg yielding. Our focus was on getting good leg yielding rather than just moving sideways incorrectly and I was focusing on recognising the quality, observing when he was bulging through the shoulder, feeling the sideways steps and correcting when he went wrong. This clip, however, shows some of my warm-up.
He doesn't like to canter. This video doesn't show it but I did manage to get him going all the way around the arena and listening to me; however as you can see at first I had some trouble driving him out of the corners. I wasn't being firm enough but once I toughened up he listened and behaved. As you can see in the video, however, sometimes I was unsuccessful at even getting a few strides of canter out of him. That was embarrassing!
Sometimes he goes behind the bit. I tried to drive him into my contact as much as I could and if you observe my reins you'll see that I'm more likely to have too much slack in them than to be hauling too tight. The bungee can sometimes be counter-productive and allow him to get behind the bit; my challenge was to ride him forwards with more impulsion into my hands. He likes to play with his bit and so I paid a lot of attention in this lesson to how he felt at the end of my hands. I could feel when he went behind the bit and when he was mouthing it.
I've got lots of things I'm planning on working on, though my riding opportunities are very infrequent right now.
Flaws I observe in the video:
- stirrup irons too far back on my foot; they're not under my arch but they do need to be more onto the ball of my foot.
- sometimes I let my heels slip up.
- my toes are pointing out a lot. I know how to correct this (relax the whole leg) and when I rode last week one of the things I concentrated on was improving this. It did work!
- my shoulders tend to hunch forwards. Partly this is just the way I am built (I can't bring them back very far) but I do need to work on this.
- I look kind of slouchy at times; this is me trying to work on relaxing my body more!
- my elbows are too stiff and I don't have a straight line bit-wrist-elbow.
- I'm bouncing quite a lot on some of my cantering. I do still tense up a bit sometimes, particularly when I'm concentrating on something else - in this case I was thinking about trying to ride him out of the corner. I know what I need to do to fix this and it will take practise. I don't bounce much these days and when I rode last week my new instructor said I sat the canter well.
- my lower leg isn't very still in trot. I can keep it pretty stable; in this case I was driving Xavier forwards a lot because he was being lazy, it being the end of a long day, and because I didn't particularly want to use my crop. I use my whole leg rather than my heel because it's easier in the mucker boots I ride in. Still, I need to learn to give a sharp kick without flapping my leg about!
- I have a tendency to lean inwards when cantering around corners.
- I need to widen my hands out more.
- my rising often looks quite jerky and laboured. I promise it doesn't feel that way! I let the horse's motion lift me out of the saddle; I'm just an awkward, lanky mover by nature! I don't look very graceful when I do my latin and ballroom dancing, either.
- sometimes I still get my diagonals wrong.
I'm trying to use leg and seat more for steering; for example, to make a turn I will open one rein a little, move my legs forwards and back as necessary, and use leg pressure to encourage the horse round. In previous lessons I had been doing lots and lots of circles and working on my contact and stopping the horse from falling in or out.
Overall, though, I was really pleased with this lesson. Xavier has really nice gaits and is a beauty; it was eight o'clock after a full day's work so he didn't want to move but our leg yielding was great. I had loads of fun riding him and was glad I got to have a go on Xav before I left!
Some final things to note when you critique me -
- this is not a horse I regularly ride so when it comes to figuring out and accounting for his particular quirks ... that's not something I can really do. I can't improve the pair of us together, if you get me.
- I am still pretty much a beginner and so don't know how to collect, I'm not brilliant at controlling the different parts of the horse, the most I've done for lightening a horse off their forehand is riding my seat upwards in the canter. With my instructor in private lessons I had not been working on collection (I know that's the last part of what you build up to) but what she called 'connection' - riding the horse into your hands, stopping them from being strung out and flat with their nose stuck out.
- I am not riding at the moment and even if I'm lucky I will only get to ride every other week, and the horses at that stables are not nearly as nice as the ones back home :( So mainly I will be focusing on the smaller things I need to do to improve my own riding.
Thank you in advance for your input!
---
If you believe everything you read, better not read.
Japanese Proverb

Yearling
Join Date: Jul 2008
Location: between florida and maryland, usa.
Posts: 759
• Horses:
1
Cute horse, and I will agree with the things you mentioned, and just a little thing extra I noticed (sorry if you did say something about it and I didn't see it) but your hands are flat. Try to keep your thumbs up.
Otherwise, you look good!
ok i didnt read anything anyone has posted but your pumping with your body at the canter and at the trot you sort of i dont know how to say it....flinging yourself out of the saddle?
---
Looking great for not riding too long! One thing I noticed in the short few seconds I watched in the video is that your hands are very busy and bouncy, which does relate to the bit.
As for the bungee, sounds like a chambon, and is there any specific reason the horse is in it?
---
The lovely images above provided by CVLC Photography cvlphotography.com
gotxhorses - yeah, I do get piano hands quite a bit. I try and remember to keep my thumbs up!

Gingerrrrr - I'm still working on how I sit the canter. Lots of the time I still get too tense and bounce; some of the time I'm trying to urge the horse (not just Xavier; the horse in general) forwards with my hips a bit when my instructor tells me too ... the time when I sat the canter the best was when I was doing it without any stirrups and I've been trying to achieve that again since xD The thing that I find hard is that I've usually got so much to think about - trying to keep the horse going, or not leaning, or my hands, or this or that - that one thing will invariably end up being forgotten and will go wrong. Arms and hands really are the first thing to go for me as I'm usually much more focused on what's going on below my waist!

At the trot, there are times in the video where I am unbalanced (I need to work on giving a kick without flopping about - I need stronger calf muscles so I don't need to draw my leg out so far!), but I am also pretty long and ungraceful. As I said above, I don't push myself out of the saddle, I let the horse nudge me up - but I've got really long legs so it's quite a way up that I go to find a comfortable, natural rhythm! Hopefully my trot looks better when I'm actually keeping my lower leg still and don't need to keep urging the horse forwards. I've been trying to get a stronger leg and avoid over-reliance on a crop when I should be using leg aids instead. I wish I had some more videos to show you, but I've only got that lesson and way back when I was still holding on to the saddle in canter!

My legs are flapping and my toes are coming out so as long as the next horse I ride doesn't require constant motivation to keep up a good trot, I will be making sure that I keep a still lower leg with my toes pointing straighter.

JDI - I know my hands are something I really need to work on. I'm awful at keeping a good grip on the reins and despite wearing bobbly gloves I tend to need to adjust them every now and again, so that's one tiny factor in the busy hands. However, my upper body isn't very stable which is moving down into my hands and so I'm not keeping them still. I think I need to find a way to get more co-ordinated. I did improve a bit when my instructor and I were working on my contact and so on but I think in this lesson it's gone to hell somewhat xD I wasn't sure how much contact to give Xav as he can take quite a bit but he kept tucking his head under, making me feel as though I had to give a bit more, so the fact that I didn't know quite where I should have my hands in relation to how he felt at the end of them made things worse perhaps? I mentioned above how I'm not good at thinking about all parts of my body at once, and hands are usually the first thing to go.

One thing I know I really have to work on with my hands is my transitions, because I'm thinking about so much stuff that not only do my hands flop about, but I end up losing all contact with the horse at times. Watching the video I can see how I just bring my hands forwards and give the horse his head as I ask for canter.

I don't know just why Xav is ridden with a bungee; only a couple of the lesson horses use them, a couple have martingales, most just have a plain old snaffle with nothing else.

So, how should I work on these things? As I've said, I really don't have many opportunities to ride. I'm hoping I'll get a lesson next week but it's luck of the draw whether or not I can sign up in time. The best advice I can get is stuff I can try and quietly work on myself whilst still doing whatever exercises the instructor asks from us. Ways to spot when I'm doing things wrong from the saddle are also good. I'm towards the top end of the group I've been put in (not all can canter; I'd be in the next group up if I'd done a tiny bit of jumping), so I think I'll have more opportunities to improve the quality of my riding than the quantity of activities I can actually do.

Thank you all for your input :)
---
If you believe everything you read, better not read.
Japanese Proverb