Riding lesson yesterday
---
I had a riding lesson yesterday. My trainer through a lot at us, but I think we got it all.
After learning all of the new stuff, she is like "Since he doesn't like to pick up the right lead, lets work on that.
And after about 10 mins of a lot of clicking, squeezing and chasing Romeo FINALLY GOT THE RIGHT LEAD! And my step sister got it on video.
Sorry they are kind of bad, my camera decided to stop working so they are from a cell phone.
Please critique anything you like.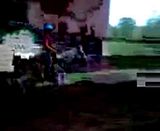 Pics: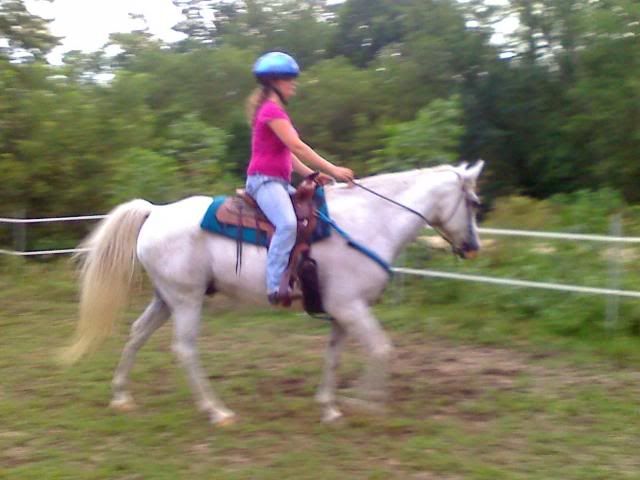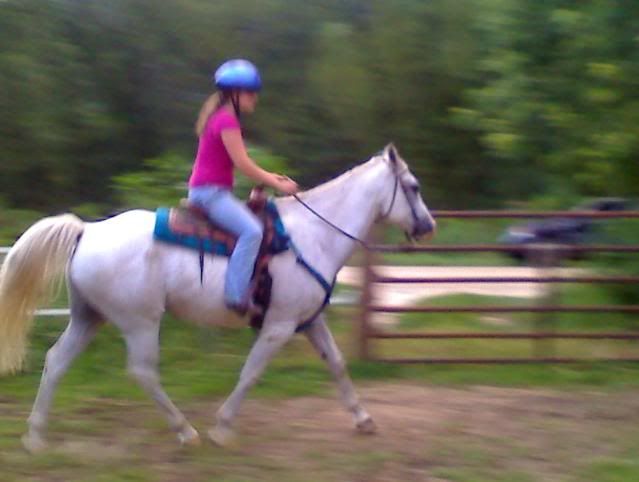 Maybe you can tell me how his muscling looks since this isnt a great confo pic.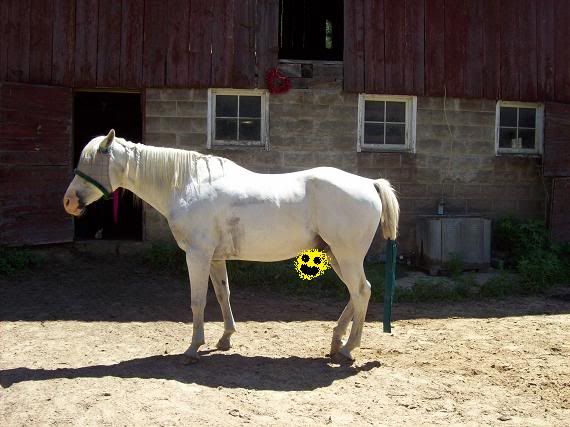 This might work better for confo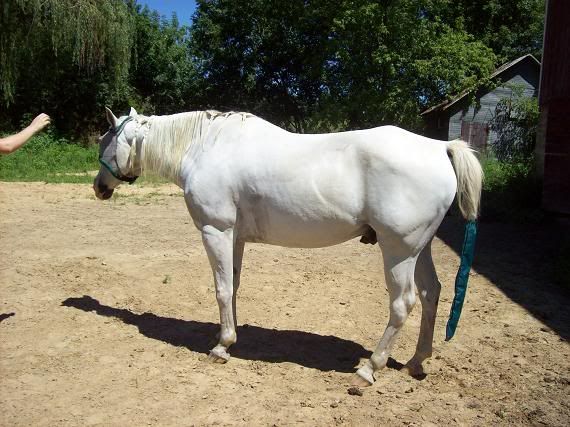 ---
RIP Minnie, 1981-January 15, 2010
RIP Maggie Mae I miss you
---
RIP Minnie, 1981-January 15, 2010
RIP Maggie Mae I miss you
No one?
---
RIP Minnie, 1981-January 15, 2010
RIP Maggie Mae I miss you
It's a little hard to tell because he is slouching on one foot. Try and get some pictures of him all squared up.. (all 4 feet lined up with each other). I'm assuming he is a QH? How old is he?
Nice job getting the lead. Every horse has a favorite, just like us with being right handed or left handed.
Good for you on getting the right lead . The reason he may not have been getting is it because I can see in the video his head is turned out toowards the rail and your not doing to much encouraging and guarding with your leg . Since he is having problems getting the lead you really need to over exagerate. Pick up with your inside rein and get his head bent to the inside , it makes it easier for then to pick up the right lead . Try practising picking it up in corners first then once he gets that move to the straight rail. Also make sure you put your inside leg on the girth and the outside leg just slightly behind the girth and really thionk of pushing him up and underneath himself , hes not really using his back end . The confo pictures are a little hard to critique properly so It'd be unfair for me to judge on those photos.
---
"Go confidently in the direction of your dreams. Live the life you have imagined. For no dream is impossible "
I would disagree with picking the rein up to the inside, mostly because my mare was extremely hard to get on her left lead for the longest time. Once I got a new trainer, she told me to tilt her head to the outside and use your outside leg to push her hip in so you are holding back with the outside rein and opening the door with the inside rein. I never have a problem getting it anymore.
You want to tilt his head to the inside to get his lead, not the outside. Tilting outside would completely unbalance him. Get a slight inside bend at the walk, then ask for the canter, using outside leg. To get inside bend, shift your weight to the inside, creating a wall and tilt his head with the inside rein. Once his head is tilted slightly inside, ask for the canter. Good luck, and wait til you start working on flying lead changes!
I had another riding lesson today. I learned how to get Romeo to give me his face while trotting/walking, post on the correct diagonal, and Romeo CANTERED ON THE RIGHT LEAD!!!
I have some more cell phone pics, so sorry they are crappy, but if you could try to tell me anything about me or my horse that would be great.
*These pics were before I learned the diagonal thing*
I don't know if this helps or not but
Here are some of his stats:
Age:14
Breed: QH/Maybe arab
Height: 14.3
Training: Games, trails, halter class
---
RIP Minnie, 1981-January 15, 2010
RIP Maggie Mae I miss you
Bumpy bbumpy
---
RIP Minnie, 1981-January 15, 2010
RIP Maggie Mae I miss you
Not a western rider, so no criticism here. You look like you are relaxed and having fun! Keep working hard!