Saddle fit. Opinions
---
Ok, so here's my crosby saddle on Montana. To me, it looks like it fits him well. I did move it back like a hair and that seemed to have made the sloping-ness go away. (Just my luck right! LOL)
I
can
fit 3 fingers between his withers and the pommel. I check when I had it girthed up, I just didn't take a picture of it, but I can get a picture if you want.
I was told that it's too wide on him (though it is narrower than my Ovation saddle)
I did ride him in this saddle a few days ago. He was much more responsive and much for eager to do what I asked undersaddle. He had no problem trotting undersaddle either (In my old saddle he would refuse at first until I got after him and then he'd break into a trot.)
Ok, enough of be talking, here are the pictures.
Saddle fit :: SaddlefitMontana001.jpg picture by appylover031303 - Photobucket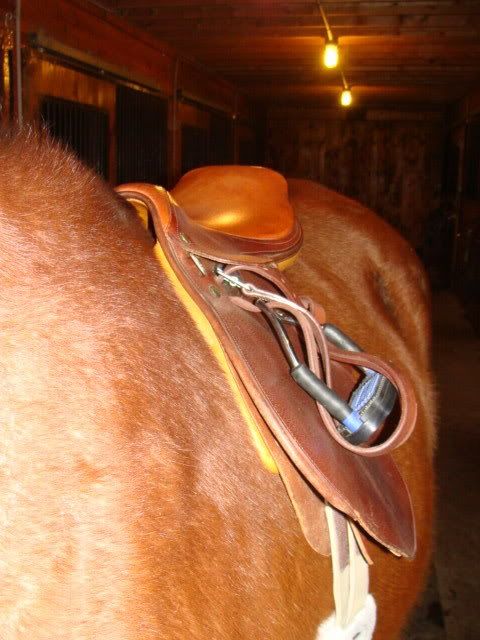 sorry his mane is in the way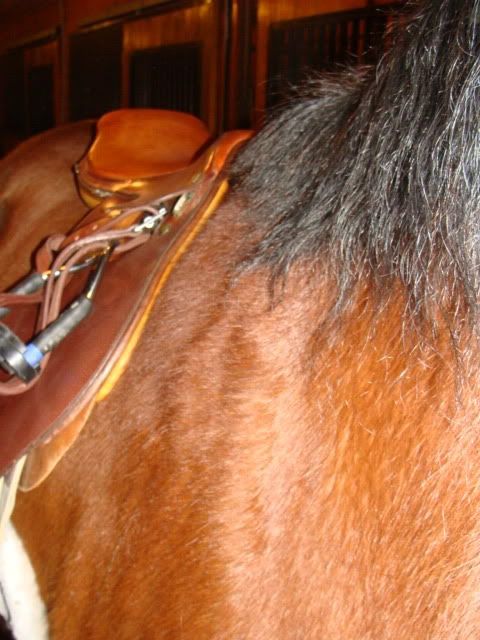 He didn't really like me standing behind him and the flash going off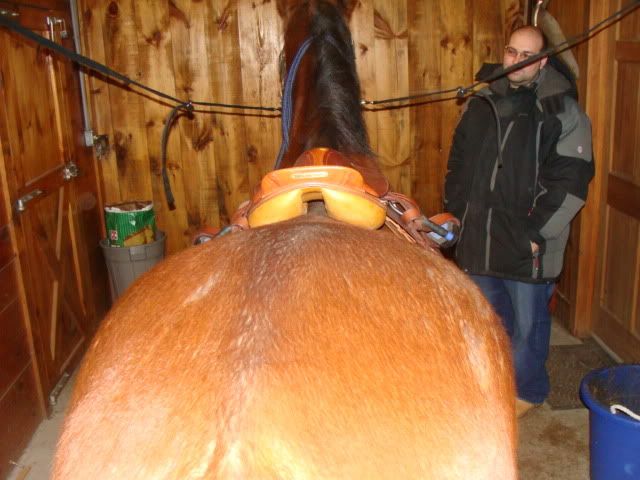 It does look like a close fit.. I wouldn't want to put anything really in between his withers and the saddle, I don't think - I really think that would create a big pressure point. I can't tell much from pictures, sorry, but the pommel does look low on his withers.
It doesn't look like a superb fit, but it doesn't look horrid either... sorry I'm not much help
---
The lovely images above provided by CVLC Photography cvlphotography.com
The Channel looks too narrow on his spine to me.
and it looks like a REALLY close fit on the withers.
The Pommel and the Cantel should be level, unless ofcourse is a spring frame tree like the Stubbens are.
We just had a great saddle fitter do a clinic and I'm trying to remember everything she said to do. There were 6 things to check. 1. Make sure the saddle is in the correct place, behind the shoulder 2. Take your flat hand and run it from the pommel, down the underside of the flap and see if any spot appears tighter or not to fit your horse's shoulders/withers. 3. Check and make sure you can fit at least 3 fingers between pommel and withers 4. Put your right hand under the pommel section of the saddle (bars), push down with your left hand on the seat and run your right hand from front to back, seeing if the pressure is even or if there are any gaps or pressure points. 5. Look from the back down the channel and see if you can see all the way to the front and if the channel appears wide enough to fit your horse's spine. 6. From the side, make sure the pommel of the saddle doesn't go past the last rib (where the hair from the stomach and the hair from the flanks meet and go downward. Every time we have a saddle fitter, I learn something new!

Hope this helps!
---
Dana
Riverside, CA
Thanks so much everyone.

Thanks for the tips Dana! I will do those all tomorrow.
I think you could get away with it if you weren't riding very often.. but it's a very close fit and I don't like how narrow it is on pony's spine. I wouldn't accept a fit like that for my horse, but I guess it's up to you, and if it fits better, than you other one
well I'm hoping once I get the money for my old saddle, that I'll have enough for a better saddle.
You know my opinion on it. Id ride bareback for a while cause id hate to see montana with back problems. I learnt the hard way with bad fitting saddles.. lovely bucking .. I can now fit 3-4 fingers between her and the saddle and she is more then willing to move now and an focus on be more then the pain and all teh head throwing stopped.

Bareback can help your independent seat and you can work on you EQ!