Sarge Confo Critique.
---
Just curious what you all think of his conformation. I know he's nothing special but I love him. hah. And what do you think as far as muscling goes? Pictures are from June 26th.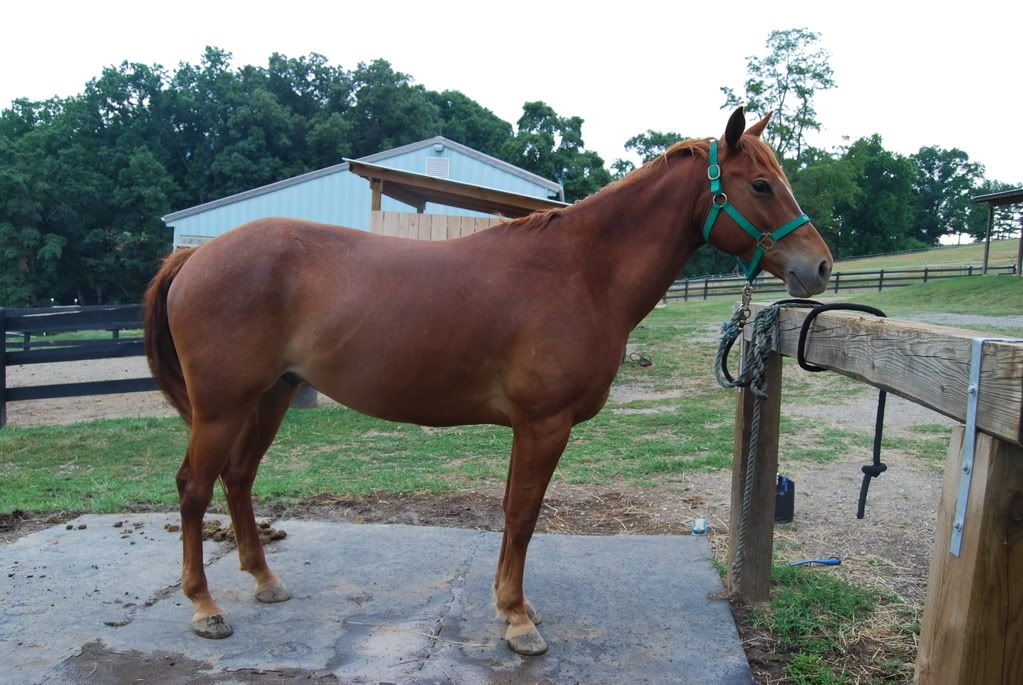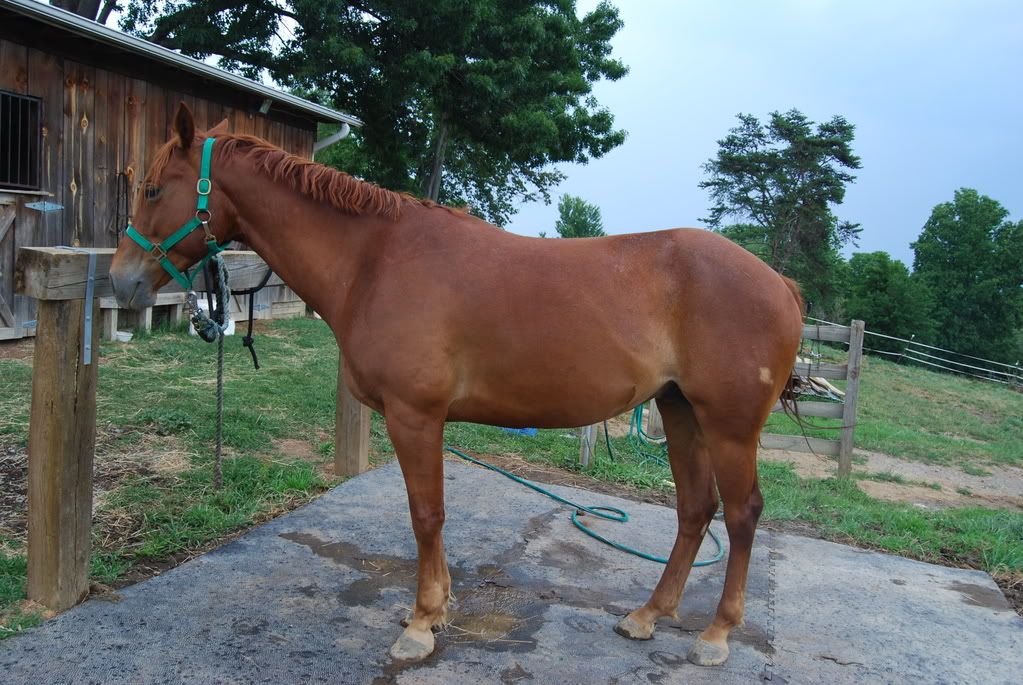 Sorry the pics are big. I can resize them if you want.
He is toed out while standing there, and may be sickle hocked. Do you have behind and front on pics?? Be careful not to develope an upside down neck, it looks as tho that has been happening. His forlegs are to far under him, Im not sure if thats a qh thing but a lot of them do it. He has a very high rump and then steep angle down his hindquarters.

He looks very healthy and well cared for. Good strong hooves and muscly body. He looks like a big baby??
he stands underneath himself in the front and possibly in the back, but it might be just how he's standing. His neck is fairly thin but with more muscles it will look nice.
He's built uphill, but not terribly
Toes out front and back feet
He looks cow hocked in the one picture, but not so much in the other

But boy, does he have the kindest eye!! And he's a really pretty chestnut color!
He's a cutie that's for sure
do not say= he is nothing special=of course he is special he is your pal!!! great face on that guy and he does look loved and very well cared for! not every horse can come up to all the standards of each breed but they all have something special in them.
Yearling
Join Date: Jan 2008
Location: British Columbia, Canada
Posts: 1,284
• Horses:
4
He's built downhill. Take a ruler and lay it on the picture, his hocks are way higher than his knee's, unless he's not standing on level ground. I like his back, low strong croup and his shoulder looks like it will give you a good ride. He has a beautiful soft eye, looks like there's something going on in that head.

I want to second the comment about " he's nothing special". Yes he is, they all are in their own way. !!!
It's not hock to knees, it's stifles to elbows. It's hard to tell, because it looks like he's standing on a slant.

And he has a pretty bad shoulder--way, way too upright.
Yearling
Join Date: Jan 2008
Location: British Columbia, Canada
Posts: 1,284
• Horses:
4
If you go by stifle to elbow he's still too high in the rear.
For fun here's a little test article. Note the first horse, hock to knee is even. Checkout #3 who is high hocked like this guy is. Also note the placement of stifle to elbow.
http://www.equisearch.com/horses_car...clinic_070704/
I know he's still high in the rear :) Was just pointing that out.

Hocks even with the knees are a desirable conformation trait (Especially in western horses), but it doesn't mean a horse is built downhill. Some horses may look even, but checking elbow-to-stifle will show that they are not. :)