Seriousely critique prospect colt..
---
I keep daunting with this one. I am not really sure as to the price I want to pay, but I thought maybe some insight from others might aid me! LOL! I cant make a simple decision by myself!
Anywho, I have an APHA colt prospect I am looking to add. Later on, after seeing how it goes in the show circuit, I may be keeping him as, we will see. But this is a 08 foal, and here are his pics..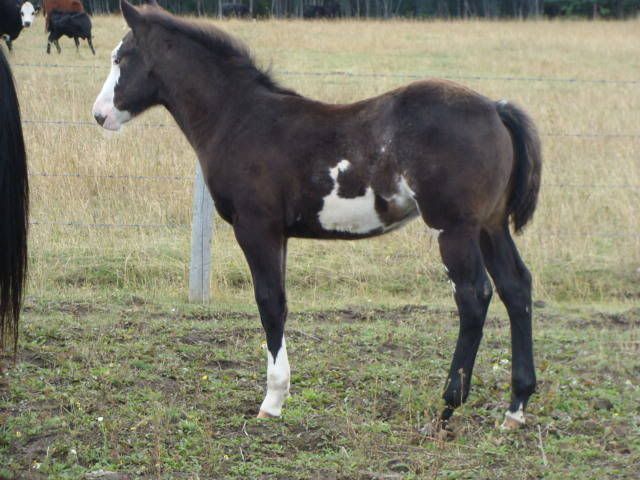 His pedigree is as follows:
Sire:
Foundation Cowboy Paint
Dam:
Flyinglittle Papoose Paint
Now both have some nice foundation in the back, and nothing major up front. What concerns me slightly about this little guy, is he appears to be pigeon toed, but it could be the photo, or just awkward age.
My questions are, pro's and con's concerning confirmation, and heres the big one, price! If bought, he is going to be shipped, as he is out of Canada.
Give it your evil eye and let me know your thoughts, PLEASE!
---
Dixon's Red Hot Ember
If you look at the top photo, this colt has ephysitis (inflamation of the growth plates) going on in his front ankles. notice the hour glass shape of the joint. since he has it now there is a good chance he'll have issues later in his growth. This could be due to improper feeding or over feeding. My gelding started to show signs of this and i caught it very early. he was growing to fast and i had him on equine jr. this didn't have the correct calcium/phosph. levels in it. i switched him to buckeye growth and put him on a mare/foal suppliment and he was better in a few weeks. I'm not sure about the pigon toe's concern as he's not really set up well to judge it. Hope this helps.
What type of showing do you want to do? I don't think this colt will be a great halter or western pleasure prospect, but he might do well in cow work, maybe reining.
---
http://www.cedarviewpainthorses.blogspot.com
Home of:
Perfect Jin N Scotch - 2004 APHA Palomino Overo Gelding - Western Pleasure and Showmanship
Hanks Rainy Sky - 1998 Black and White Tobiano Paint Gelding - relaxing rides and blazing trails
He is adorable, I love his coloring. It looks like he may develop some roaning later on. He has a cute head and a nice big hip but I don't know about his front legs. Like toosleepy said, he appears to have some inflammation in his front fetlocks but I don't know if this would cause lameness issues later in life or not. He looks more knock-kneed to me but he may be pigeon toed as well. If caught early, some things like that can be fixed with corrective shoeing. Of course, it may just be an awkward stage that he is in????? I won't even venture a guess on price cause I have absolutely no idea. He also looks to have a pretty noticeable split in his right ear.
Absolutely fantastic guys! I really appreciate the views on this.. big time! This is one of those things where I really have to contemplate this one. I like a lot of what I see, but then as you all have pointed out, there are some issues that are concerning. Just for FYI, asking price is 3k. I am not sure I want to pay that for this when that issue is present. But then again, I am debating if the potential for otherwise will even out.

As for the show aspect, I see some halter prospect there, and as he would age, I would go from there to venture out in what performance field he would grow into. Its too early and hard to say. But with some proper fitting, I think he wouldnt do too badly. So is this a price that is considerable?
---
Dixon's Red Hot Ember
His rump has a little too much slant to it; something that is being bred into the Paints and Quarters and I do not appreciate it! His shoulder looks a little upright (might level out/change as he grows), but his neck looks REALLY 'nesty'--it does NOT tie in well with his body, and in my opinion, too short and thick to do much in halter. His hocks look pretty high compared to the knees too, which'll make him hella' down hill when he's older.
I think you could find something better for 3k. And with the pedigree, no-namer parents USUALLY mean no-namer babies. ;) It's not the brain or heart that holds the horse back, but the quality of their movement, which most no-name parents LACK SEVERELY.
---
Dressage in Jeans
- My blog with dressage tips for happy, relaxed horses, specifically for those who ride dressage in western saddles, no saddles, cowboy boots, or jeans. ;) Also now with cute pygmy goat pictures! :P
Thank you! I really appreciate that perspective! I really wondered about this. And one of the problems I am incurring, is decent stock priced right. Such a challenge!!!!
---
Dixon's Red Hot Ember
I hear you! I was recently colt-shopping myself. :)

What are you looking for the colt to do? Anything specific, or just, 'what he's good at'? My advice is if you see an ad saying he'll be a GREAT all-arounder, and he can go in 'any direction'... and he's under 5k, he's a horse that has no outstanding features and will be stuck in 4H. Jack of all trades, master of none. If that's as competitive as you want to get, then there are plenty of nice babies cheaper then the one you posted. ;)

Good luck!
---
Dressage in Jeans
- My blog with dressage tips for happy, relaxed horses, specifically for those who ride dressage in western saddles, no saddles, cowboy boots, or jeans. ;) Also now with cute pygmy goat pictures! :P
I'd say that $3K is way too much for this colt. His split ear will detract from halter, you'd probably have to get a portion of it trimmed off. But as others have said his pedigree isn't anything special. I think you could find alot nicer one for that price range. And just think you'll have to add the $$$ of shipping him over. so really you're spending $3K + $$$$ for him.
That was my issue Toosleepy! I am not real fond of the price for this, which has been my dilema! I contacted my vet about repairing the ear and doing so that it wont be noticable in the show, but still waiting on that one. I am sure the news wont be good, lol!

Mayfield: unfortunately the involvement would be regional and beyond, so the colt I am looking for would have to be up to par. With most of mine, I start out with halter stock and go from there. I have had a few in the past go onto barrels, but for myself, its trail, reining, some cow work, and so on. I like to see mine gain points in the both worlds. As they start to come of age, I make sure they dabble a little in everything, and find an area they really accell at and go from there. I could never stand to put on into a class that I get a lot of resistance from.

Thankfully, with the feedback I am getting, I think I will pass on this one and continue looking. I agree alot with the price to product aspect.. I just dont think I am going to get my value on him. Thank you all very much!!!
---
Dixon's Red Hot Ember