Show Critique
---
Yesterday was my first serious show in many years. We did really terrible, 4th of 4 three classes in a row, but we improved each round so I okay with it. I would however, like to do better next month.
Most of my pictures came out blurry, these were the best I got. It's a little hard to see my leg and hand positions.
Any suggestions?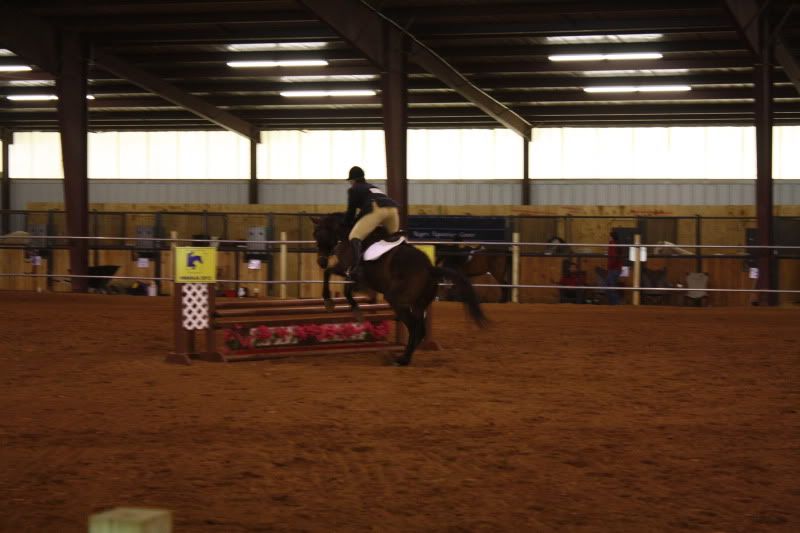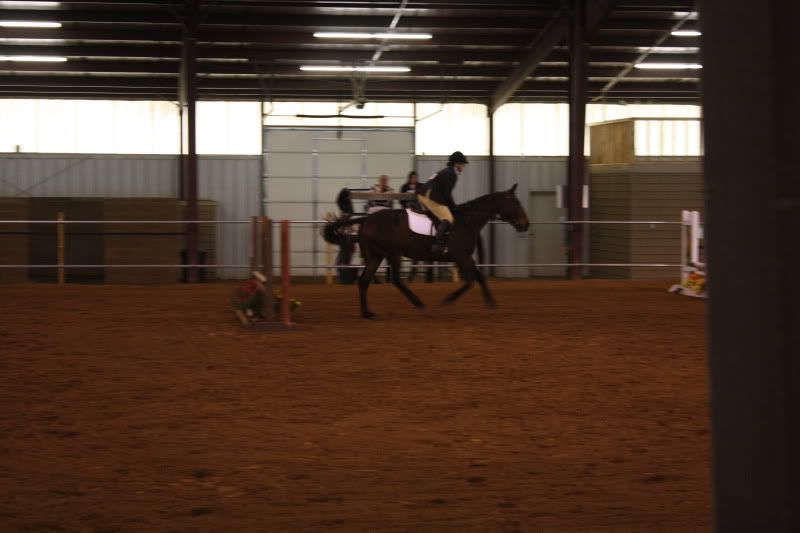 ---
Help me horse forum! You're my only hope!
Its hard when you get 4th out of 4 because it doesn't really help show where you are in that class. What level was the show? I'm not your coach so please take this for what it is and don't be discouraged but just from what I see you look like you have a nice forward seat and look relaxed but a little suggestion would be to shorten up your stirrups 2 holes or so. They just look a little long and if they where shorter you might find it easier to get around. If this was a big hunter show I would suggest a different saddle pad, but you look well turned out. And the pictures may be bad timing but in the jumps ( They are small so I understand ) your horse looks a little too relaxed going over them, uneven knees, uneven take off and landing uneven. So this may have caused you to place lower. Judges really don't like horses that "hang" or have a hanging leg, they are very dangerous so this is heavily marked against. Again I can't see who you where against but to me it looks like you have a pretty good foundation. Maybe ask your coach about schooling over larger jumps so when you show at this level your horse will put a little more effect to the fences? And just practice practice! And keep showing, hopfully when you go against more people you can really get an idea of where you are. It's so difficult in classes with less than 10 people. You really have no idea where you actually are in comparision to other riders.
Thanks for the advice. It's good to know I'm not a complete disaster. These jumps were two six. I'll try schooling larger ones at home.
---
Help me horse forum! You're my only hope!
It doesn't look like a disaster from the pictures, I can't tell how your pace and distances were in photos, so I can't comment on that. From someone who spent many years in the hunters/eq, its small things that could be fixed. Your back is a little hunched, which I think is coming from your hand position being low and back, also could be from nerves. I think a few more times out and you'll be back in fine horse showing form!
No not even a tiny disaster! Lol, you and your horse do look very nice together, it very very minor things :) and if it's the first show of the year don't worry about it, as you go along things always get better. And since your getting back into the swing of things I'm sure great things are on their way.
Similar Threads
Thread
Thread Starter
Forum
Replies
Last Post
Show Critique :)

UnrealJumper

Horse Riding Critique

12

06-18-2010

10:01 PM

show critique!

breezeypoo<3

Horse Riding Critique

8

07-28-2008

10:39 PM

Critique show

brittx6x6

Horse Riding Critique

8

08-15-2007

07:46 PM