Sisters?
---
Mods, not sure if this goes here- if it doesn't please move it to a more appropriate spot.
Ok, so my mare had a filly April 25, 2010. The farm I board at also had a foal June 6, 2010. They are saying the fillies are half-sisters, but I just dont see it.
There are 2 possible sires for the barns filly, an Arabian, or a Clyde/Hackney. My filly's sire is the Clyde X, 100%.
The dam of my mare is a QH/Appy, and the dam of the other foal is a Paint.
I will show you pictures of the fillies, as well as the parents.
My filly, Rumour:
(Pictured at 1 day)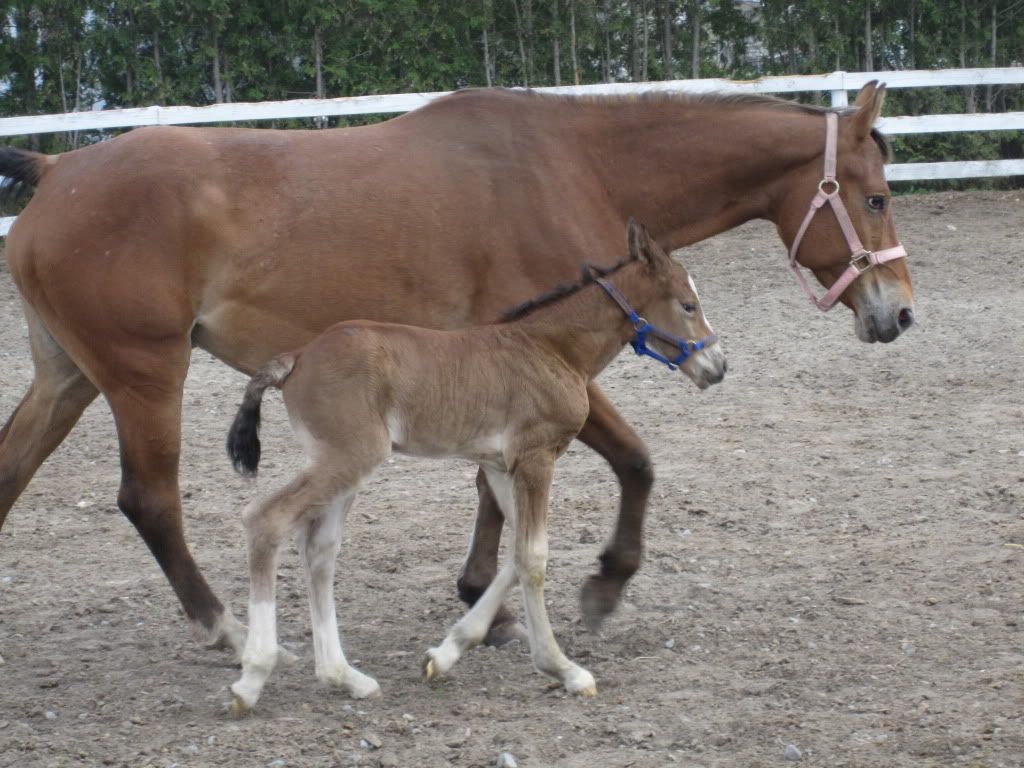 (Pictured at 9 weeks)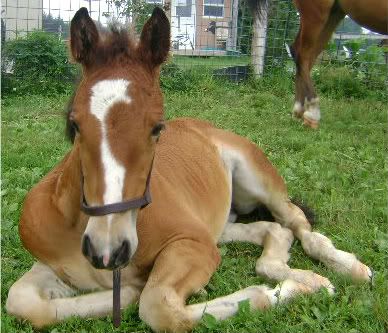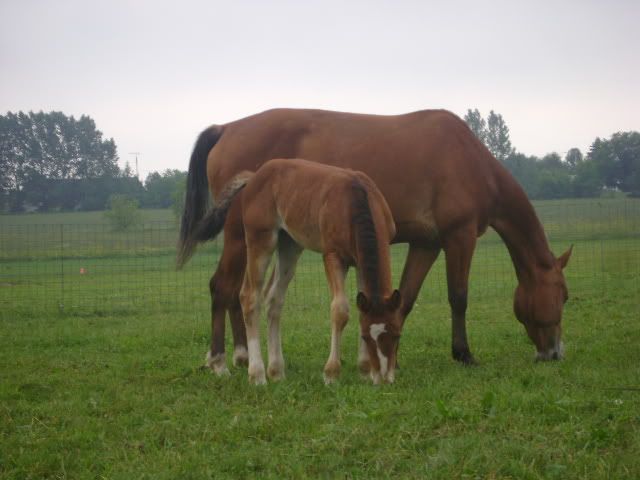 Dam: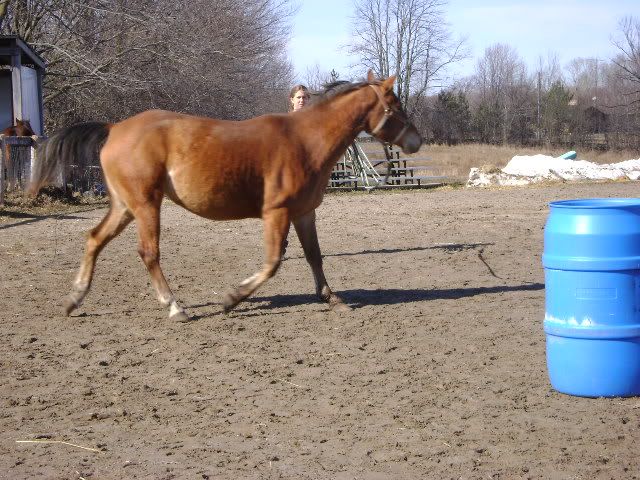 Now the 2nd filly, Gemini:
(Pictured at 1 week)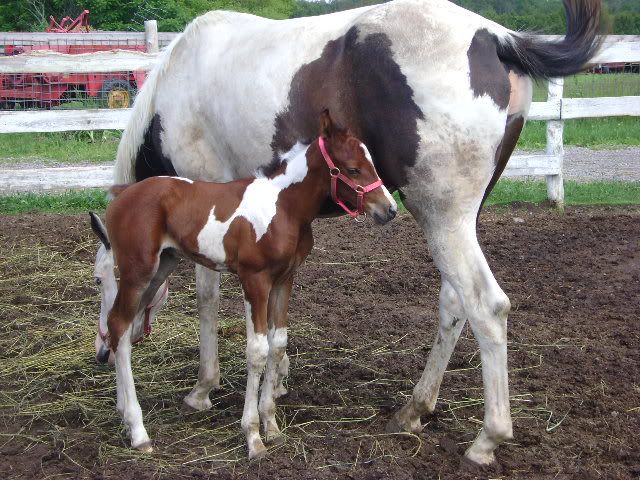 (Pictured at 3 weeks)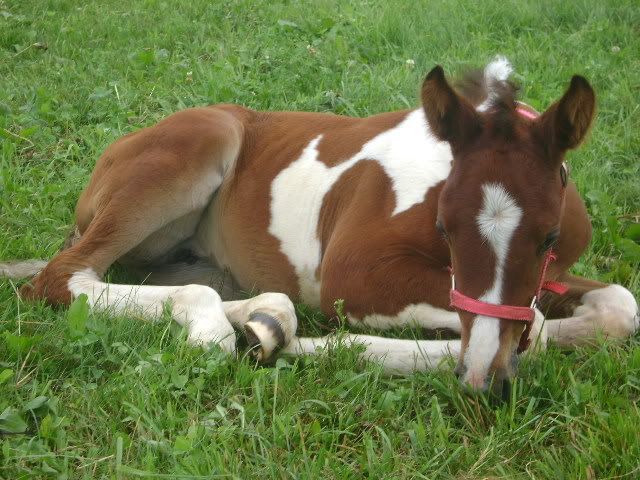 Dam: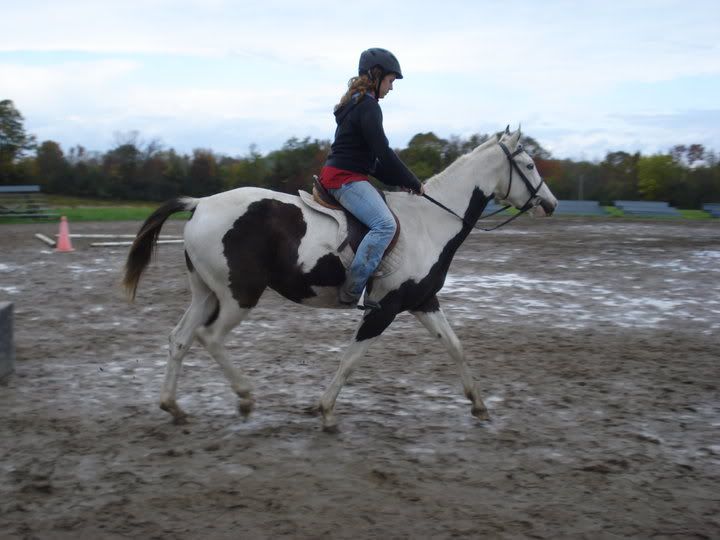 Possible Sire 1
17HH+ Clydesdale/Hackney: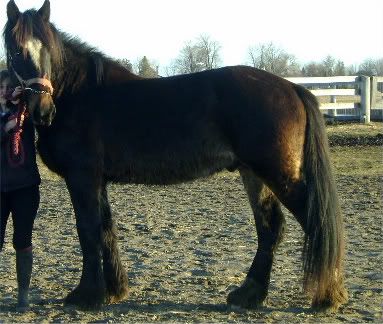 Possible Sire 2:
14hh Purebred Arabian.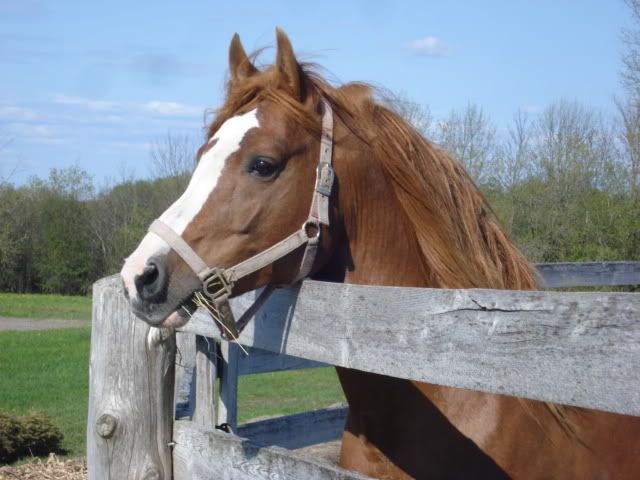 The 2 fillies together: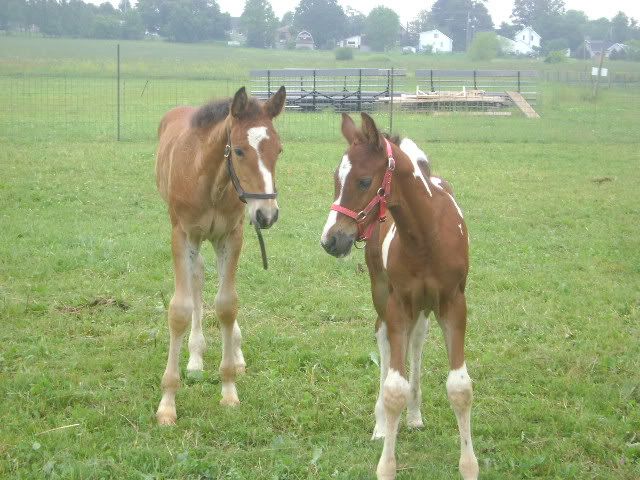 She was bred to both the same heat, but are saying the Arab is sterile, just because the 3 other mares the bred him to didnt catch(2 of which were 16.3+ drafts, and the other a 12hh pony)
I am just curious as to what you guys think about who Gemini's sire is.
Personally I think the Arab is her sire, just because she is so tiny and fine-boned. Gemini is now 3 weeks and is about the same size Rumour was when she was born.
Thanks for your opinion!!
---
Sonya ~ 5 yr old Appaloosa/Welsh mare
---
Last edited by ilovesonya; 06-28-2010 at

07:17 PM

.
There are so many variables that could change what a foal looks like. If you look closely at her legs, the size of her bones and joints is actually pretty darn close to your filly. A lot can change with a young baby. I have a yearling that is half draft/half QH and I was recently given a foal that is also half draft/half paint. The foal is about half the size that my baby was when he was born. I know of an appy stallion and mare that were both in the mid 14hh range, they were bred like 5 times. 4 of the 5 offspring were about the same size as parents, but one of them was a mutant that matured to over 16hh. It is all about how the genes get mixed and if there can be 2 full siblings that look so different, there would really be no visual way to tell about half siblings 100%.

Although, there is absolutely nothing about her that says Arab to me. I would say that the clydex is her daddy.
---
Always remember that feeling of looking at a big, open country over the ears of a good horse, seeing a new trail unwind ahead of you, and that ever-spectacular view from the top of the ridge!!! Follow my training blog:
http://robertsontraining.blogspot.com/