So what do you think about my mare?
---
Tell me everything you see.. Sorry the pics might not be the greatest I only had my 12 year old sister to help me. lol Feel free to be harsh.
Left side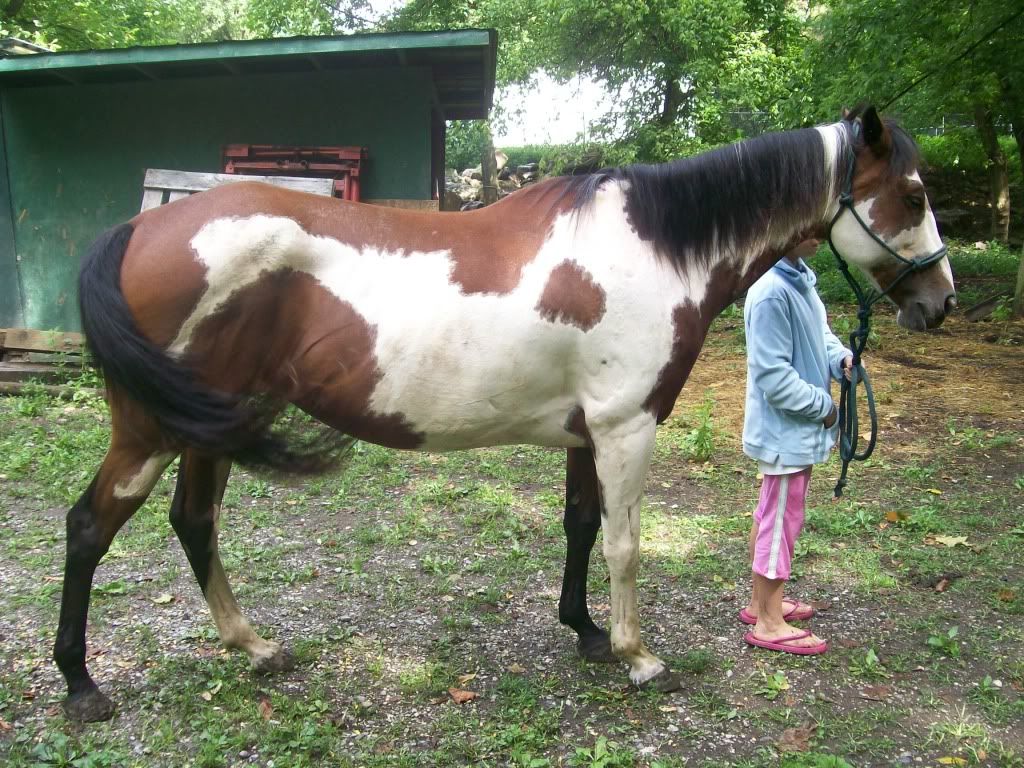 Right side
Front legs
Back
Head shot
---
Blue Eyed BLY~ 2/3/03
Calico Sonny Stockman x She's On Cloud Nine
First off, she could use a bit more muscle. That would help her appearance a lot. Her shoulder and croup look a bit steep but nothing terrible. Her back is a little long and she looks camped out all around. That could be due to how she was set up for the pic though. Her coloring is just stunning and she looks like a very sweet girl.
I'm working on the muscling. I just got her back from pasture :) Any idea's to help would be appreciated hehe.. What does camped out mean? LOL I have no idea.. Thanks so much and she is very sweet :)
---
Blue Eyed BLY~ 2/3/03
Calico Sonny Stockman x She's On Cloud Nine
Being camped out means that her front feet are out in front of vertical and her back feet are out behind vertical. Ideally, a horse's legs should come straight down from the shoulder to the fetlock but it is a pretty rare thing to find a horse like that. Just some riding will build tons of muscle. She is just a bit flabby from being out of work from the sounds of it.
No critiques from me but might I say she is very gorgeous!
---
"Blame it on my wild heart."



Oh okay. LOL

Thank-You. :)
---
Blue Eyed BLY~ 2/3/03
Calico Sonny Stockman x She's On Cloud Nine
to add to what others said, her feet look long to me .. cute mare tho!
---
:: Karley ::
Tucker WB/TB- 11 yr
Speedy QH/TB- 22 yr
I think she looks pretty good. I would just suggest working on getting muscle into her back, and give her a butt. She looks like she has a really nice neck on her. I absolutely love her coloring. More specifically, the white patch on her left front knee. It's like her leg is a puzzle and she's missing a piece. I LOVE IT. =]]]
---
"Great spirits have always encountered violent opposition from mediocre minds."

I am working on the muscling :) Thanks so much.
---
Blue Eyed BLY~ 2/3/03
Calico Sonny Stockman x She's On Cloud Nine
Bump :)
---
Blue Eyed BLY~ 2/3/03
Calico Sonny Stockman x She's On Cloud Nine