TB conformation critique, please?
---
My dad has a 17hh, nine-year-old Thoroughbred mare, who I'd like to get some input on. Bear in mind that she's been off work for a few years and has basically zero muscle tone (her neck especially has deteriorated) and that she is also in need of some groceries. I have a decent eye for conformation, but I'd like the input of some people who maybe have a better one than me.
Here she is: Thanks in advance for your opinions! :)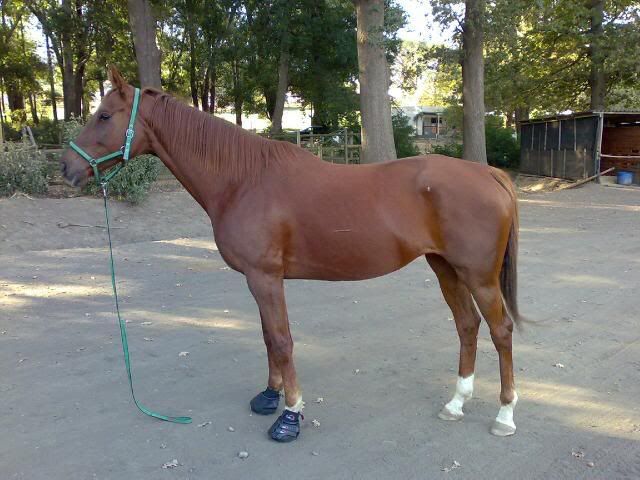 Banned
Join Date: Dec 2008
Location: At my house, or stable, duh!(Michigan)
Posts: 2,479
• Horses:
3
Awww! She has such a sweet eye! She looks very even which is good. I dont see any uphill or downhill in her whatsoever. I do agree with you that she needs ALOT more muscling in her. I would say good conditioning would help....
she is cute- i would like to see some weight tho/ along with some muscle like said but best of luck with her!
---
:: Karley ::
Tucker WB/TB- 11 yr
Speedy QH/TB- 22 yr
Cute mare. I absolutely adore her face. She is a typical TB with a sprinter build. Long, thin neck with a clean throatlatch. Looks to have adequate bone. She is downhill, but only slightly. Her legs need muscling, but they look pretty straight. Needs topline muscle as well as hindquarter muscle. Typical long TB back paired with a very weak loin.

Overall she isn't bad at all, just needs to get fit.