TB Hoof Critique. Too long?
---
I've posted a critique on my TB's hooves before and got positive feedback. I have a barefoot trimmer who trims his feet every 4 weeks, and so far have been really pleased with the state she keps his feet in. But, although I love how his hind feet are (angle, toe length, heel height, mustang roll), recently I've noticed that his fores seem to be getting quite long.
The hoof is supposed to be at the same angle as the pastern, correct? And that's supposed to be about 45 degrees for the fronts and 55 degrees for the hinds?
Are his fores too sloped/long? Opinions?
This is about 2 weeks after a trim.
Fores: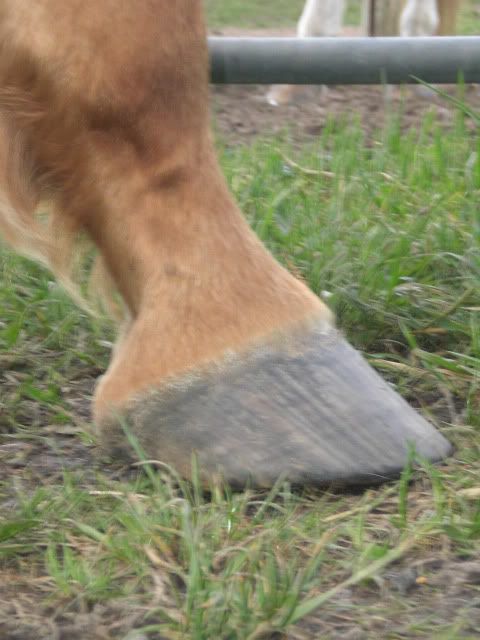 (with flash)
(without flash)
Hinds: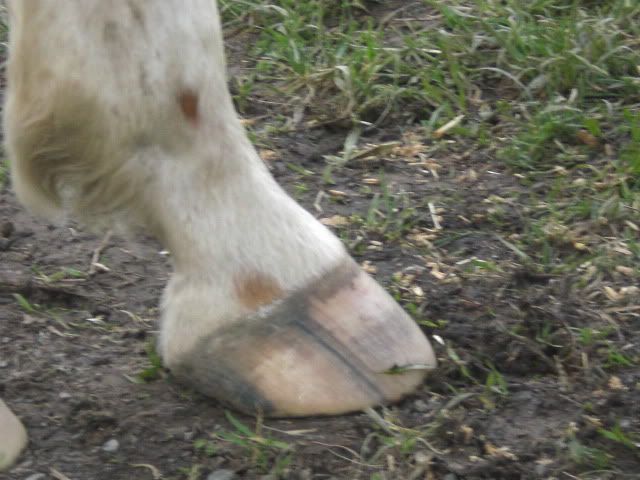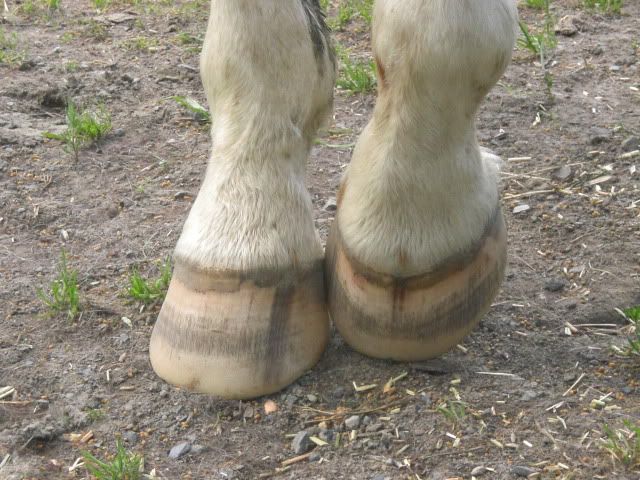 ---
Do not follow where the path may lead, go instead where there is no path and leave a trail...
yes, that is the angle they're supposed to be at - but not all horsed hooves are perfect, and farriers can only do so much. at the end of the day, he's a thoroughbred, that's what their hooves are like

for a TB i think that they look fine

if you think they're gtting too long, just ask your farrier about them
I think his feet look good...the angles seem right and for a thoroughbred he has really good feet from what I can tell...but like hollybee said...when in doubt ask four farrier :)
---
Horses Will Listen...Even When No One Else Could Possibly Understand...
I think he has WONDERFUL looking feet! No cracks, splits or chips...cudos to your farrier! I personally would've taken his heels down a tad more on his fores but not by much...as for angles, that's a guide, not a must. Some horses require that to be changed slightly to accomidate leg conformation in order to perform soundly. A reason for leaving long heels might be to conpensate for standing under himself too much on his fores? Not saying your horse has bad legs, just stating that the entire leg affects the type of trim a horse needs...make sense?
---
Never ride faster than your guardian angel can fly
Yep, understand completely. Thanks!

He had a trim today and his fores look a much better length and have a more obvious mustang roll to them. It's reassuring to hear that his feet look good. I like to get outside opinions every few months just to make sure that everything looks good, instead of just blindly trusting my farrier, not that I think she'd do a dodgy job, but you know...
---
Do not follow where the path may lead, go instead where there is no path and leave a trail...
just curious but what is a mustang roll??
A mustang roll is when the farrier files the toe back so that it is rounded to create proper break-over, kind of like how the toe of your runners/sneakers is curled up.
In my photos you can see how the toes of his hinds are more rounded, whereas the toes of his fore come to more of a point.
---
Do not follow where the path may lead, go instead where there is no path and leave a trail...
Oh right thank you