Think I"m having issues with my jumping position..
---
Hey all, I guess feel free to critique the following pics. Mainly the rider (me), but if there's anything you'd like to put forth about the horse feel free also
.
Firstly, because I've got long legs, I always seem to find looking at a pic of myself jumping to be a little odd. However this is when I'm wearing short boots, I find that my legs look okay when I'm wearing top boots/gaiters or whatever. So to me I think it's just when the whole length of my leg is visible that I have trouble being comfortable with how my overall jumping position looks. In saying that though, if I just focus on the shoulder kneee toe line (if i've remembered it correctly) :P, my position isn't too bad. Does anyone else have this illusiony type of issue? lolz.
- I hope I'm not just weird.
So anyways, I know there's always something to be improved on, so any advise would be great. I know alot of people and pro showjumpers keep a good contact with thier horse's mouth as they're going over jumps, but I like to give as much as I can while going over a jump (in moderation of course, due to safety, and to maintain my jumping position :P). But am I giving too much ? I do see pics of showjumpers giving with outstretched arms, but then there are others which keep their arms closer to their body when going over a jump. Also, I understand the jump in the pics isn't all that big and so perhaps if I am giving too much, is it just that I'm giving too much for a jump of that height.
Also, my back. When I go over a jump I really seem to elasticize and try and really mould with the horse beneath me. As you can see in the pics, my back seems to be hunched. I think I remember something about keeping your back straight when jumping when I had lessons with an instructor who would have me do a bit of everything. But that was ages ago and that could have been relating to just general riding posture. :S.
The pics are stills from a video, just where I could pause and take a pic with the digital camera of the video on the computor, so sorry if they're not of great quality. I thougth I'd supply pics of different stages of the jump.
Also, I'm wondering if perhaps my stirrups should be a shorter length? Dunno wether you can help with that query from the pics. But would be good to know if that would also be an element to improving my position. :)
Thankyou in advance
.
to me it seems like your stirrups are a bit too long and you seem to hunch your shoulders and back much more than you should. Jumping position should be practically the same as your regular position except your knee and hip angles are more closed. i dunno though, that's just what i see.
I agree, shorten your stirrups 2 holes. You cannot fix your back if you have no base of support, which will be easier to find with shorter stirrups. :)
For that sized jump, yes you are releasing a bit dramatically. Fromt he look of your pictures, you seem to have the basic idea of as you bend forward, your butt will scoot a little towards the back of the saddle. If your stirrups were shorter, your legs wouldn't be so easily pushed forward. You def have the right idea, just need some fine tuning.
What I would do for you, is have to practice bending forward, like you were going to lay yourself on your pony's neck and give him a hug. Where is your point of rotation? It shouldn't be your waist, it should be at your hips, where your actual hip sockets are located.
How easily can your bend forward, maintaining your leg position, while keeping your back flat? People get that roached back because they aren't stable in their lower backs, and they bend at the waist to compensate. I have a friend who is similar in build to you, and she has had the same issues. Long legs, long arms, and not knowing where to put everything. haha.
As with the release, practice trotting something a little smaller. Approach it in 2-pt, have your hands in front of you, grab mane if you have to. Try not to let the jump make you catapult forward, just sit in 2-pt and wait for your horse to jump up and close your angles. You can see in the 2nd picture, you have thrown yourself so far up his neck that it has caused your pony's balance to go down in front. See how your hands are way up by his ears? Release with your hands about in the middle of his neck, or about 6 inches from his withers. With these sized jumps you do not need that dramatic of a release.
Dont jump the jump for him, allow him to carry you over the jumps by himself, while you stay out of the way by being quiet and subtle. It is nice that you are thinking of staying out of his way, but actually by throwing yourself up his neck is throwing his balance off quite a bit. Hope this helps!! CUTE PONY!
---
In riding, a horse's energy is like a river- guided by the banks but not stopped by them.

There are a few things that are jumping out at me:
- You have lost all base of support in your legs. They are swung forwards and don't offer you any support at all. I will discuss this a little later on.
- You have rounded your back completely; you want to keep it nice and straight.
- You have fallen behind your horse's jump, and this is partly caused by your leg position.
- You are throwing your reins away as far up the neck as possible instead of doing a correct release.
- You appear to be a very confident and brave rider, and this will definitely work to your advantage! Your horse looks to be willing as well, and if you can start working with an instructor that can be right there with you, I think you could be a superstar in no time!
In the mean time, here's my e-advice:
I would recommend you start right from the ground up. At the moment you don't have a solid base of support; that being your legs.
I would suggest asking someone to lunge you on your horse and you can focus on your lower body; you want to sink into your heels and keep your lower leg anchored just behind the girth. Although the following is a dressage rider, they are illustrating the correct shoulder-hip-heel straight vertical line that you want to achieve:
When you're riding, your leg and pelvis will be your anchor of support; if that is not solid, your position won't be solid.
As I was saying.. if you can get someone to lunge your horse, great! Let that person control your horse's speed, and you just concentrate on your position.
Think about your legs hanging from your hip sockets, sinking your weight into your heel. Don't push your heel down, as that might force your leg forwards. Think of keeping that shoulder-hip-heel line.
Next you want to work on your upper body.
Imagine a star painted on your shirt on your chest. You want to show that star off! Roll your shoulders back and keep your chin up, be cautious not to arch your back at all - you want it straight, not hollow.
When you are confident about your position on the lunge line, take it out around your arena.
To solidify your jumping position, you want to start on the flat.
You want to be able to hold a two-point (forward seat) position on the flat at all paces without falling backwards or forwards, through transitions and changes of direction.
So! Get into your two-point position at a walk. Drop your reins and don't balance on your horse's neck. Once you can hold this for a few rounds around the arena, then put your hands on your hips while maintaining your forward seat. Then hold your arms out to the side... lather, rinse and repeat.
Do this exercise at a trot (if you can keep your reins dropped, this would be good - if not, then ask someone to lunge you again) and a canter. Finally, start adding some trot and canter poles in.
If you can do an entire course holding that position without balancing on the horse's neck and without falling backwards or forwards over a course of trot and canter poles, then try a little crossrail.
For your release, you want to keep your arms bent, and not use the horse's neck as balance, but allow the horse to use its neck both before and after the jump. Maintaining a light contact throughout the jump is ideal - the key word is LIGHT.
Here's what a solid leg position looks like:
(in my opinion)
No matter what this horse does under him, he is not going anywhere! His butt is centered over the saddle, his legs are in correct position and solid.
---
The lovely images above provided by CVLC Photography cvlphotography.com
Here's the two-point that you want to have on the flat, without reins, without touching the horse's neck:
---
The lovely images above provided by CVLC Photography cvlphotography.com
Lots of posts, sorry.. just wanted to add... your hip angle is closed waaay too much - see the rider on the bay horse in the post above? That's the angle you want to have :) perhaps slightly more so over the fence, but not as closed as what you have.

Pinto Pony, where are you and your zillions of pictures with your great jumping position?
---
The lovely images above provided by CVLC Photography cvlphotography.com
Red is as close to ideal as I could get using Paint and an eyeball... yellow is your position. Visual aids like this help me a lot, so I thought they might help you as well..?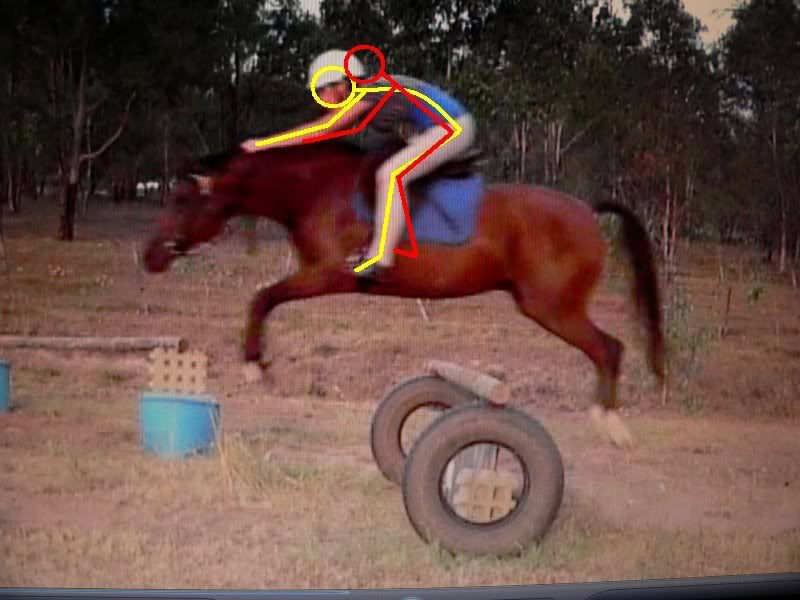 ---
The lovely images above provided by CVLC Photography cvlphotography.com
---
Last edited by JustDressageIt; 03-30-2009 at

02:05 PM

.
Wow JDI! That was very thorough! LOL! Good advice, i like the last bit you did with the MS Paint, that was a really good way to show her how to correct her positioning =)
You get 3 Gold Stars today
Thankyou, Thankyou, Thankyou! Everyone has offered great advice. I particularly liked seeing your visual representation with paint JDI
. *haha* lol, koomy56, I do find it difficult to find a place for everything! My long arms and legs are fine for flatwork where they can hang down nicely, but when I've got to compress the length, things can get tricky :P.
Am going to work on all the excersizes mentioned. I can't have an instructor for quite some time, but I've gotten over problems with position in other areas of riding, with help from the video camera, even if it's just sitting somewhere and I only see myself riding at certain points :P. Also if someone's around I can ask them to take a squiz at me. When I get it right, I then focus on the feel of what I did right, and that usually keeps me on the gith track :).
Not being heavily into jumping until the last few years (yet not doing much of it in this time in any case), I kind of know what to look for with certain riding faults, but am definately no pro. But the issue has mostly been about how to correct the faults. Sure I've come across info on how to correct position, but I find some of the textbook readings on this don't give enough information, or just aren't explained in a way I can really understand it. But thanks to you all, I've a better understanding now :). So thankyou again, you've been most helpful
.
Hmm, well I was going to say something but I'm pretty sure all you need to know just got covered haha!
Also JDI if you hadn't mentioned pinto pony and her wonderful position, I was definitely going to add that too lol
---
He knows when you're happy.
He knows when you're confident.
And he always knows when you have carrots.