Tired of me yet? Jumping and Flat pictures.
---
It was warm out today so we could ride outside!
Working on collection a lot. He's great over the jumps, but when it comes to the flat...he's very so-so. He'll get it, but only for a couple of strides before I have to remind him again.
The pictures are sort of washed out because I took them from a video.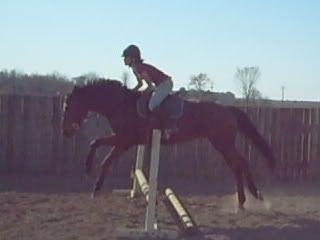 I think we look much better than we did before.
---
Twende Haraka
"Twende?"
"Yes. Like 'Wendy'...With a T."
Alright, don't take this critique too serious I'm not perfect. >.<'
You guys look good the flat, but to me while your jumping it looks like you have a hollow back. Maybe try to put your shoulders back a little more.
Also it looks like you're a little ahead of him, in the first two.
Well heres what I see....

On the flat...
-Bring your Legs BACK...theyre ahead of you..causing you to fall back...thus making collection for your horse harder.
-Thumbs up not in like "piano hands"

Over Jumps....
-Youre leaning on the horse for balance
- Your toe is pushing out. and in the first pic your heals are way up. The second and third look better..but you need to sink into them
- Your back is def hollowing out...bring ur shoulders back...thatll also help naturally with ur heals.


OKay..in every jump pic..you are look up and foward...GREAT JOB for that.
also despite that ur heals need to sink down more...youre not far off. so good work
---
ACCOUNT ABANDONED
Augh. For some reason I am having such an issue with my heals lately. Any suggestions as to how I can exercise on and off the horse to keep them down? Even when I think they're low, they don't look low enough. I lost my leg in the first picture, which is why my heal is back there. But yeah...any suggestions on how to keep my heal down better...?

And thanks, by the way. (:
---
Twende Haraka
"Twende?"
"Yes. Like 'Wendy'...With a T."
Ok, I'll just critique the flat ones, You need to bring your hands up a bit and put you thumbs on top. Your legs need to go back a bit and you also need to keep your toes in.
well a few metaphors i've heard are....
imagine sinking down
lift your toe up and in
little toe higher than big toe
um...personally i stand in the stirrups for a sec..then sink down..then once i feel that niiiice deep heal...i keep it low
---
ACCOUNT ABANDONED
It looks like you may be trying to force weight into your heel, which is causing you to push your leg forward. Instead of thinking "heels down" think "toes up and forward". Your toes should point more forward than outward so you can use your calf muscles correctly. The jumping pictures aren't very clear, but it looks like your wrists might be broken (pushing in to his neck rather than keeping them straight.) In the first o/f photo you are "balancing" with a pinched knee and on your horse's neck with your hands. Also your horse is very uneven in the front end over fences. Work on gymnastics to help that. You should work on flat work more than jumping in general. The better your flat, the better your jumping!

Basically, thumbs up, toes up, eyes up, and practice gymnastics!
put your hands by his ears.
---
Kiss my Color 14 hh Paint 8 year old (I LOVE MY WONDER PONY SOO MUCH!!!)