Two new pictures, WOuld like to hear what you have to say!
---
So This was Ollie's 2nd light ride after his Chiro adjustment. His hips needed some work. He felt alot better. It will take a few more rides to feel him out more and have him see he can move and feel better now.
But I was riding like POOP that day. My whole upper body was kattiwonkus and am going into hard core body boot camp with lots of exersises to help me and streches and people yelling at me when I round my shoulders.
This is not my saddle, still have not been able to get my saddle (a whole different story
)
Anywhoo, I know I look bad so just tell me how you think he looks! More pictures soon...I hope!
I didnt feel how bad I was when i was riding, its amazing how great he did with me riding like such a tard but that just reminds me how good of a boy he is! I watched the video and was like WTH is wrong with me! NOT cool!
More pictures, please critique!
---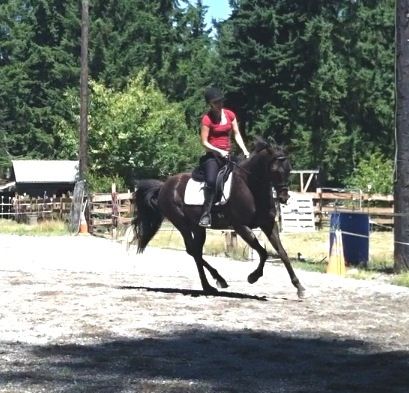 I know I have to much inside bend, he needs to be straighter through the poll.
Straighter but a little bit more flat. He is still getting the hang of it and finding his balance through using his WHOLE body. OH MY
First of all, don't worry too much about "correct" head/neck position or "good" flexion, etc.. Now that he is coming into and taking a contact you have to worry MORE about if he is even in the contact, and what position putting his neck in helps you better access the body and the back. Again, what's in front of the withers will come, don't frett about it right now.

As far as YOUR position for helping him to take the contact better and better - your hands need to come closer together (and in some places come down) to "frame" the neck with the reins (I mean this in that the reins need to always be touching the neck). Having the reins in a constant position beside the neck is going to help him become steadier and give him more "contact" so to speak - but without pulling back on the reins.
Then you need to focus a lot LESS on pulling your shoulders back and a lot MORE on pushing your elbows and shoulders DOWN, and into your hips. Your elbows should be touching your hips at all times (and still be free to open and close). Having your elbows resting on your hips will spot you from pulling (pictures 1, 2, 3 and almost 5) and will encourage you to ride to the contact to strengthen it. AND it will make your arms steadier and more "inviting" to him to come into the contact.

Otherwise I see some good stuff, try to sit up a bit taller (which is hard on such a horse, I know) but it will help you ride to the contact better, and again discourage pulling. Good luck!
---
They say money doesn't buy happiness -- well happiness doesn't buy horses!
Thank you!!! That's helps so much!! Will keep you updated in how that goes! It's such a mind over body memory thing for me at this point lol!!
I can't tell too well from the pictures, but the 4th picture down it looks like your legs are placed to far back. Try putting your heels in a straight line with your hips and shoulder :)
He's starting to look fabulous
---
"Strength is the ability to use a muscle without tension"

When a horse has had chiro adjustments you need to work them long and low so they realise that they can work through their backs.
Yes Fox hunter Iknow this. Myhorseis very green and still learning longand low and when they arelearningits easy fopr them to worry themslevs so I was working on things that where easy for him.
Thanks