Anebel, I'll reply to your post after work, about to jet out after posting these pictures from today's ride.
Real Thad much better, bigger steady canter today.
Warmed up with a million and half trantitions and turns, just switching things up. Made him really come up to me. Really got after the leaning and pulling in any trantition as well as when just halted.
Really bummed my video didn't get the canter work again the video is at an odd angle.
Had to really ride him hard as he jumped out of his pasture 4 times this morning to get to the better grass of course! Naughty boy! Also strung more higher line up lol
Here are the photos from today :)
Thanks again for taking the time to watch and read! Super appreciate it!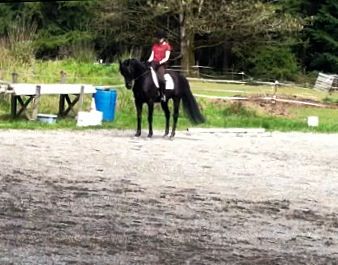 I could tell he was enjoying the work, lots of blowing and snorting.
I felt very accomplished with today's ride!
The blowing and snorting says he's very fresh. 'O' I like you and your horse. I know that you're working on Dressage, BUT, you need to get him to listen to you better AND you need to deepen your seat at the same time.
I gather your Avatar is the two of you jumping?
I suggest:
1) warm up flat work with many and constant transitions between gaits.
2) Circles, spirals, figure 8's, cantering/counter-cantering. Go to the corners are a walk and halt, then change reins by moving his quarters 90 degrees over.
Keep him surprised.
After a good WEEK of just flat work, start working on your seat.
3) Ride 1/2 hr at a time without stirrups. Do this after the flat work has taken the edge off of him. Then, at the end, ride 2 point for at LEAST 20 minutes. Both of these exercises will tire you legs, deepen your seat, and deepen your heels.
The overflexion should take care of itself when he is REALLY on the bit and listening to you. Right now he is evading the bit and your reins.
I've noticed that when you aren't really asking your horse to move out with your seat and legs... he is too far tucked under in the front. Which makes sense if you don't keep your leg on when you go to halt. Taking your leg off means you aren't pushing him into the bridle.

Make sure with your halt or walk transition is backed up with leg.

Just past a minute and you seem really... curled up?? The top half of you anyway. Your leg is nice and long but your top half should be more relaxed and open, and your shoulders shouldn't be raised so high. Not as bad as it could be, but it could stand to be better.

Around 2:06, you lean to turn. I personally think this unbalances and horse. Yes it's good to put some weight in your seatbone but I feel that you could haev used your core to stabilize your turn. But he turned nicely so you didn't interfere as much with him.

I really like your halt to trot transitions, your trot to halt.. again need more leg and not pull as much with your rein. You are trying to stop movement not create backwards movement.

I love your sitting trot :) But again, I cringe when you halt...

~~

Omg I actually jumped back when I saw your canter transition, haha... I'm so not awake. I think a well timed half halt would make it better.

I'm not sure what could help make the horse lighter in the front, but anebel seems to have that all worked out :)

Gorgeous trot from Ollie man after you come back down though. Very nice.

5:16 you look like you're really off center.. like you're really leaning into the turn which isn't a good idea IMOP...

5:30 onwards kind of visually shows you that you need more leg for the amount of contact you're asking for. He's hesitating as he tried to slow down like he thought you asked.. but then jumped forward when you put your leg on.

It just needs to be more consistent, but you two look like a wonderful pair :) You've improved so much since I last saw!
---
"Strength is the ability to use a muscle without tension"

---
Last edited by Skyseternalangel; 04-23-2013 at

06:39 PM

.
I find your second canter transition at 5:45 much better! I see you preparing him, rather than throwing him into it. Lovely!

Good transition to trot (he doesn't fall into it) but then I notice the trot loses a lot of its impulsion. You can see the difference from the downward transition to 6:33.

Your third canter transition wasn't that great. I didn't see as much preparing so he fell/ran into it. he seems really flat and almost trying to break into a trot the entire canter. He seemed heavier and not light as before. I would have brought him back to trot and prepared him better for canter. Quality... not quantity.

Nice trot :) but at 9:40 I think you are trying to let him stretch down into a 'stretchy trot' ?? If so, more leg lady! Better at 10:10, even with the leaning it's almost not happening! :)

And better trot to talk transition! :) I saw a more more core and leg on, instead of straight pulling.

So just little things really:

Preparing him more before transitions
Keep your leg on with halt and think about leg on in other gaits too so he doesn't "duck"
Don't lean into your turns. Stay as straight as possible unless you're doing lateral work then your seat bones will play more of a role...
Relax those shoulders!!


:) Well done!
---
"Strength is the ability to use a muscle without tension"

Quote:
Keep the haunches and forehand, respectively, tracking straight forward and use the outside leg to create bend - ride from your outside aids up to the waiting inside leg - don't push the horse over the outside shoulder with your inside leg.


Posted via Mobile Device
Anebel, could you please expand upon this? Is this in relation to collection? It is completely inverted from what instructors drill into us of inside leg to outside rein. If I'm reading it correctly, it involves using the outside rein aid before the inside leg aid and the not the other way around. Is that right?
---
You just have to see your distance...you don't have to like it.
Quote:
Anebel, could you please expand upon this? Is this in relation to collection? It is completely inverted from what instructors drill into us of inside leg to outside rein. If I'm reading it correctly, it involves using the outside rein aid before the inside leg aid and the not the other way around. Is that right?
I know you want the horse to bend around your inside leg.. that is what I have been taught most recently.
---
"Strength is the ability to use a muscle without tension"

Quote:
Originally Posted by
Skyseternalangel
View Post
I know you want the horse to bend around your inside leg.. that is what I have been taught most recently.
That is the logic, but I've always been told to think of the leg aid as coming before the rein aid, ie impulsion into yielding hand. The way anebel wrote it implies the other way around. Yield the shoulder first and then ask for the impulsion. Kinda cool if we just stumbled onto some new info.
---
You just have to see your distance...you don't have to like it.
Klassic, I totally forgot to add critique. The only thing I can see is you need to carry your hands. Yes, your elbows should rest relaxed at your sides, but your forearms should carry their own weight. Shorten your reins and carry them with your elbows bent a little more than they are now. You will find your horse almost instantly reaching more into the bit since he is no longer feeling a tug on the other end. What he will feel is a more consistent positive traction, that being the weight you are carrying in your forearms. Is really hard to explain, but trust me on this one. The difference in your horse's movement will be night and day. They really seem to appreciate the new feel of contact.
---
You just have to see your distance...you don't have to like it.
Sky & Puck-

THANKS! I tried legnthing my reins today as well as keeping him really forward...agreed now that the shorter rein is easier on both of us. Just somthing i had to test out but I think it was a good test for him.

I am so so bummed my video didnt cath the canter work or I would posted it...Our canter was so much better then yesterday! I pushed him forward and he stayed together!

As for inside leg to outside rein and queing for canter and such thatis the best way for Ollie right now. he has this pretty down as of the last couple weeks and I would hate to switch it up and have him give me the frazzled response after all hes trying so hard I really know and feel he is.

As for the person posted about him blowing and snorting menaing he is fresh....wrong. with Ollie he is relaxing and breathing, not in amanic way. If he was fresh I wouldnt have been able to get so much good work out of him.

I had a lesson schedualed for tomorrow but work and HAVE to work so I will just go out in the evening!

AS for my Uppper body. thats somthinmg thats really beena battle since my car accident...its really frustrating but today I really kept in mind and work on not only realxing them back but down, I imagined a deep tissue massage belive it for not haha It awlways make smey body melt down so I kept reminding myself melt down, breath but stretch up.

I think in the fallowing weeks I well really be able to work on my uppoer body, get these trantitions down even better and go on to working on leg yeilds.

I really kept changing things up today, I did try the canter spirals and he responded better then I thought he might. I didnt throw trantitions in yet, maybe next time. I felt he could break and wanted to push him forward and make sure any downward trantition was to be MY idea.

As for leaning...somehow I didnt see this in the video but that doesnt surprise me at all, I used to lean badly with Klassy in the canter....ZOOM ZOOM pony that girl was! Much dofferent now iwth this guy and how his canter has devolped.

Now somthing intresting that maybe you guys can point out and help me with...my right side, shoulder blade to neck is sore. as in knots everywhere and sensitive to the touch and as the day has gone on is reached down into the back of my ribs on the right side. I sttetched my upper body before getting him going today, NOT ENOUGH I can tell but is there somthing I am doing when going one way or another to cause this? All the trantition work?

Could be that the first canter trantition we had todat he pulled very very hard and I sat him down so fast I alsmot though hed actually sit. I was not happy but that was the only "hitch" in our rode nad it was a good lesson for both of us haha I wasnt expecting is and almost flew forward out of the saddle and he now knows to respect me better...we did some bog trot to halt trantitions fallowing that epsidoe right away and wow....he halted. RIGHt when I asked. Mawhaha

Impulsion..... somthing in our sitting trot we need to astablish I think. I know its a slower less tracking fro the kind end maybe and me holding to much, not pushing enough....I'm in my safe zone and this week he has become comfortable with me sittiing much longer so Ill slowly push him into the trot I get when I post to it.

We did sprials in our canter, figure eights in our trot work, trantions galore. Also in our canter I worked on changing rein at X and he loved this exersise. was thinking to hard about to much at one point and had to litterally talk him through it and exergate but slow my aids down. He was ready to keep going by the end of our ride today I worked him hard!

Last couple weeks I have gone out knowing my plan....ABC...XYZ and more and more it happens like I plan and better each time.

Going back to our halt trantitions....today I got the better feeling I was getting yesterday that I played with....I put a certin amount of weight in my stirrups without tipping heels up or leaning my body forward or pinching my knees, cluck and or tap him into it and sit really deep....thats how I got those square halts! I really felt my body and mind click with that and I was able to keep a soft contact the whole time through my inside rein and really ride through to my outside rein.

I am so so so so so...SO pleased with his progress and effort in our rides. Still cant wipe this smile off my face.

I really feel like we have imporved just from Febuary and then even more from where we where this time last year...haha what a joke that was lol

Been going back in forth with work and riding and have another barn job I start this weekend so I dont know when i will get to post video and photo again but am very glad I did so I could get your guy's feedback and time on all this!

We will do you good and work hard to show you improvemnt again!

enough woth writing a novel, THANKS
Sam
Ollie Say's Thanks!
---
Thanks Again!