Weight and conformation critique
---
Another update on my boy Shea. He was moved 3 weeks ago to a new agistment with lots of grass and is back up to a decent weight, i think. I would still like to see a few more kgs on him though.
Confo points that i notice are - long/straight back, goose rump, slightly downhill, short/steep croup(?), and he needs alot of muscle in his hindquarters and neck, but we're working on that
Any other faults/good points that anyone can tell me, and how they would affect us would be apreciated. Thanks!
I will get some front and behind shots soon!!!
oh, and he's a 7y/o, 16hh TB gelding.
about 2-3 months ago: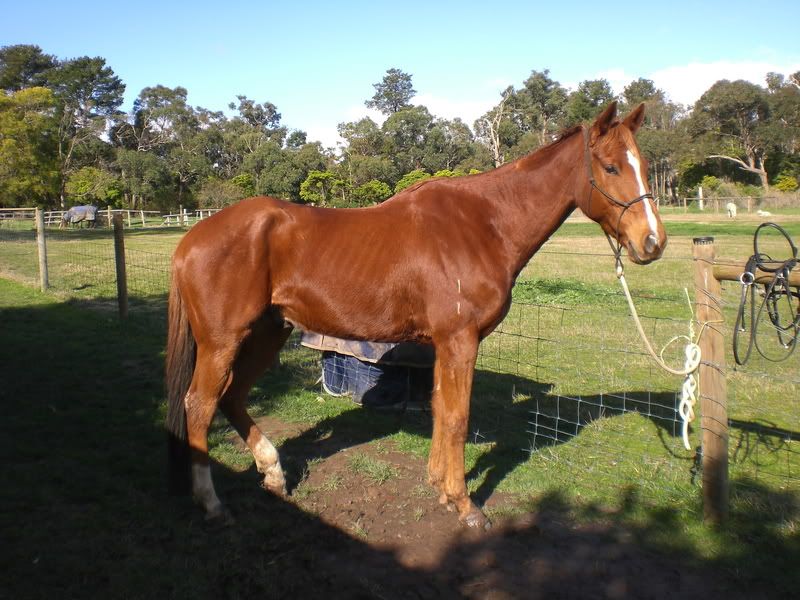 about 6 weeks ago:
And 2 days ago:
(sorry that the photos are really dark, it was dusk and a cloudy day to boot, and his feet aren't as tiny as they look i swear, lol, will get better pictures!)
And one with decent lighting, although he's standing on a slight incline. That's my mum btw, im the one in the previous photos.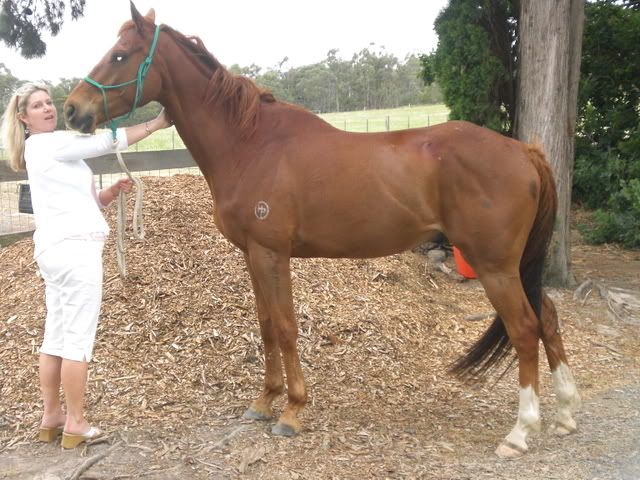 sorry to double post, but i forgot to add, what's everyone's opinion on his shoulder? confo-wise - straight, nice slope, average...etc
he looks great!
For his shoulders, they just look big...but aren't TBs known to have big shoulders?

For muscles, he needs a topline and some on his hind-quarters, but I think he's looking great!!!!
hes got a long neck but its very pretty and his withers and pretty noticeable.
---
still has a good bit to gain - muscle is needed on the neck, topline and hindquarters - - he looks good enough now to start doing some light work

good job and keep up the good work!
---
kickshaw
Justin (qh/tb)
Boo (asb)
I think he's rather lovely... with more weight and a topline he's going to look even better!
x
---
♥ Seoul Searchin' for the Lovebug ♥
any critique on his conformation?
steep croup - - almost goose rumped.

looks to have good bone and a good shoulder
---
kickshaw
Justin (qh/tb)
Boo (asb)