Weight Help
---
Okay so I think he actually is getting chunky but I've only scene him typical skinny thoroughbred. His ribs are completely gone, and his spine area is gone.
Just wondering if you think come spring we can put him back on grass mix and off an alfalfa mix
Before (last April) for reference
boney butt! gross neck!
Now hard to get good weight photos in a stall lol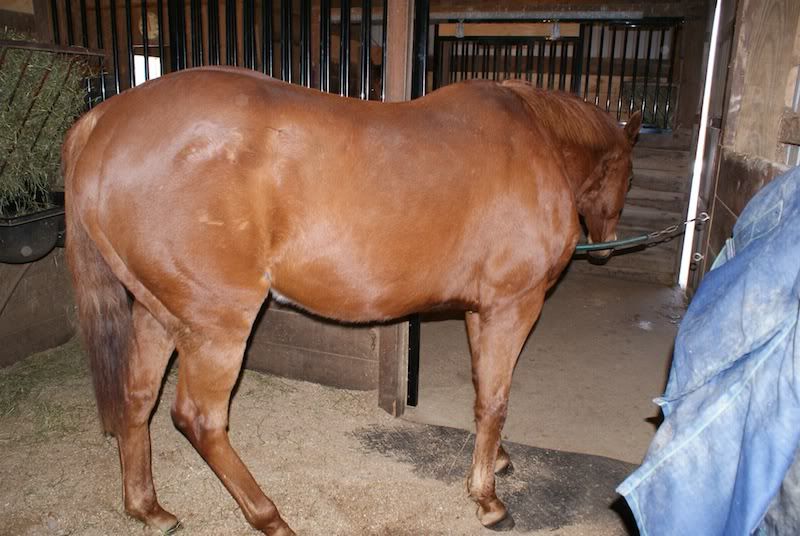 Us riding now
This took forever to find a solution but I'm happy he is happy now.
Now if only I could grow out that little tail...
He looks awesome! I think you've done a very good job with him. That last pic is priceless :)

I might try to wean him off alfalfa slowly come spring, but don't rush it and if he starts dropping, you might just need to keep him on it. I've never had a thoroughbred but am to the understanding they can be difficult keepers.

Good job with him!
Fantastic job!! Just remember, when you do start to wean him off any food, pay close attention to any changes in his weight. They seem to drop weight so quickly and it's so hard to get back on.
---
You just have to see your distance...you don't have to like it.
Just give him more of the grass mix than you give of the alfalfa and you should be ok
He looks wonderful. You have done a great job of putting weight on him. I love before and after pics :)
---
~Horses aren't a hobby, they are a lifestyle.
Website
I mix my timothy alfalfa with my grass hay so they get best of both haha. they normally eat the grass first then finish the alfalfa =] . he looks great btw !!
He looks great, looks like you did a fine job.
thanks id have to give it all up to my BO who gave him the stuff he needed and never raised the board on me for it