western critique??
---
so i finally go a ton a pics and a video of me riding!!
a little background~ i have never had a lesson (can't afford them), i always ride western, and the horse likes to go into a fast trot rather than the canter sometimes (seen in video)
critique away!!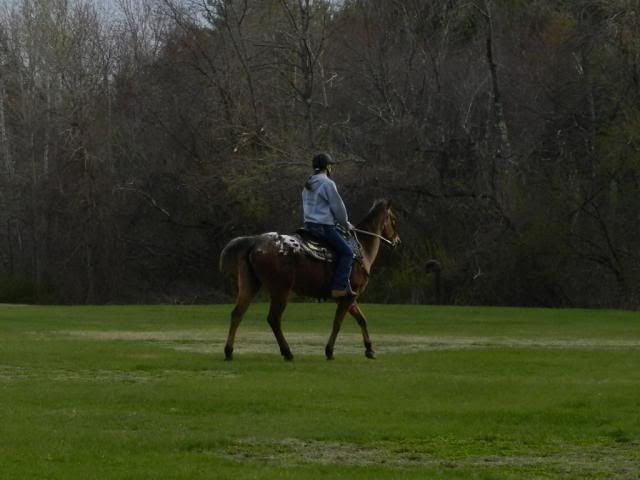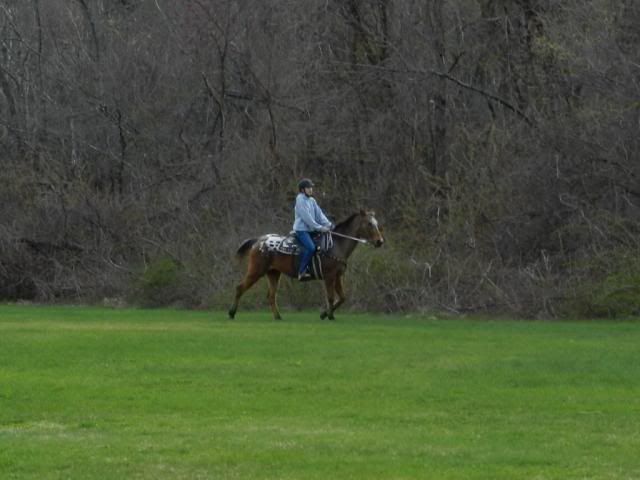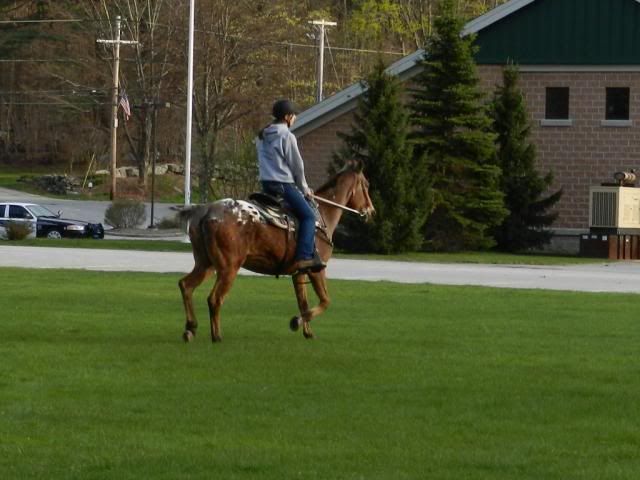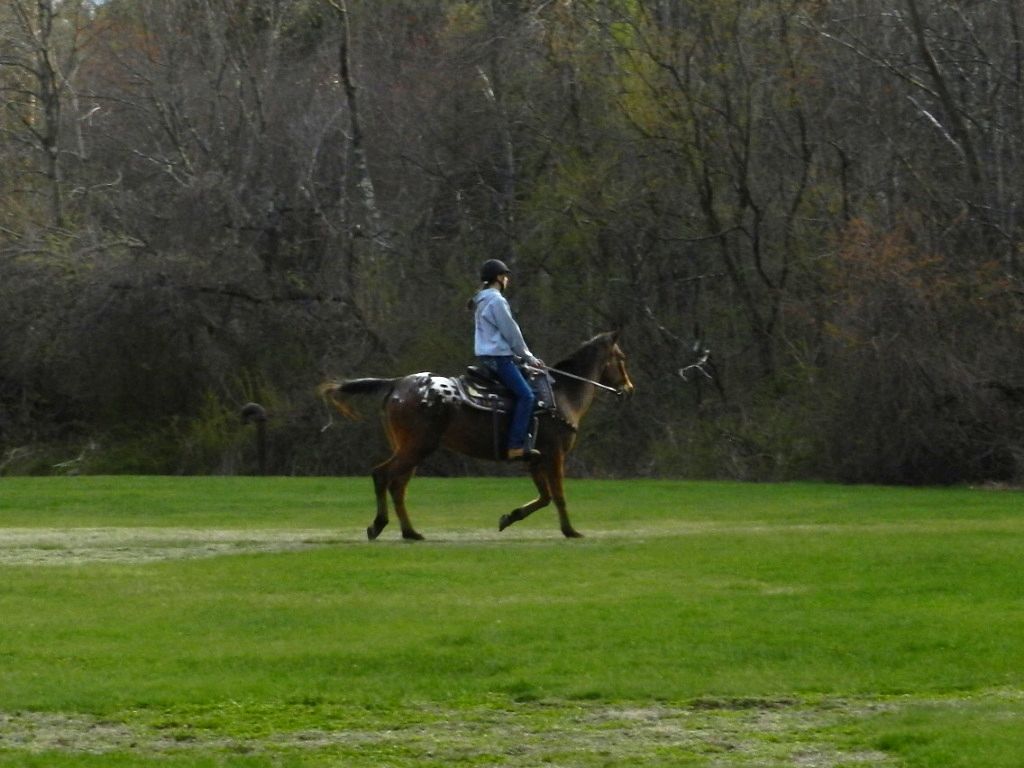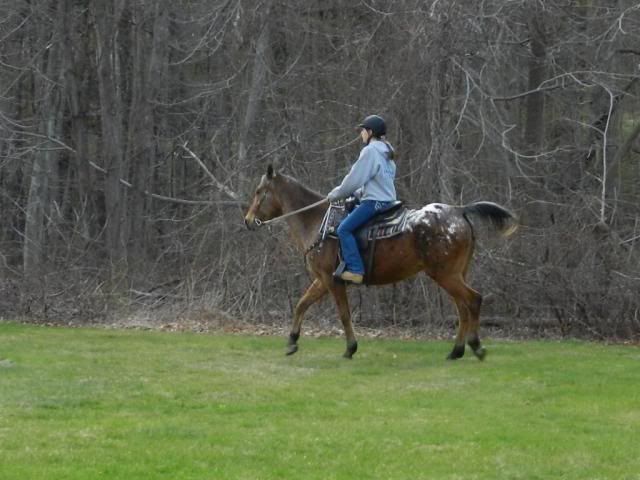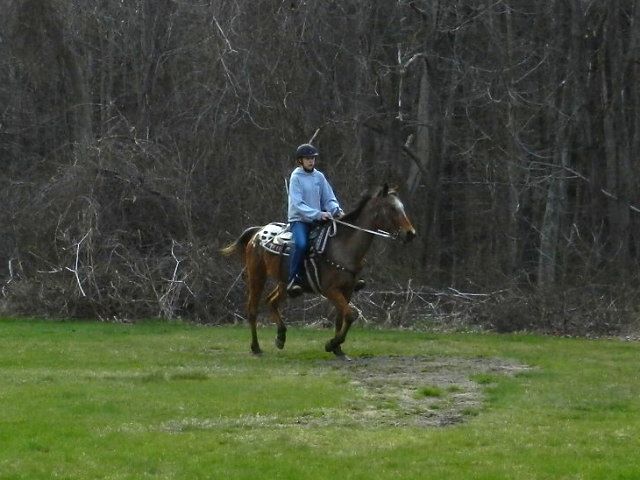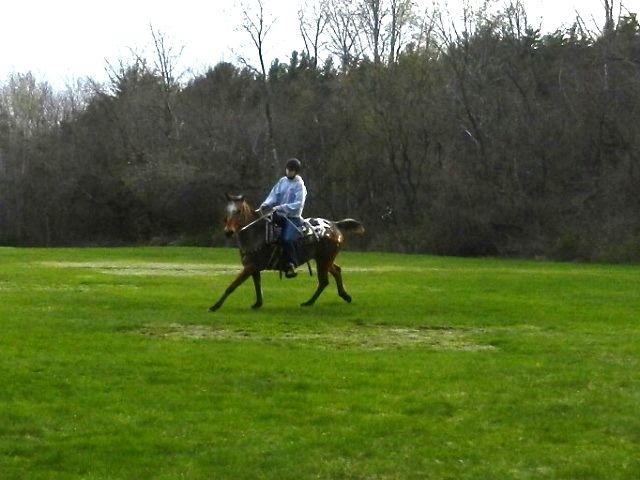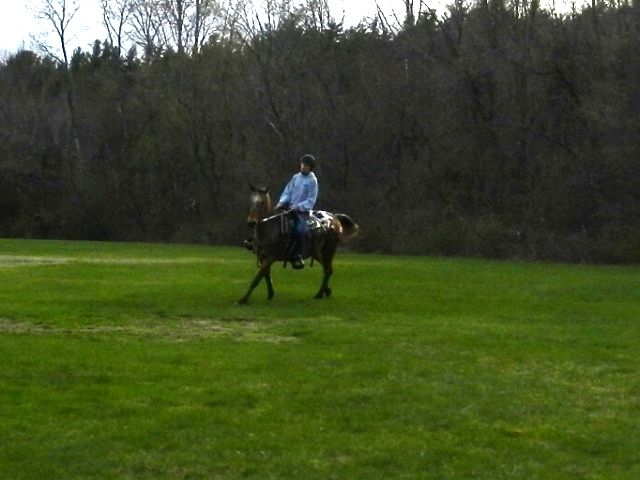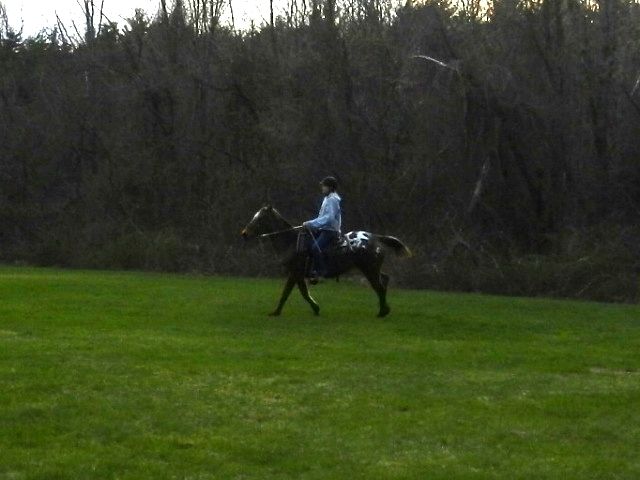 ok this is the video, you will have to go onto youtube because i enable embedding on my videos
i have noticed that i lean back when cantering, but that is just comfortable for me
and for fun or critique... me trying to go into the canter and getting a buck instead. i did get on to the neck and fall off, the horse ran off to eat grass in the yard -__-
---
You may be out of my sight, but never out of my mind. ~RIP Angel
I noticed that when you were loping, your hands were moving a lot. Try to keep them in place when you lope and trot, like you would at a walk. You are doing pretty good from what I can tell. It's OK not to have lessons, sometimes figuring things out on your own is the best way. I don't take lessons and I never have, but I like it that way! There are many ways of doing things and sometimes the person teaching you will tell you to do it one way when your way may also be right!! haha!
---
🔫 Don't Tread On Me 🐍
,.-~*'¨¯¨'*·~-.¸·,.-~*'¨¯¨'*·~-.¸
True, you don't have to have lessons to enjoy horse riding. But if you want to change your way of riding, and if it's getting you bucked off, you might want to look at some changes, then lessons really help.
In lieu of that, here's my two cents :
This picture shows that you have a lot of stiffness in your body and are pretty locked up at your knee and hip. in this photo the horse's "pogo stick" type up and down motion is popping you out of the saddle because you are too stiff;
The horse is stiff and is hollowing her back (his?), and this does make it hard for the rider to have a solid seat, but if you are stiff, it makes you bop up and down, which irritates the horse , which makes them hollow out even more. Vicious circle. Unfortunately, YOU have to be the one to start the change. you have to get looser in your knee and hip and start sitting down more in the saddle and moving more with the horse. All hard things to teach over the internet.
I'd work a lot more at the walk, becuase you can get your seat into that loose, following position much better, get your horse to start being more confident in you as her rider, and start to encourage her to slow down, stretch her head down, and kind of "uncoil". She looks like she's all tight and coiled up, back tight, head up and when you take a horse that's tight like and ask for a canter, it's not so surprising you'd get a buck. If you had a softer, looser seat, you proabably could have ridden through that buck, but I shouldnt' critisize you there because I've been unseated plenty.
I'll try a few comments...
1 - Slack in the reins, or try bitless for a while. I'm guessing your hands are bothering your horse's mouth. English riders ride with contact, but that takes some training and time to do well. A more typical western approach is what my daughter & I are doing in this picture:
This was earlier in my riding, but notice the combination of bitless and slack.
Trooper knew how to neck rein. If your horse doesn't, then it can still work. When it is time to go left, extend your left hand away from the horse and offer for him to go left, then tighten slightly to tip his nose if needed. There are also YouTube videos on teaching neck reining.
2 - A relaxed leg can cover a multitude of sins! Tension in your leg tends to lift you off of the saddle and create pivot points that throw you off balance. I have tight hips, and spent the first 4 years or so having to make a conscious effort to spread my knees apart. Particularly if I got nervous - Mia used to do a lot of bolting, and I'd squeeze with my knees and make it worse.
3 - Sing. When I'm feeling tense, I sing Jimmy Buffet songs. The horse won't care if you are off key. Singing helps loosen you up.
I fully understand not having money for lessons. Some of the local teachers around here are OK with giving a set of 4 lessons total, to help you get off to a good start. That would run around $120 here, but it is a lot cheaper than even one trip to the hospital. That was how we started my daughter-in-law. Four lessons gave her enough of the basics to be able to handle a surprising amount of stuff.
Also: some good books. Used from Amazon, they are cheap enough. My favorites are:
http://www.amazon.com/gp/offer-listing/0668026022/ref=tmm_hrd_used_olp_sr?ie=UTF8&condition=used&qid=1367192223&sr=8-2
http://www.amazon.com/Hunter-Seat-Equitation-George-Morris/dp/0385413688/ref=sr_1_1?s=books&ie=UTF8&qid=1367192407&sr=1-1&keywords=george+morris+hunter+seat+equitation

How your horse wants you to ride
None is about riding western, but so what? I like them.
This is by far my favorite video on riding western:
Good luck!
---
"Make the right thing easy and the wrong thing...well, ignore it mostly."
thanks for the advice :)
amberly~ i will try to work on my hands more. right now i am trying to concentrate on how the canter feels (rhythm). i just learned how to do it off a luge line and so i was focusing on transitions and keeping her in a circle ;) now i can focus on my hands and loosening up

tinyliny~ i got bucked because the horse was being a brat, she does that sometimes. she was also prancing a lot too. she stops when she gets tired out. the field is right in back of the barn and well.. she also wants to go back which also leads to her side stepping- a problem even her owner, an experienced rider who has had horses all her life, cant fix.

bsms~ she does neck reign a little but not enough that i would call it neck rein. i do though have loose or very loose reins on trail rides, where she is at her best. if i loosened the reins in the field, she wold go toward the barn as said above. thais is why i keep them a little tight. me and my friend used to ride bareback and with halters and lead ropes in the pen, but we stopped after her horse bucket her off. and in the field, with a bit, i really need to pull her away from the barn direction sometimes, and i think that would be much harder with a halter
i will work on loosening up though :)
---
You may be out of my sight, but never out of my mind. ~RIP Angel
I also noticed that you are very stiff, especially when asking for and riding the canter. One thing you might try (it worked for me) is to open up your hips, let your knees angle out a bit, and completely relax your entire lower body. Focus on riding her rhythm with nothing more than your core; your abdomen and lower back. Of course, start that at the walk and then work your way up to the trot and finally the lope. It takes a long time to break bad habits you develop in riding (believe me, I know
).
It looks like you're trying to brace with your legs to absorb her motion, putting too much weight on your feet. Have you done any no-stirrup work? If not, that might be a really good place to start. One thing I figured out the hard way is that if you keep most of your weight on your feet and you brace your knees, then you're going to get dumped every time they crow hop because your center of gravity is down around your knees...making you top-heavy and easy to topple. However, if you learn to keep your weight in your seat instead, then that's where your center of gravity is and makes things a lot easier to ride out.
Along with that, your upper body is tense, which isn't allowing you the fluidity you need in your shoulders and arms. It would be better if you could work on a loose rein to develop the feel you need, but that can be difficult when the
horse
won't work well like that.
I don't know if something like this would be practical for you, but you might try riding her the way I ride my colts. Don't worry about a perfect circle and don't worry about rate. What I do is I leave the outside rein completely slack, ride with the inside hand only, and keep the inside rein shorter (but still some slack) so that when I pick up my hand, it turns them into a tighter circle. That is how I manage their speed; when they speed up, I'll tighten them down to smaller circles, when they slow down, I let them spiral back out to the bigger one.
One last thing, and I'm not certain as it may be her markings throwing me off, but she looks like she might be lacking muscle in her hind end and, if that's the case, she is likely lacking in her back too. How sure are you that your tack fits her well?
All in all, you look pretty darn good considering and don't get discouraged. I think all of us having problems in our riding that we are working to fix (heaven knows I do LOL), regardless of how long you've been riding.
i will definitely try no stirrups and loosening my lower body more.

her tack fits well, they are just trying to put some weight on her. she's not like unhealthy skinny or 'riby', she just needs some weight. ;)
---
You may be out of my sight, but never out of my mind. ~RIP Angel
I think Smrobs said what I was trying to say, but much better.

your center of gravity won't change due to pinching with your knees, however. the center of gravity has to do with your height and your mass/weight, so it won't change if you grip or don't. But, by gripping, you create a sort of pivot point. ,and it makes the upper body swing forward or backward with sudden motion from that pivot point (like the long lash of a whip). the farther that pivot point is from the upper body, the more forcefully you will be chucked forward if the horse props or dodges. so, you are more stable if you have your balance point be your seat, verses your knees or feet, 'cause it's closer to your upper body.

by relaxing and allowing yourself to ride from your seat, and your thing, you kind of lessen the whole pivot point action, too, and be more "as one" with your horse.
so i shouldn't grip with my knees?
---
You may be out of my sight, but never out of my mind. ~RIP Angel
No. You do not grip with your knees.

For someone that hasn't had lessons, you really aren't all that bad. You look more like an English rider in western tack at the moment but you are riding an unbalanced horse so for the most part... You are not doing to shabby.

I would work on sitting with more weight on your pockets if you will. You still want to sit up straight with your shoulders back but you want to open your pelvis and allow yourself to really sink into the saddle. Put your weight in the heels. Don't pull your toes up when you push your ankles down, just let the weight drop your ankles.

Hold on with your inner thigh and your calves, not your knee. Right now with your horse being a little on the hyper brat side, I'd be careful not to loosen your reins too much but lighten your hands. Don't pull so much with them, do your steering with your legs.

I love appies by the way and yours is a doll. You look great. Keep up the good work.
---
"Be a best friend, tell the truth, and overuse I love you
Go to work, do your best, don't outsmart your common sense
Never let your prayin knees get lazy
And love like crazy"