What color is she?
---
I have a filly name Daisy Duke and I have no clue what color she going to be I thinking she might be a dark bay or chestnuts or brown or if she might turn black, I will get a new pic of Daisy Duke later and here the pic of her dam bay & sire sorrel, When Daisy was born she was a sorrel color
I be back later I am going to get some pic of Daisy
definitely looks like chestnut to me.
I think she'll stay chestnut.
Chesnut! :) Very cute.
---
Ride more, worry less.
Thank yall I thought she might have been a chestnut too! She 5 month old now and she just look like dark color I will get a new pic of her, I couldnt find my Camer and I think My sister has it so I have to wait till she come home from school and ask her where my camer at.
here is a more recent picture of the filly (on the horses part of ParkerHorseRanch's profile)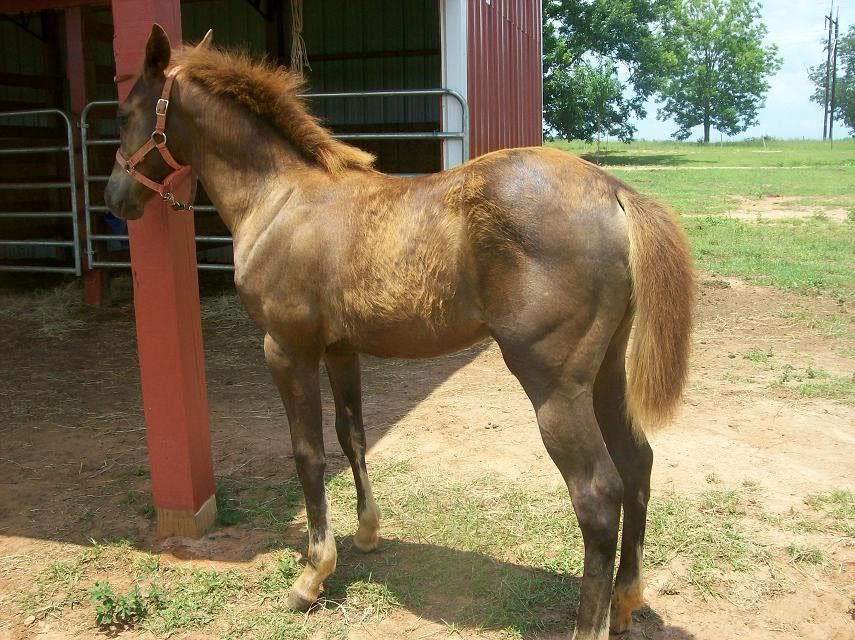 ---
kickshaw
Justin (qh/tb)
Boo (asb)
if she gets darker my next guess on her color would probably be a Liver Chestnut
Yeah, in that last pic she's looking pretty dark. I agree, liver chestnut. But you'll have to wait and see. :P
---
"'For I know the plans I have for you,' declares the Lord. 'Plans to prosper you and not to harm you, plans to give you a hope and a future'" ~ Jeremiah 29:11
Weanling
Join Date: May 2008
Location: Jersey girl in Northern California
Posts: 508
• Horses:
1
Haha, this is our Daisy Duke! I've never heard the name for anything else before!!!
I think you're looking at a liver chestnut there.
---
Horse whisperers don't whisper to the horse....they listen to the horses' whispers.