what do you guys think?
---
well i have been kinda looking around for another horse and i came accross this little guy! he's about 6 hours away from me so i'm just not sure if its worth it to go that far... :-/ he's for sale for $800 OBO his full brother is a national halter champion.
Here's pics of his sire. Mighty Awesome
His dam Playgirls Passion--
And him-- RM Too Awesome
All Breed Pedigree Query
He's reg Paint but can also be reg as a quarter horse. here's the pics his owner sent me so let me know what you think.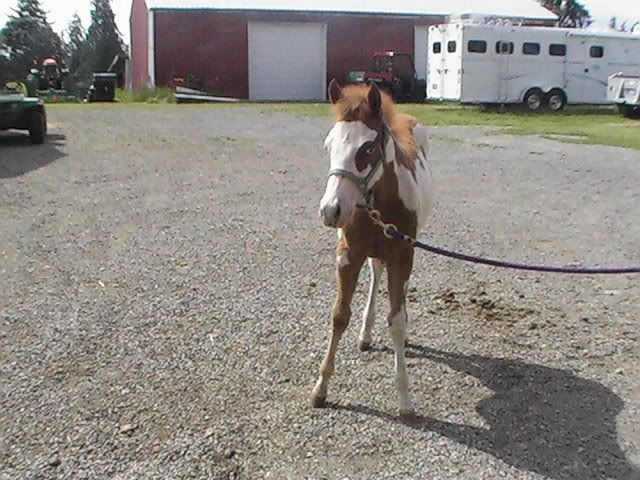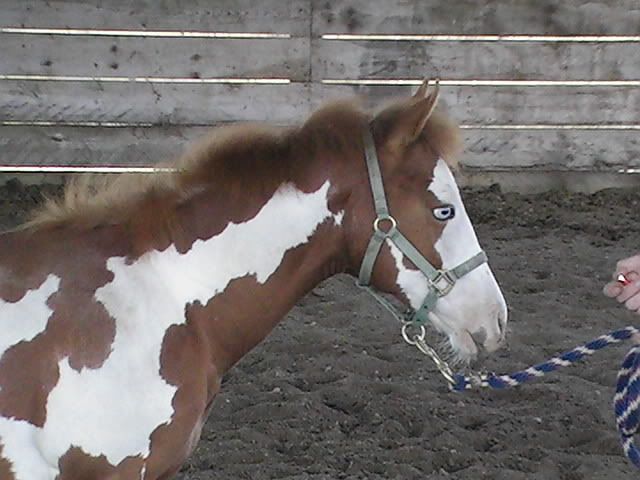 He is definitely a cutie, I love his blue eyes. BUT, he looks swollen in his hind fetlocks. Plus, I really don't like Daddy's confo. Something about him really bothers me. It is like he is way too compact. Little boy looks like he will grow up to be built like daddy.
I actually really like dad. Im horrible with judging anything about babies, but overall I like him. I did notice his back legs look a bit big..?
yea i was looking at his back legs and i think its just the pics but its hard to tell. do you guys think he's worth driving 6 hours to see? i really really like him but i just dont know. im an arab girl so i really know nothing about quarter horses.
I like his sire, but there is something I dont like about his mom I think its her neck. I like the little guy though. He is really cute. I see the same thing in his back legs though, but that could just be the pictures like you said. I would at least consider going to look at him.
Personally, I wouldn't drive that far for him. But I wouldn't drive that far for a lot of horses..
It all really depends on what you want to do with him. I personally really dislike halter bred horses because they are bred for small bones and feet and way too much muscle mass just like daddy. He may be a good roping horse or trail horse, maybe reining. He would probably do okay in halter classes but you never know. As for pleasure classes, he is all wrong and I don't see any cowhorses in his lines. He is cute and flashy but if it was me, I would keep looking elsewhere.
YIKES - look at his pasterns; they are very upright, even for a foal. Is the sire HYPP N/N? I agree about his legs; they look a little swollen.
If I were interested in him, I would email a few questions to the owner, and get a bit more info and maybe as for some updated pictures.
---
The lovely images above provided by CVLC Photography cvlphotography.com
yea, there not very good pictures so its hard to tell. i will post pics of him full brother when i have the chance. both his sire and dam are HYPP N/N.
im also just looking for a good 4-h horse for my little sister pretty much. so its not like im looking for a horse thats nationals quailty or anything like that. but it is really far, so i think i might just keep looking. his owner is also sending me a vid so ill see about posting that when i get it.
Similar Threads
Thread
Thread Starter
Forum
Replies
Last Post
Hey Guys.

DixiesPaintedNova

Meet the Community

6

11-21-2008

10:35 AM

Hey guys.

*ArabianPrincess*

Meet the Community

9

06-23-2008

01:16 AM

Hey guys

Miss Katie

Meet the Community

7

03-11-2008

11:41 PM