What do you think about him? potential buy.!
---
His name is Nitro.
I really like him and would show him in halter until old enough to ridden and then I would probably do some western pleasure and english pleasure. I really like him, but its just all about getting my parents into buying him which I would do payments and help pay for him, but taking in another horse means more finances, but I am prepared for that.
ps. I know he is a baby so I am really not looking for a whole lot of critique just wondering what you think of him thanks.
Also this is him when he was like 5 months old I think is what the add said so I will try to get updated pics.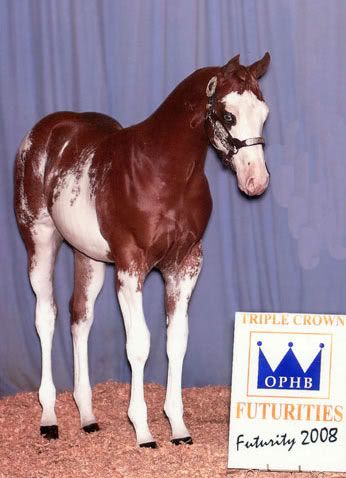 He is stunning.
Is it just me or do his legs look very statue-like though? He is sooo CLEAN.
---
"'For I know the plans I have for you,' declares the Lord. 'Plans to prosper you and not to harm you, plans to give you a hope and a future'" ~ Jeremiah 29:11
yes yes this is true, almost plastic like he's so perfect!
Nice looking, but his pasterns scare me, they look almost straight up and down
his pasterns do look very very straight.
He does look almost plastic though, like a statue
---
You know how to make a miniature horse even smaller? Leave them in the dryer a little longer!
"Don't ever regret something that once made you smile"
The "plasticness" is probably because of the lighting of the photo. But, he does have a stunning color.

He is still young in that picture, so any conformation faults he may have(which all I see is his pasterns) may fix themselves over time.

If you get him, I bet he will be an excellent halter horse. I love that stock horse build. :)
---
Red Money Maker (Red) - 2004 Sorrel QH Gelding
I like him. What are his bloodlines?
My computer is not letting me go on dream horse, but I will go on it when I get home and get his bloodlines for you.
Like above, I'm not a fan of his pasterns, nor his tiny little hooves which is a perfect receipe for Navicular, but that is what Halter breeding does for horses.

Neat markings with a pretty face though. :)
Similar Threads
Thread
Thread Starter
Forum
Replies
Last Post
potential jumper

hotreddun

Horse Riding Critique

49

11-16-2008

05:33 PM

Critique on potential buy

Gingerrrrr

Horse Riding Critique

12

08-20-2008

02:14 PM

Potential Buy..

MariHxc

Horse Riding Critique

20

05-17-2008

03:37 PM