What do you think of my new cremello gelding?????
---
Chrome arrived today! he's a 7yo APHA gelding I just got in from KY. He's absolutely divine to work with! 14.3hh. Broke western but I'm going to see if I can't convert him to English moo-wahahaha! If not I'm going to have to get a western saddle and learn.
He's in dire need of a bath, and please ignore my messy barn. It's normally pretty tidy and clean but with the sun out it was grand central station today!
Anyway - here he is - let me know what you think!
Here are some pics of him in the summer :
What is cremello?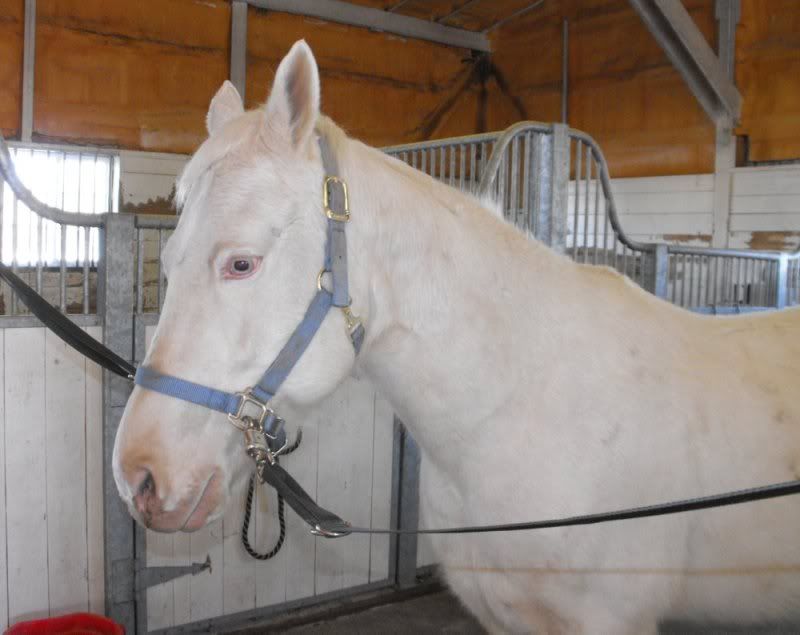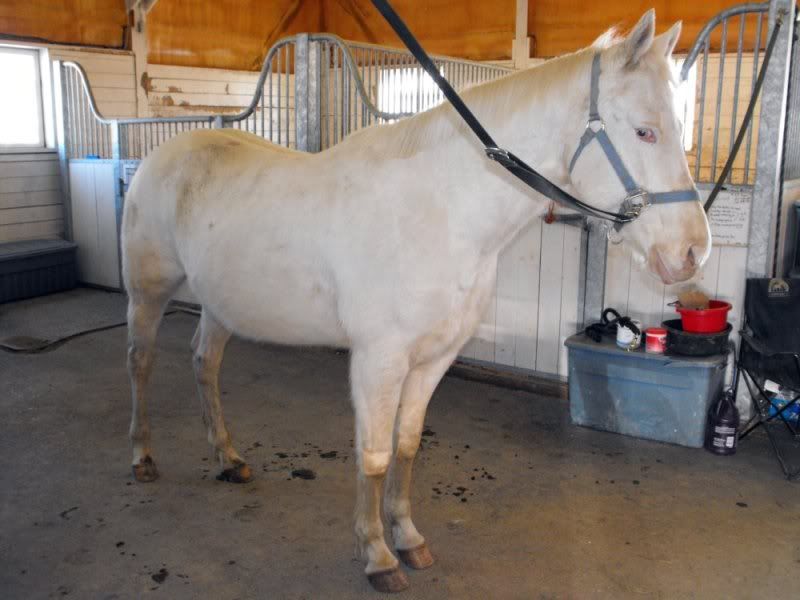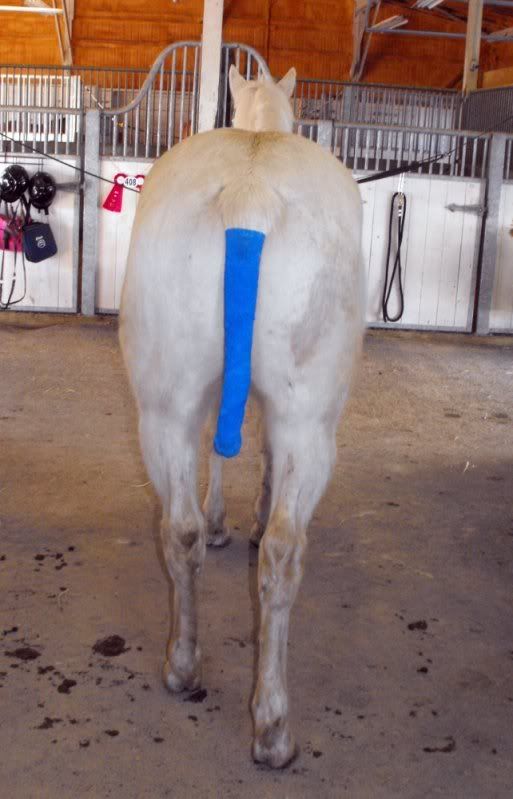 ---
Last edited by JumpingTheMoon; 01-31-2010 at

04:35 PM

.
he looks to have pretty decent conformation. :) gorgeous boy! congrats! We do need to side on square standing pics, though.
Yeh... things were so hectic and busy at the barn trying to get decent shots were difficult. Tomorrow when it's quieter (and hopefully still sun-shiney) I'll get him outside for some better confo shots.
I don't have a critique, but I think he's really cute! I love cremellos! As for what it is, it's basically a double palomino.

And as for the sunburn thing, I think it's an individual horse thing, the one we had never sunburned or had any issue because of her color. At first I just assumed it was a myth, but I have seen pics of other cremellos that would squint in the sun like it bothered their eyes (your's isn't squinting in the summer pics, so it may not be a problem for him).

Then I've also had people tell me they sold their paint(s) because they'd burn so bad on their bodies they couldn't ride them, I've never had a horse (of any color) burn anywhere but their faces (and it can be just as bad w/ a large blaze). If he does have a blaze it may need sunscrean, but otherwise I'd wait and see if the sun is an issue for him.
Thanks for all the info!!! He has a blaze but it doesn't look like it goes all the way to his muzzle.

He sure does seem cute lol.
Thats exciting good for you! You will have to keep posting pics as he gets clean and you start to work with him more.
Oh he is lovely. His color is beautiful, the light blue halter matches his eyes so well!
---
emmy &TOBY

my blog-- coming soon ♥
He says "HULLO I'M A FLUFFEH POONEH!!!"


Hahahahah OH MY GOSH I want to HUG HIM!

Sorry no crit. from me... I just wanted to tell you how handsome he is...
---
"I was eight years old, and I've never forgotten her face when she told me about watching you ride. She told me she saw you, and your horse was dancing in the moonlight."
-- A.C. Crispin's "Sylvester"
LOL! Yeh he most definitely is a fluffy pony. And he loves hugs! Found that out already!

I think his angles are way off on his fronts, I'm hoping when the farrier comes out next week she can get started on him. And his neck may be a touch short, but all in all, he's a nice little guy.