Shasta, is your cat a Bengal?
Hahaha good one! Your cat is very cute.
Quote:
ETA: Kitten, this little girl wasn't even lucky enough to make it to a shelter, she was dumped on the side of a road in a carboard box. Inside was a very scared, very traumatised kitty. Of course I HAD to keep her, I'm such a sucker for unwanted animals!!
I'm sure you are.
I have 2 cats from shelter and handicapped one I picked on street as 3 weeks old kitten. One big fat cat now.
---
"Life isn't about waiting for the storm to pass: it's about learning to dance in the rain..."

"When we are no longer able to change a situation - we are challenged to change ourselves."

"How people treat you is their karma; how you react is yours."

She is a Bengal! You must be a cat lover, tiny. Most people have no idea what she is! =)
Shasta, she is an amazing looking cat, looks like she stepped out of the jungle!

KV - What a beautiful photo, I love when cats and dogs get along, you cat is definately erm...rotund eh? All the more to cuddle!!

Indy, being the less than intelligent creature that she is, has only one response to dogs as there are two big dogs at our house - she freezes terrified and waits for me to come and get her :roll:
---
All horses deserve, at least once in their lives, to be loved by a little girl.
Banned
Join Date: Jul 2009
Location: In a land far far away, or so I wish.
Posts: 12,825
• Horses: 0
She is cute. Not very good conformation photos though.
Thanks Sarah! She is my little peanut! =)
I raised seal points for years so your pics hit a soft spot. When my older son got his own place he bought a magnificent male lilac point. Altho he was crossed with a seal point, the kittens were always lilac.
Aw, what is a seal point? Is that what she is? When I took her into the vet their best guess was a himalayan cross, hence her name. But I really have no idea, she is approximately 1 1/2 years old so she is fully grown but TINY!!
---
All horses deserve, at least once in their lives, to be loved by a little girl.
Dang you I want a bengal!!!!!
Or a Scottish Fold: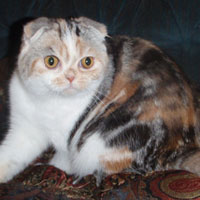 Or a sphynx cat!:
Yay for exotic kitties!
---
Every great dream begins with a dreamer. Always remember, you have within you the strength, the patience, and the passion to reach for the stars to change the world. ~Harriet Tubman