What do you think of this QH mare?
---
I've been eyeing her for a long time while waiting for my guy to sell, but now that I have someone pretty much in the process of buying him I may go check some horses out soon.
I'm really more concerned about personality than anything else at this point...I don't really have any big plans. I'm looking for a basic western type horse to ride around, maybe work on a little bit of reining stuff and take on trail rides occasionally. I might do very low level competing for fun if I work up to it. Mostly I just want a horse to play around with...but I'm still curious to know what you all think.
I really like the looks of this girl so far. She's a 7 y/o reg. QH who had 90 days of reining training when she was 3-4. It seems like she's at more of a hunter jumper place and hasn't done much of that in awhile...they say she's been a trail horse for the three years they've had her and that she's done well out there and even packed beginners...but they do recommend her more for a confident rider, intermediate+. They don't have the best pictures of her, but I'll post what I have and her video.
Any comments?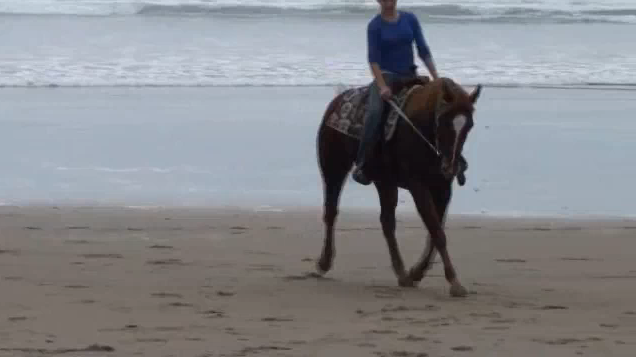 These are of her when she was 4 I believe: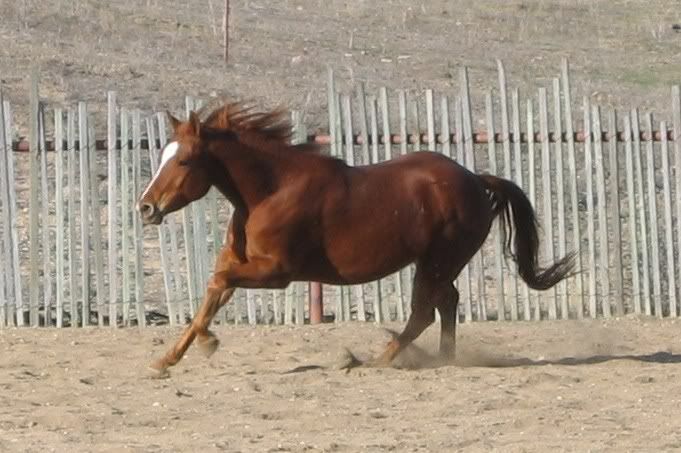 She is really cute! Looks like she's been there and done that. I don't suppose you know what CA beach that is do you?

I like her a lot!
---
All I know is that it's in Arroyo Grande..it sounds like the property she's on has trails right to the beach which sounds great to me! Plenty of beach experience!
Oooo i like her ;) Nice conformation and a sweet little face. Reminds me of my mare Molly.
---
"If a horse fails to do something that is because he was not trained to do it. If a horse fails to do something properly that is because he was not trained properly."
www.wildestheartart.com
Absolutely sick to see you get a beach to ride on! I would kill to have that! I think it's a really cute mare as long as you're willing to put the miles on her. Her confo is pretty decent and she's cute mover undersaddle. She seemed pretty willing in the video to-not to mention the kids in the background and the noise of the beach, people swimming.
I would definitely consider her. What is your long term riding goal?
I like her as well. Cute little mare, perfect for what you describe. Love her head and neck especially. Nice bum. Seems solid. Short pasterns on the upright side.The only odd thing I notice is that in some shots her hind legs and even her front legs look quite close together. Her hind legs angle inward at the hocks and the hooves are almost touching. I know there is a proper name for this, but anyway...don't think it will effect her for what you want her to do.
At the moment I don't really have very high goals- it seems in my area no one seems to actually do anything with their horses
for me the idea of competing in anything even very casually at a low level is a bit of a big deal, lol
I'll probably always be sort of a casual rider, just a lot of pleasure riding and working on refinement and such and some trail riding when I get the chance. I do quite like reining, so I'd like to work on that a little bit like I used to with my first horse, which is one of the factors drawing me towards this mare, since she has the foundation for it. I've never actually competed in anything so I guess the concept of actually getting to where I could compete at all in reining would be sort of my current goal.
I guess most of what I've done in the past is taking a little bit younger or otherwise somewhat inexperienced horses and just putting more miles on them, doing whatever we both seem to enjoy doing at the time.
I always feel like kind of a weird rider for having years of riding experience and feeling pretty confident in my riding but never really accomplishing much...yet never getting bored
That's true, I didn't notice that about her legs...too blinded by her pretty face
I'm such a sucker sometimes.
But I agree, that would probably be fine for my plans.
She is a very cute little mare. The thing with her legs is that she is cow-hocked and base narrow on the back. She might not withstand really heavy, strenuous training or competing but for just playing around and even mid level competing (if you want to) would be fine. She seems to have a sound mind and I like the way that she travels, though it appears she would be more comfortable on a loose rein. If she is within your price range and you get along with her, I would snatch her up.
I definitely agree, I think that the people who have her now being more of English riders aren't so used to a looser rein. I'd have that back in order pretty quickly if I brought her home!

I'll definitely be posting an update after I've seen her. I hope things go well since I already have such a good impression of her from what I've seen and heard online!