What went wrong? (Jumping / Left Behind & Flat)
---
Okay, so my friend doesn't have an account on here but wanted some outside opinions on how her riding is, especially the first jumping sequence. The first horse is a TB ex-polo pony.
And some other photos on the same horse.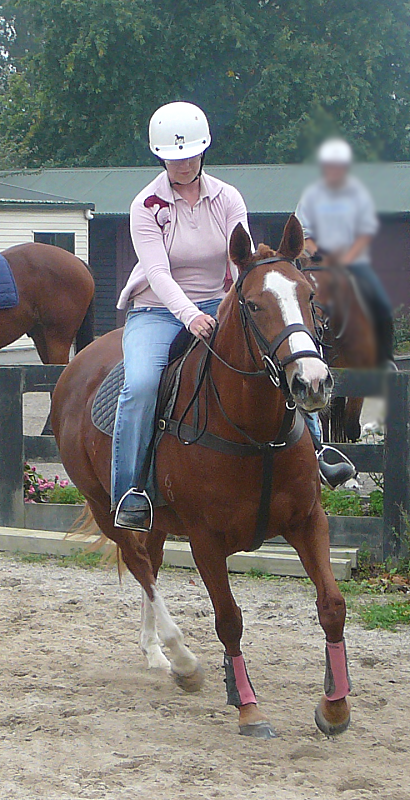 And this one is on another horse.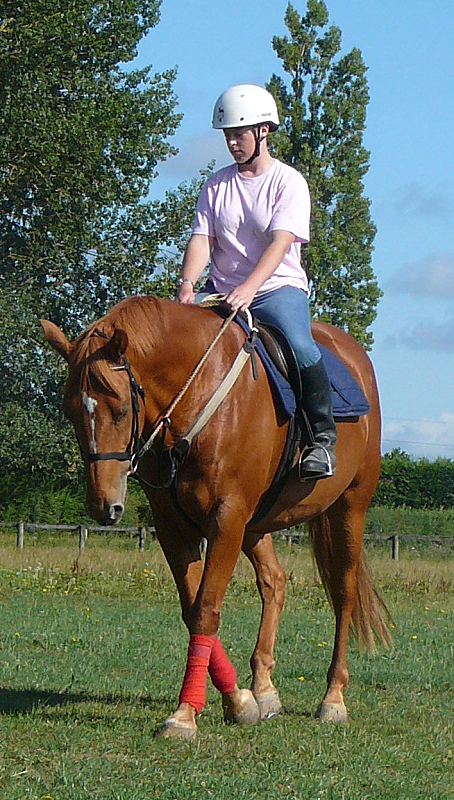 Jumps are small so rider should just bend at waist and move elbows a bit forward for those jumps. Instead she is leaning forward, heels coming up (so weight is forward not down through her heels) thus she's not where she needs to be. Thus her weight is in her butt and she gets "left behind", rather than having her weight in her heels and going with the horse over the fence.

A few of the pictures appear to show her off balance - so she should take more flat, no stirrup lessons to improve her balance before trying to learn to jump. In jumping pictures she's looking ahread, but in flat pictures she's looking down. (Look where you want to go - does she want to come off the horse onto the ground?) Many of the picture show her heels in front of her butt - not the proper shoulder/hip/heel alignment of good riding.

Maybe first horse is too much for her? Horse appears well behaved but when she is riding the last horse she appears better balanced and more comfortable.

Lastly - during jumping it's OK to have hands on horses neck (crest or middle of the neck release) but when flatting hands should be 2-3 inches above the withers so the reins are lightly touching the horses neck (so hands NOT together - about 4+ inches apart).
---
Dressage is for Trainers!
The horse is a saint.

There are a few things going wrong here. Before I get into anything I want to say that the following is not meant to be overly harsh but I have some concerns with this rider jumping at all.

Now for critique!

Photo #1 - What a beautiful expression on the horses face, alert, calm and ready. The rider is lacking lower leg strength and compensating by pinching at the knee. This erodes the support that should be offered by the leg and instead creates a weak point from which balance will be lost when the horse jumps.

Photo #2 - You can really see the effects of the pinching knee in this one, position is not solid over the fence, weight should be in the stirrups and center of gravity is too far up the horses neck for a small jump. Again, beautiful attitude from the horse.

Photo #3 - This is what happens when you try and grip with you knees rather than balancing independantly over your horses back, you lose your position altogether as the forelegs contact the ground. Lower leg has been completely lost. The idea of two point is that your lower leg can absorb the shock of the landing and then you return to the saddle gently after the landing is completed. If your two point is not solid, any slight change in direction, incline, decline or landings will dislodge you. This is what happened here. Unfortunately this horse copped the ultimate double whammy, a slammed back and a slammed mouth. This photo makes me cringe.

Remaining photos - The rider adopts an overly forward postion on the flat and the horse is incredibly heavy on the forehand, particularly in photo #6, his hind legs almost seem to be swimming in the air!

This pair are in need of some real coaching. Position needs to be far far more solid on the flat before obstacles are introduced.

I love love love the horse, he looks like such a sweetheart!
---
All horses deserve, at least once in their lives, to be loved by a little girl.
@sarahver; it's also what happens when a beginner ends up with a bad instructor - one i've been telling her to quit for a while. chris doesn't know an awful lot about riding, and while the horse is a saint, she's the stubborn kind of saint, and not a regular school horse. not saying it's all the horse/instructor's fault, or that you're wrong, just pointing out that i probably know more than her instructor, and i'd still have her on a lunge until she learned to use her legs (i just love taking away reins, because people take them for granted). and i'm sure that photo makes everyone cringe.

Okay, so I gave Chris a call and she came back with this.

Apparently the second horse was one she actually liked (but never jumped, only walk-trot), but he got a splint and she got put on the first horse, who is an ex-polo pony. Not a hot TB, but she does like to refuse anything bigger than a cav and she's fallen off a few times. Aside from that, she can't really explain the leaning forward thing except that she always felt she was leaning back too far otherwise - and her instructor never told her she was leaning too far forward.
You look where you're going to end up, so if you stare at the ground..... Of course you're going to end up there.
I would spend a lot of time with this rider on the lunge line stabilizing her seat and developing a feel for what is going on underneath her before I'd send her over jumps. Jumping over cavs on the lunge line might also be a useful exercise down the road. It is obvious she has lost confidence in her riding and needs to be taught how to effectively stabilize her weight in her lower body and seat.
Wearing proper riding attire will also help this rider to be more secure in her riding. This includes breeches, halfchaps and a pair of gloves.
The gloves are important because right now she is not holding onto the reins and as a result is not able to effectively steer the horse, or use her closed fists on the side of the neck to support her body weight. the hands must be closed on the reins at all times to allow the development of a correct contact - imagine having a phone conversation with someone standing 10 feet away from their phone. You and they have to yell to hear each other and then all of a sudden that person runs to the phone and keeps talking at the same volume (ie when you pick up contact to go over a fence) and of you're going to recoil (refuse the fence).
Anyways, lunge lessons and correct attire are my suggestions.
Good luck to your friend!
ETA that fleece thing needs to be burned. It is really affecting her position badly and not giving her a place to sit and feel the horse. You can send it to me. I like burning things
---
They say money doesn't buy happiness -- well happiness doesn't buy horses!
---
Last edited by ~*~anebel~*~; 04-06-2011 at

05:30 PM

.
Well I hope she can find better instruction, for her sake and for the horse's sake!
I understand that you aren't making excuses for the horse but I just wanted to mention that horses that are subjected to riding as demonstrated above often mysteriously develop a habit of refusing jumps, knowing what happens to their back and mouth upon landing. When things go wrong, look to the captain of the ship
In addition to the great suggestions you had for her, I would add plenty of flat work in two point position. I can tell just from looking at these photos that she wouldn't be able to maintain a two point for more than three strides, let alone factoring in poles and cavaletti. Lots of work to be done!
After all that bashing (!), I genuinely wish her success and hope that she can get herself into an environment where she is able to receive quality instruction as it sounds like currently the instruction is less than adequate.
---
All horses deserve, at least once in their lives, to be loved by a little girl.
I agree with the above posts. She needs a lot more basic training before she starts jumping. Build a much stronger lower leg and encourage her to sit back. Stirrups need to come down lower, too, in my opinion. It's easy to keep bringing them up when you have a weak seat and legs because it makes it easier to post, but that's a bad shortcut to take. I'm not saying bring them down a lot, a couple holes will probably do it. The seem especially high in the second to last picture.
---
You can tell a gelding. You can ask a stallion. But you must
discuss
it with a mare. -Unknown
---
Last edited by horseloverd2; 04-08-2011 at

03:33 AM

.