Quote:
Who are you meeting with if you do not mind me asking? I am going to Vegas today but if I can find the info I will send before I go. There is a man who just moved to that area from the Burton area that works with people(he said most of his clients are 40 plus women who have lost their confidence). I will see if I can find his info too.
SO GLAD YOU ARE GIVING IT ANOTHER GO!!!! baby steps.....ride for 5 minutes, then 10 minutes etc....
That is what I have been doing. I am up to a half hour and only stop because we are both bored of the big arena.
Shimmering Moon Farm Home
Her name is Leslie Cieplechowicz-Hofen. I am looking forward to meeting with her after exchanging many emails and reading up on their accomplishments I think she maybe able to help me with getting Mac to where I need him... and myself as well :)
Quote:
hiddenpromisecampus.com
Actually I have had more of a chance to go over the site more and yes it does seem to be something that maybe of help for me and my confidence around my big boy. I have found their Facebook page as well as Facebook group... Thanks again for the info
I signed up for her weekly newsletter too. She is a bit farther for me but if I cannot get my confidence up to where it needs to be I will be contacting her as well!
---
He knows when you are happy. He knows when you are proud. He also knows when you have a carrot.
Others have said it... But it works... Go easy and just take things as they come... I went through something similar, and am now doing the same on the ground after having a boarder kick me (broke my wrist in two places, could have been worse, but it really rattled me for some reason.... Everytime I work with a horse I give myself a pep talk about how there is no point worrying about stuff because I will only manifest my fear in the horse!)
My "excuse" for being fearful was that every time I get hurt (regardless of how I did it) it is a MAJOR pain in the ass. It was making me unhappy to be using such an excuse though... Seemed wrong that I should let something silly like fear of doing something I have done most of my life take away from something I enjoy.
The first real "test" for me was getting up on my big Clyde mare for the first time in her life. I don't know how long she and I were "working" on the ground that day, but I had dragged a big garbage can out and was determined to get as far as having her Ok with someone above her.... Over the next few minutes I found myself hanging over her back with her looking at me like she was saying "Really? That the best you got?", I stood up again and told myself to pony up and swing a leg over... And did it. Sat up there clinging to her mane, eyes shut, waiting for the freak out, and.... Nothing. Opened my eyes and saw her looking back at me again "Was that so hard?" complete with a little head nod. It didn't seem SO bad, so I sat up a bit taller to signify I'd like to walk.... Walk we did, at the end of it all I felt about 10 feet tall (and that was AFTER I got off
)
This is us that day...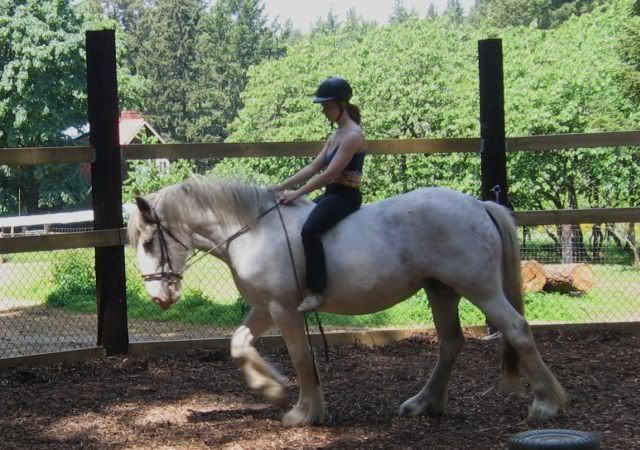 I won't say it was entirely that easy, I still have bouts of this new and frustrating fear (after 20 years of riding!) but still take the same route... Once I am comfortable it seems easy, even it means it takes me awhile to summon the courage... It always seems comical in hindsight, but there is nothing funny about fear.
I find the trick is to identify the fear, then push it away... Different people have different approaches, I focus on it and then think of myself breathing it away on deep breaths.
Your girl is absolutely beautiful!!! I'm glad you worked thru that fear... It really depends on the day... some days I'm brave as can be and we do wonderful work together... on the ground... others... I can barely to the minimal work... sigh..it is very frustrating. I'm really hoping this new trainer will help us out in him being better trained and me finding back my confidence. The day I rode him bare back in the pen a few weeks ago I was on a cloud for the day... I need to have that feeling again and keep it!!! Thanks
Hokey as it sounds, an animal communicator helped me reach this point with that mare.

I had been training horses for over 5 years, riding about 10. I had the delusion I knew it all. THIS horse educated me... Without EVER so much as stepping on my toe. She had me stumped, mad and fearful (She's alot of horse, especially in full flight or tantrum mode)... And nothing I knew was helping, no advice from others either.

I sat out there with her all day one day (she refused to be caught - I used to halterbreak wild horses for a living, so you can imagine the frustration, this 2 year old DRAFT horse had my number and she was calling) and figured we needed help... Of a connection kind. I called a lady who had come out once before for another horse, and she spent 4 hours with us (yeah.... ). Everything about how I saw this horse changed, and she viewed me differently too. She had simply found the little fears in me which I thought were gone, and made them larger than life. She is still teaching me to LET GO of fear, not just bury it. Once I do, she will do anything for me, I have only to ask.

Sometimes it really is mind over matter and self reflection rather than training.
Posted via Mobile Device
Just another quick update:

Today I went out for a 3 hour trail ride on my friend QH. It was amazing!!! I felt so much at home on her it was like I've ridden her 100 times!!! It definitely boosted my confidence. She said I could ride her anytime and I think I will take her up on that. She really wants to take my big boy out but I feel his first out needs to be with me again.. .or maybe I'm just being silly... But I definitely answered one of my questions... Yes I do still wanna ride!!! It's a feeling like no other!!!
That is great news!!!! Keep going !!!!!
---
He knows when you are happy. He knows when you are proud. He also knows when you have a carrot.
Had yet another great ride on my husbands horse while my friend took my big boy out on the trails for his first ride since the melt down. It went really well. Actually a lot less spooking then I thought would happen and NO MELT DOWN!!! A few days later another friend took him out without me but with 2 other horses and once again he did well. Curious but not spooky... Guess all the ground work and desensitizing did work!!! This weekend its MY turn!!!! Wish me luck!!!
good luck!!! we have had amazing trail riding weather!!!!
---
He knows when you are happy. He knows when you are proud. He also knows when you have a carrot.