am I too big?
---
I just keep looking at the pictures of me riding this horse and I can't help but notice....I look like a GIANT on her! I believe she is around 15 hh and I am about 5'8 and 150 lbs. Am I too big for her?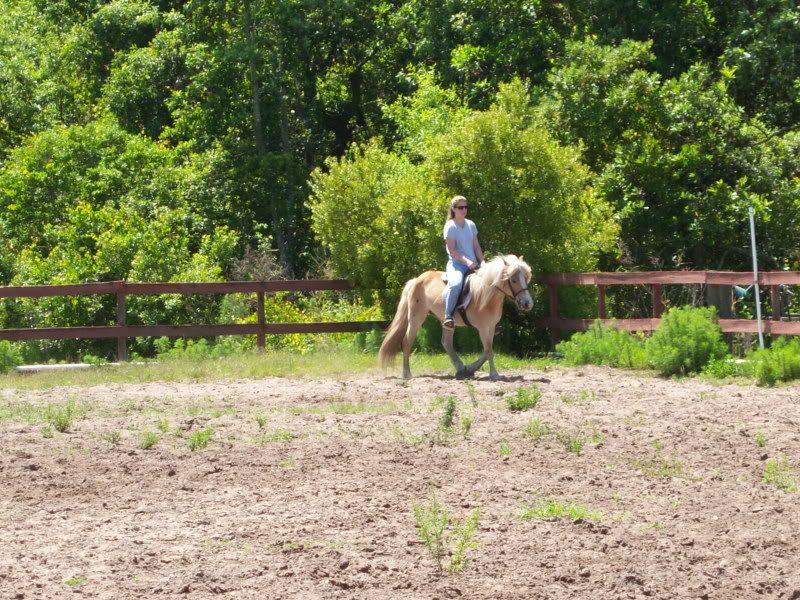 O.O

She doesn't look 15hh...

My boyfriend is 6'2", and rides a 15.2hh mare... and his legs don't hang down that far on her... in fact, they look quite nice together.

Are you sure she's 15hh? Not trying to question your intelligence... she just doesn't look that tall, especially if you're only 5'8"...
She doesn't appear 15hh. My boy is 3, and stands 15hh and I am 145 and 5'8" as well. Idk, maybe I look funny too? but he looks taller than your girl there....

OH and in the second pic, we are in about 6" or so of tall grass...
No I'm not sure if that's how tall she is. I was trying to remember what her owner said as far as how tall she is. I will be out there tomorrow and can check for myself. Do I look too big on her though?
You do look a little big on her.. but as long as she doesn't throw a fit when you get on her and she feels like she can handle herself than you should be fine...
---
*As Long As We Are Together, We Are One And We Are Safe*
According to normal standards, you are a little big for her.

However, she looks like a Haflinger, which are really strong, hardy ponies. I personally don't think you look big on her. She looks happy and you certainly don't look too heavy. She's a cutie!!
I believe that the two of you look a little disproportionate to eachother, but with that being said I don't believe that you are too big for her. I agree with Starfeesh that she looks confident and comfortable (as do you).
I agree with the above posters.. aesthetically you may be a bit disproportionate, but she doesn't seem to mind and you are definitely not too heavy. You'd know it if she didn't want you on there!

And she is absolutely gorgeous by the way, look at all that mane!
Its nto the best fit, but you are not too big on her. NOt at all.
---
quarter horses.....simply the best
I just think of how disproportionate those big viking dudes looked on icelandics, and it looks fine to me. It also depends if your showing. For example, the mounts tend to be on the shorter side, or the riders bigger, in western, especially reining. In dressage, the horses are big guys, so all the riders look not so big.