Some people can vault onto the back of a horse. I used to do it easily but got out of practice and now I can only do it with a fight on shorter horses. I will usually lead them up beside something to climb on just because it is easier (on me and them). You might try teaching them to bow or lay down on command or get them comfortable enough so that they are confident enough to stand beside whatever you want to climb up (including wire fencing if the need arises).
yeah i usually use someone to get a leg up, or the bed of a truck, a tire or a stool, depending on where i am at lol but id love to be able to just hop on bareback and go but i guess i'll have to keep practicing lol
---

Baby, Sparta, Carmen, Henry, Hooch, Mercedes, Butterscotch
i wind my hind into my horses mane really low so i have a grip on the mane and even some if the neck then stretch out so your back is to the horse and your other hand is stretched by the horses head, when you are ready it will only be one or two quick steps and a leap :) make sure u use your right hand (the one not in the mane) to push urself into the air instead of just trying to flop your leg up. it takes a lot of practice but its great when you can get it :) and once you can get up this way you can be confident riding places where there are no stools, such as trail riding :) enjoy

the horse in the pic has been taught to be mounted this way and even to take a couple of steps forward when im getting on so when his front left leg is forward i can use it to lever myself up if im struggling, like when ive got a million layers of winter clothes on
Quote:
Originally Posted by
1dog3cats17rodents
View Post
Most horses have "dip" where you naturally fit. Just like the saddle, you should slide into the proper place. Usually it is right behind the withers, with your legs behind the shoulders (about where you would sit with a saddle)
And when you sit this far up you can grip with your legs basically where the cinch is. :) Esp. when you're galloping. Like this: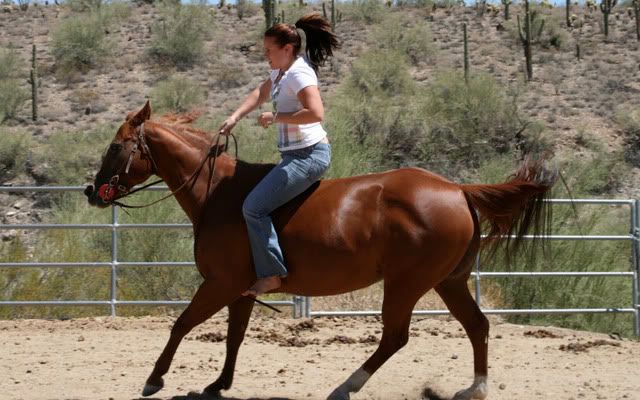 GAlloping bareback is the best!
---
Jumping a horse = Getting wings!
Why live on the edge when you can jump off?- Greenwood Horse Trials Tee-Shirt