Quote:
Mildot and I can duke it out on our own.
We're not going to.
I won't engage in discipline bashing. I merely pointed out the difference between what I consider effective riding while going across the country and an exaggerated style that some can get away with within the confines of a well groomed arena and the horse's preferred way of going in hunters.
No doubt there are hunter riders who still follow Morris' advice and teachings. I suspect those are the ones who do best as jumpers.
Not a lot has changed in cross country jumping:
Then:
Now:
To be honest, I find the general amazing. So totally centered with free hands that follow the mouth without having to rest on the crest.
Truly a man's man in every respect.
---
Last edited by mildot; 12-20-2011 at

08:15 PM

.
Interesting that the modern photo you chose to compare shows a very mannered crest release that would look at home in the hunter ring instead of an auto release, such as Patton's.

Also, the modern rider has exagerrated the "stirrup home" position to such a point that it has robbed him of flexibility, whereas Patton's, while reminescent of the older Calvary seat, has maintained flexibility and weight in his heel while wearing his stirrup further back than today's hunter riders.

If your intent was to argue that Patton was a heck of a rider, I'm persuaded. The rest, not so much.
Every discipline has good and bad riders, people. There's no need to try to prove that one way or the other, we all know it.
I think it comes down to how you were taught - which actually relates back to some of Mind's original questions. I was never taught to come up and out of the saddle and over the horses neck, if I had done that my trainer would have pulled me off my horse immediately and I would have been in trouble.
Here's the only pic I have of me jumping, it's ancient, but I can still see flaws that I do today.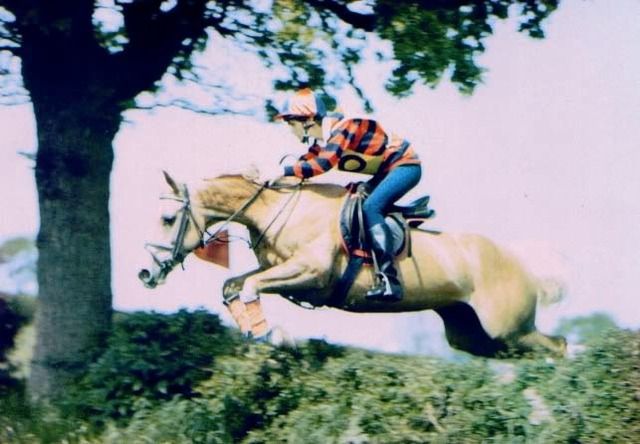 But anyway, that relates to Mind's initial comments, as it is really hard to find a good instructor, especially for new riders. Habits, once created take an age to unlearn. And sadly a great many people advertise themselves as instructors without any real qualifications or reasons for such a title.
You have received a ton of great advise here Mind (welcome by the way), but something that I didn't see in my skimming of all the posts.... the horse world is dominated by women at the lower levels of the sport - but in most disciplines, at the top levels, it's the men who dominate.
AlexS, I was always taught that you're still supposed to stay...centered in the saddle is the best way I can describe it (like just the way your butt is if that makes sense, except perhaps a TAD more forward depending). Kind of like how you're jumping in that picture. Jumping on the neck was seen as a no-no and a sure almost-fall or fall scenario.
---
Last edited by Cinder; 12-20-2011 at

09:15 PM

.
I believe that climbing up the neck of the horse is incorrect, and does more to unbalance the horse than assist it. I am too far out of my saddle in that pic though, but I am not sure if that's my form (as this is the only jumping pic I have of myself) or if my stirrups could have gone down a hole.


But anyway, I didn't mean to make it about me - I was meaning that a good instructor makes a massive amount of difference. The girl pictured earlier likely has lessons, and was taught to jump by someone.
---
Last edited by AlexS; 12-20-2011 at

09:53 PM

.
Quote:
Do we need to start a manly riders picture/video thread?
Yes sir, and I don't mean maybe.
---
Thank you for the welcome, Alex.
It's interesting that the percentage of male riders increases at the highest levels, I was beginning to notice that myself through the various discussions. Is there a simple explanation for the shift or is it variety of circumstances working together to cause the change?
Do men just enjoy the attention they are given from the female majority of riders at the lower levels so much they never leave the sport and thereby increase to the highest levels..?
In english riding, do men and women compete separately or together in competitions, I'd imagine together?
---
Last edited by mind; 12-20-2011 at

10:30 PM

.
No idea why men tend to be prominent in the higher levels, I'd be guessing at answers, but maybe they find it easier to get sponsorship - I dunno.
There are not any gender based classes that I can think of, but I am not American, and there are lots of American classes that I am not familiar with.
If you are interested in watching some top level classes in lots of disciplines, you can do so at FEI TV online.
FEI TV | Home | Welcome to FEI TV
I am not sure how much you can see for free, I know you can see some - but I subscribe so I can watch all the events.