My other thought, was to train her as a trick pony. You know, Smile, wave, rear on que. I think that would be really fun, and a nice way to bond with her!
The only thing about finding a 90 lb trainer is that its very hard to do. We sent our 12hh caspian mare to a trainer who was 100 lbs and she was the smallest in the area for about 150 miles.
I do agree that she might not hold up if she has weak conformation, and its always the risk you're going to run just like with poorly conformed full sized horses- which is why I suggested that OP give us a picture of her pony before I actually tell her to go for it. A weak backed, weak coupled, twisty legged pony probably isnt very sound for ANYONE to ride, but a short backed, strong coupled pony with at least decent legs should be just fine with precautions, sensativity, and moderation :)
Here is a picture of our mare that is about the size of yours OP. She is 15 and has been ridden since she was 3 1/2 4-5 hours a week in lessons for kids, and occasionally (about twice a month for tune up) by me. So far she shows no signs of swayback, artheritis, or weak ligaments. I've never seen her go lame except for once last year when we realized that she has a muscular problem that causes her to become very tense if not let down slowly from a ride and being warmed up well. As long as you give her time to warm up, she's never had another problem. A lot like a runner or a swimmer who doesn't stretch before racing. Her conformation leaves a lot to be desired, but properly muscled she seems to be just fine.
at a rodeo parade last year- pictured with a 5 year old boy on her, next to a 35" miniature horse.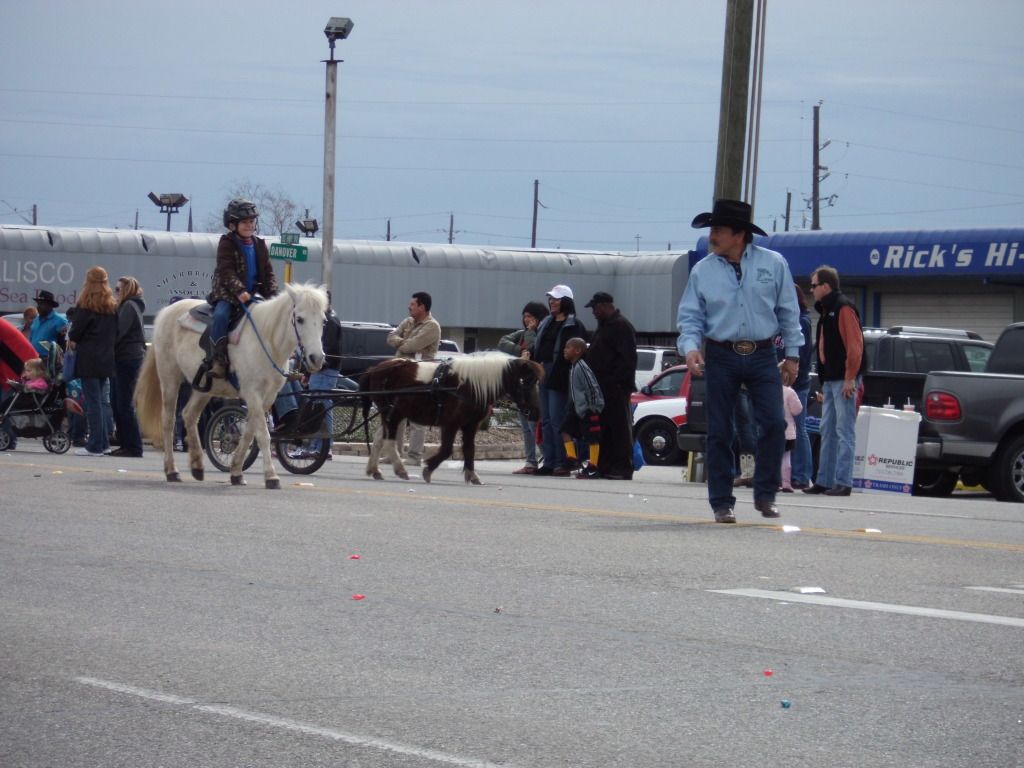 4'8 little girl on her, about the biggest we allow for lessons.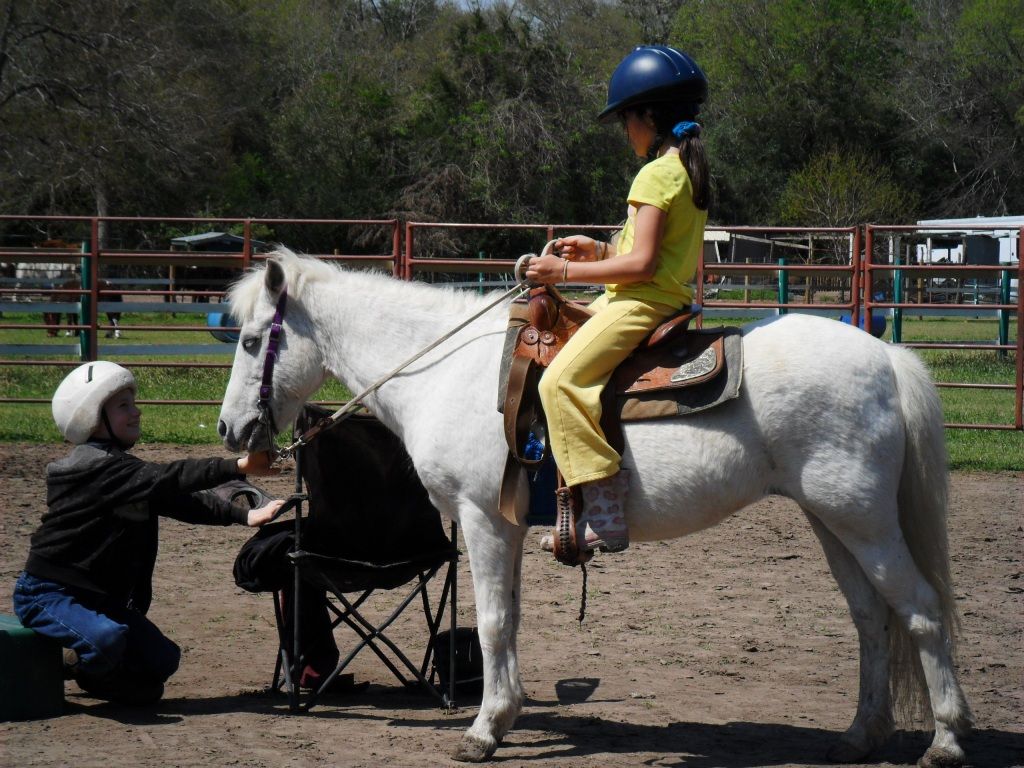 The hill work you're doing with her is perfect and will really help her. Start trotting her in hand up the hills as well once she can do a walk easily. Flexation exercises will also help her tremendously, I think.
Even if she can only be a cart horse, don't let that deter you! My mare is only 34" tall and I LOVE to drive her. My favorite thing to do is take her out on the wide trails in our area to drive, having her do obstace courses (wide set poles, bridges, tarps, etc in the cart) and just going on pleasure drives. You can do quite a lot with a well trained cart horse, suprisingly!
---
Everyone in your life is meant to
be in your journey, but not all of
them are meant to stay till the end.
---
Last edited by Endiku; 01-06-2013 at

10:03 AM

.
Ok, so keep in mind these are not great pictures, and this was over a year ago.... like 16 months I think. This is her doing her first cart pulling ever, and I'm the one leading her. We built the cart ourselves. And, right now, looking at it, I do look really big next to her!!

I'll try to get better pictures of me and her today. And I'm not sure why the second picture is so much smaller, but I'm having trouble resizing it on my computer!
Here are 2 more pictures of her, just her. Sorry, I'm not very good at taking pictures. Like I said, she's not in any sort of "top condition", still a bit slim even. and honestly, we enjoy her pulling the cart alot. If we happen accross a trainer that is less than 90 lbs, we'll see. Other wise, she's good with a cart, sled, and can always learn tricks!

The first building in the back, is just one of the 2 "houses" on our property. The others are the bigger house, and the work shop.
Seeing her conformation, I think it probably wouldn't be the best idea for you to ride her. If you lived near me I'd probably be able to help you out, but as it is even though I dont know where you live, its not near me because we have NO snow, ever xD Gotta love Texas!

Her coupling is too weak for me to tell you it would be very safe to ride her. You could still try it if you're willing to risk it, but otherwise I'd stick with the cart.

Also, this is a bit off topic but you might want to readjust your harness. The shafts of that cart really need to be quite a bit higher, not below her belly- and her breastcollar needs to come up so it isnt interfering with her movement :) Breeching could come up a little too.

She's very cute and very fuzzy xD love the mane. I would have never guessed she was a welsh pony though!
---
Everyone in your life is meant to
be in your journey, but not all of
them are meant to stay till the end.
Ya, we've made the harness adjustments. It was over a year ago, and our first go at the harness and cart. We live on the westernslope of Colorado! I'm not 100% on all the information that was given to us, but the way her head is, fluf at the top portion of her tail, strait but slightly curved downward face shape, the way she looks best fits the "exmoor welsh" description... That is what her past owners have told us, and I think she kind of does fit that, she probably has other mixed pony blood in her, but of what I don't know!


And of course, being a fluffy pony, you'd think the freezing tempatures would be enough, but oh no! On top of all that fuz, she likes to go sit, lay and roll in the snow, and mud, and freezing water puddles.... Then you brush her, groom out the muck.... and there she goes.... back to the mud... Isn't it cold enough?!!
---
Last edited by unicorngirl9; 01-07-2013 at

03:01 PM

.
haha, what a silly girl! She probably is a mix since welshes aren't generally under 12hh often, but whatever she is she's adorable!
---
Everyone in your life is meant to
be in your journey, but not all of
them are meant to stay till the end.
Super Moderator
Join Date: May 2012
Location: CT USA an English transplant
Posts: 24,942
• Horses:
3
I assume by 11.5 you actually mean 12.1?
The welsh section A is 12.2 and under - in the UK they are often used in lead rein and quite often only 11.2
The welsh section C is cobbier/sturdier and max 13.2
I dont think your pony is purebred as it doesnt look typical of either of these two
I think you should get some more condition on the pony before you think about riding it so it has something to build muscle on
As a breed they are very strong, I used to ride our sons 11.2 ponies at times and I am 5'3 and then weighed about 112lb - they had no trouble carrying me at all
No, by 11.5 I meant about 46 inches.Sorry, I meant it as 11 1/2.... My bad!! She's right at 46 1/2 inches at the withers. So she's actually 11.2-11.3. Sorry about that!!!

I've heared that they are strong, and I know, there is alot there to build before I ever tried to sit on her.... If I try, but with all the advice and help I've gotten, I'm looking at not riding her at all!
Quote:
Also, just measured her weight (girthXgirthXlength/330) she's about 455 lbs.
My friends mini is 325 pds so my guess is yours is bigger. I would ride her just not for hours on end. Ok just saw the pics. She does look weak and a bit wormy.
---
Last edited by churumbeque; 01-07-2013 at

07:56 PM

.