The biggest horse that I really rode was my friend's 6 year old, 17.2 hh thoroughbred gelding. I rode him in a lesson when my horse was off.

The biggest horse I've ever been on was 18.2 hh Clydesdale. I'm only 5'1" with short legs and I have to say, I felt like my legs where going to fall off after I got off. That thing was WIDE!
mine was my dads 17.1hh TBx Clyde and was not very pleasant to ride hahahaha
---
Pocket - 8 yr old, 15.1hh Thoroughbred Mare
~You know you're a horse person when you say 'whoa' to your dog~
For me it is my Canadian Warmblood (Oldenberg/TB) who's 17.3, but everyone else seems to suspect he's larger - I think it's an illusion due to his width! I find a lot of these big horses come with health problems. Not all, but a lot, in my experience.
Started
Join Date: Sep 2009
Location: Port Orchard Washington State
Posts: 1,870
• Horses:
3
19.2 Shire Stud that was boarded at the barn I took lessons at when I was 12. He was a dream to ride. Manners to the T.
---
When life gives you lemons....chuck em at whoever is giving them to you!
I don't want lemons! I want cookies!
The biggest horse I have ever ridden was my 17.2 qh but
my granddaughter's Clydesdale, Wheeler was the biggest I have ever been around. He died last March but he was a big boy at 19.2. Here is is with their paints who both stand at 15hh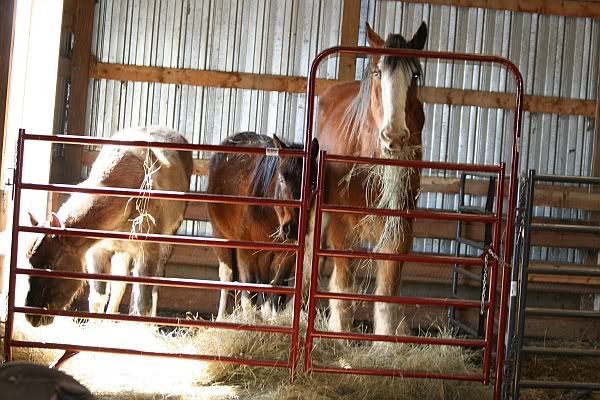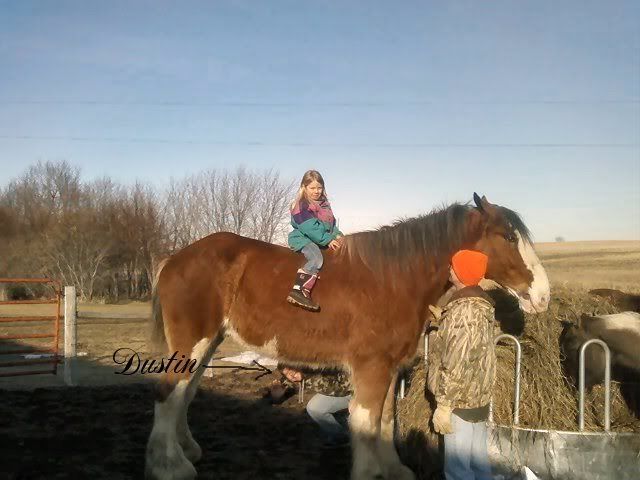 and her new ride, Waylon who is 18.1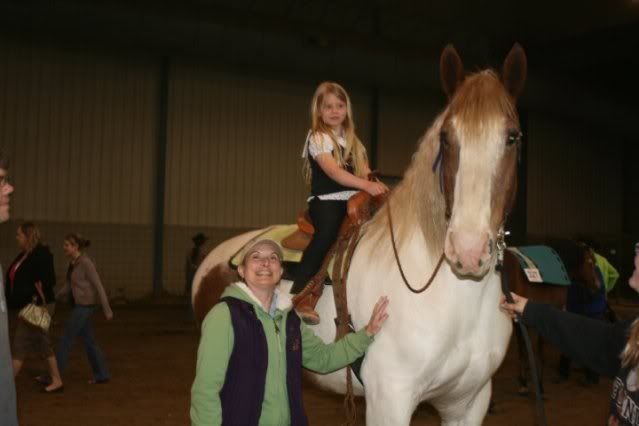 the biggest horse i've ridden was a 17.1 hh TB. He was my trainers 4th level dressage horse, he behaved very nicely. Second to that is my current horse, a 16.2hh warmblood, and he is absolutly brilliant! I am jealous of all you guys who got to ride a horse 18 hh + ! i've always wanted to, i've never gotten the chance though!
Yearling
Join Date: Nov 2010
Location: Rocky Mountain House, Alberta
Posts: 781
• Horses:
1
well my tb is 17.0h but i have ridden a horse thats 18.0 TB stallion it felt bigger cause of his muscles lol
From what I remember, a 16.2hh TB
Yearling
Join Date: Jun 2010
Location: On my horse's back! Obviously!
Posts: 925
• Horses:
2
My baby boy, a 17.2hh thoroughbred
I think 16.1hh maybe.
Which was a palomino australian stock horse who was so gentle and anyone could ride him.
It was when I was riding for a lady, that was her horse but the horse I usually rode was having an off day so I rode hers lol.
Gosh I want to ride a 18hh+ horse just to experiance it
---
http://www.horseforum.com/member-jou...-story-257826/
Check out my blog on here