My new brag: I just purchased an awesome little mare yesterday- mane like a Friesian stallion on this girl! She's a 7 year old Mustang with an awesome mind! She is very inexperienced but totally honest and willing to work with people. She just needs to learn a bit more trust and some more manners. I think it will do her a lot of good to pretty much just have one human to bond with.
She needs a bit of work beyond what I feel comfortable doing so she's going off to a trainer ASAP for a month, then she's gonna get to work as my next all around/ranch/trail/everything type horse...okay maybe I'm just trying to give a respectable title to what will actually just be a spoiled princess who never has to do anything hard in her life
My horses always think cantering around the arena more than two or three times is back-breaking work. But we have fun and teach each other a lot and that's all that really matters in the end!
This is her with me at the seller's: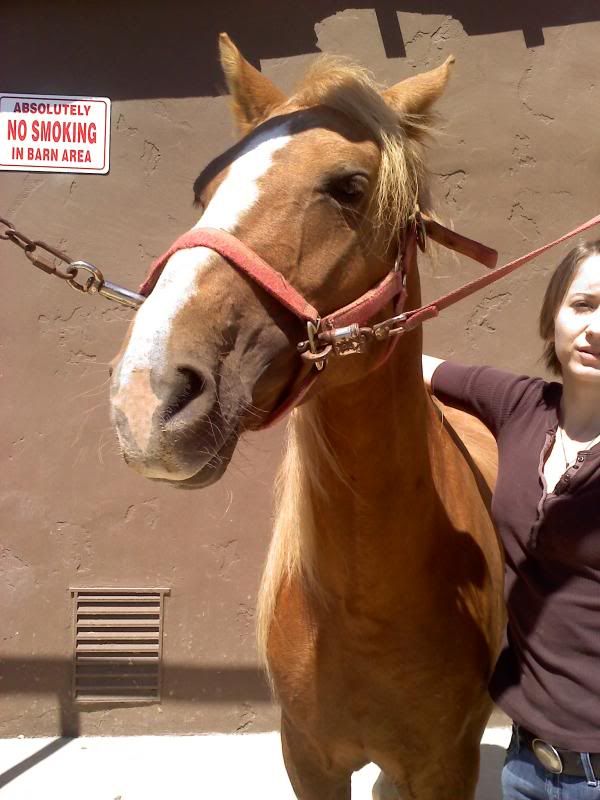 She's adorable!

My brag today: I rode my new mare for the second time today. First time in the woods. She really DID NOT want to cross the creek but with some encouragement she did it 3 times!!! Her lope is wonderful! She did spook pretty good at lord knows what but it was more of a jump and take off trotting spook. I really like her.
---
When In Doubt Let Your Horse Do The Thinkin
Quote:
Originally Posted by spookychick13
What Lone said.
Oh, I gotta brag about Rumour. She's turning into such an amazing girl. 4 months old and already leads with little trouble, picks up all feet, and stands for grooming.
---
Sonya ~ 5 yr old Appaloosa/Welsh mare
Yesterday I got asked by my instructor to do a lot more groundwork with his two year old Poco. He hasn't had time to do a lot of groundwork with her, but he said I could mess around with her last weekend. So I did some groundwork with her. When he watched me he said he was impressed with how I handled her. And did I mention this is my first time doing groundwork with a two year old?

This week he mounted her and rode her for the first time. He said she was only a little nervous when he mounted, and she flexed without resisting.

Here is Poco: