No problem with those who choose to refuse. Big problem with those who try to influence others not to wear a helmet. (I realize you are not doing this.) There is more than anecdotal evidence. There are competent studies. Someone (was it you, BSMS?) who cited studies that supported helmets the last time I started this thing.
CFRALIC: "The bottom line is, any living thing can be unpredictable. You might be a horse whisperer, an animal behaviourist, an olympic medalist or a freaking psychic, even, but things will not always go 100% the way you expect. Anything alive has the potential to disregard what it normally does and try something new. A horse is perfectly alive, and it has nearly 900 lbs over the average human. Not to mention it can move a lot faster."[/QUOTE]

(And so helmets are an important safeguard.)

This sums it up better than all my rambling.
---
Last edited by DSJ46; 06-10-2011 at

10:26 PM

.
Based on studies, helmets reduce the risk of serious head injury by 50-70%. However, at some point you have diminishing returns.

For example, if your overall risk of head injury is 50%, then cutting it 50% reduces your risk by 25% (0.5 x 0.5). But suppose your overall risk is 0.5%. Then your reduction in risk is 0.25% - your call on if that is worth it.

Riding style affects your risk as well. An Australian saddle will help you stay on the horse more than an English saddle will. So is it a foolish risk to ride English?

Western and dressage styles of riding, with a long leg and low center of gravity, is safer than jumping. Jumping increases the risk by 1000-8000%, depending on the study, so is it a foolish risk to jump? But I look up to riders who jump (and particularly eventers), so how can I condemn that risk?

I normally ride with a helmet. When I do not (5%?), I don't think I'm acting suicidal or being selfish. I'm probably safer riding an Australian saddle without a helmet than an English one with, but I still ride English at times for the fun of it. OTOH, the lady who trained our horses and teaches my daughter always uses a helmet. She's had multiple broken bones (and a smashed pelvis when a horse rolled on her out in the desert), so she isn't some wilting flower filled with fear. Heck, if I had been hurt as badly as she has, I probably would give up on horses.

Maybe it is just that I'm 53, and the idea of making my decision based on what others will think of me is hard to remember. I haven't been 14 in a LONG time...
I watched 1st video (didn't even get to the 2nd one). What an idiot! I wish he'd see my helmet after I landed on my head and shoulders right on stones on trail (when my horse spooked and my bridle broke). Helmet went to trash, and I can only imagine how my head would look WITHOUT one. You just can't fix stupid, can't, can't, can't.
I do NOT care if someone doesn't wear one - it's not my business and every person's own decision. But discouraging and throwing all this BS on people (especially the beginners who often don't know any better) is just ridiculous.
P.S. He was smart enough to disable comments for the video! Wonder why!
---
"Life isn't about waiting for the storm to pass: it's about learning to dance in the rain..."

"When we are no longer able to change a situation - we are challenged to change ourselves."

"How people treat you is their karma; how you react is yours."

Quote:
...But discouraging and throwing all this BS on people (especially the beginners who often don't know any better) is just ridiculous...
That is the scary part. Someone new to horses might take him at face value and skip wearing a helmet. And that, IMHO, is close to criminal. I make my own choices, but I cannot imagine telling someone to skip wearing a helmet, or that they are riskier.
When I first started riding, I rode my spooky mare down paved streets in an English saddle, when I barely knew how to get on a horse. How I survived that first year is a wonder...and my hip still aches, so I have a long term memento of my foolishness. Those who ride should encourage beginners to err on the side of caution, at least until they understand the raw power a horse has, or how their wild instincts can take over with little or no warning.
BSMS...well, yes, if we are going to participate in a risky sport, I think that is why we wear a helmet. Is it foolish to jump? Well, risky. Is it foolish to jump without a helmet? I would say that would be a big yes. Auto racing is risky. Auto racing without body restraint and a fire-proof suit (and a helmet!) is foolish. Being a policeman is risky. Being a policeman without a firearm is foolish. We live life, but we should take advantage of available precautions. And if a helmet gives me, say, a 5% chance of being saved a brain injury over a hat (and count the people who in these two posts on this subject I have made who have said "a helmet saved my life"--I have to think it is much more than 5%), I am going with the helmet.
---
Last edited by DSJ46; 06-10-2011 at

11:49 PM

.
To be honest, I say live and let live. Do I agree with this guy and his absolutely assinine opinion? Absolutely not. I am pro-choice when it comes to helmets. I hadn't used one in years until I started my riding lessons again recently, and honestly, my trainer, in my first lesson really opened my head up so to speak. I had only warn helmets when I was working a green broke horse. I didn't think it neccesary at the time as I was working with paso finos, and well, they have no bounce at all, so yeah. I was young, and probably stupid. Still young, and very likely stupid.
All that aside, the way the both handled that was very poor. Also, if he doesnt like dealing with the horse community and giving people advice, then why does he do it? That just doesn't make sense to me.
BSMS...sorry, I keep gabbing on...but you make another important point: you are 53 and can make the decision based on the situation at hand. The 14 year old IS going to make the "cool" decision. That is why we have to be pro-helmet, especially with younger people, and I wear one as an example to my daughter as much as anything. I do mostly slow, easy trail riding, and I look like a freakin Nazi storm trooper in mine, and sometimes my head itches, but if I am going to demand that my nine year old, who still has to be reminded to keep her heels down, wears one, I am going to wear one too to set a good example.
---
Last edited by DSJ46; 06-10-2011 at

11:58 PM

.
I mostly wear a helmet. When I'm riding a calm horse in a deep seat on a sandy arena...maybe not. I honestly feel more comfortable without a helmet, although 95% of my riding is wearing one.
But I've done my homework. I've read the studies. I've talked to people. I've got 3 years of riding, and have been dumped hard (without a helmet). I figure I can make a choice.
Someone new to riding? Wear a helmet. It won't hurt you, and it could save you. And I won't ride off property where I live without a helmet, because the risk is more than I want and it robs me of the fun of riding. I don't want to worry about what will happen if my horse tumbles and smack my noggin against the pavement, or against the rocks that fill the trails.
I would never, ever tell a new rider to skip a helmet. But I now do at times, and I love the feeling of riding without a helmet. It is more in tune with why I like riding horses. I know others disagree, and I don't mind their disagreeing...as long as they don't jump in my chili for not wearing a helmet sometimes, while they go off jumping 'because it is fun'.
When I go helmetless, I feel more in touch with the horse and more aware of what I'm doing. Maybe it is the risk itself. I spent years strapped in ejection seats (mostly F-4s & F-111s), and now riding is my only real risk. I'm not sure why, and I don't do it often, but I really enjoy riding without a helmet more than with.
Maybe it is related to why I jog by myself in the desert miles from help, or hike in areas without trails. 95% of the time I wear a helmet, because my mare is spooky and the raw power of a scared horse reminds one how frail the human body is. I just don't like lectures from people who take greater risks themselves...
Internet photo. Most of mine disappeared on a move from England to Texas.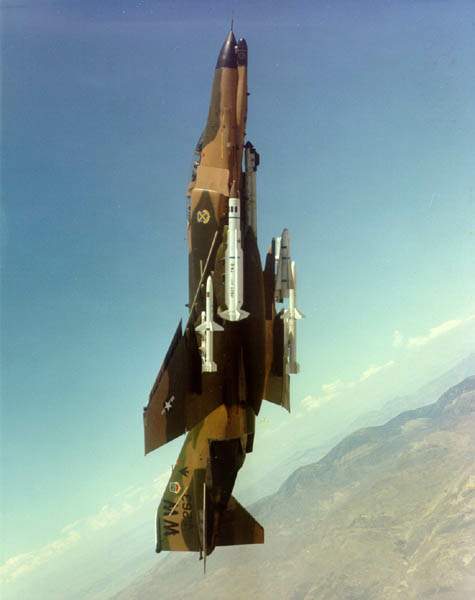 That is so interesting, BSMS. (Cool pic, by the way!) A student of mine (I teach college English) recently asked me why I ride, and my answer was that it was humbling that a 1,300 pound prey animal could come to trust me enough to let me ride peaceably on her back--and also that I could feel the fragility (and thus, the value) of life while I, in return, trusted this 1,300 pound prey animal with my well-being.