sorry this was a double post.
---
Trouble rides a fast horse.....(Shrug)..... I ride a faster one.

I'm your HuckleBerry- Doc Holliday, Tombstone.
---
Last edited by HopalongCassidy; 02-25-2011 at

08:57 AM

.
When I was younger, and had more bounce, I had a few falls that make my hair stand on end now that I think about what could have happened.

I was breaking in young TB's for the track for a real old timer type of trainer - tougher than an old pair of boots. This particular youngster was a big bay mare, 2yo and already over 16hh. She spooked at something and took off straight for a fence. She jumped sideways at the last minute. I didn't.

I went straight through the fence, taking the top rail with me, ended up lying on my back on top of the wooden rail completely winded. Well that trainer was STRAIGHT into me "What the hell are you doing, get back on that bl**dy horse what are you waiting for you idiot..."

I couldn't even breathe enough to tell him that I couldn't breathe, I must have looked like a pathetic little goldfish that had jumped out of its tank and was flapping around on the floor. I got back on when I caught my breath, not too badly injured apart from some nasty bruising down my back.

Not too sure I would be back on so quick if it happened to me today!
---
All horses deserve, at least once in their lives, to be loved by a little girl.
Green Broke
Join Date: Oct 2010
Location: Some times Llanelian - North wales, sometimes Hull in East Yorkshire (UK)
Posts: 3,679
• Horses:
5
I've got loads of scars from horses.
I have an interesting one going from my right shoulder to my left hip. That was caused by gravell rash when a horse bucked me off onto the road.
I cracked my tailbone riding on the beach, I was bareback on a horse that had had showshine on it. Went for a gallop, horse spooked and I ended up on my bum in the sand. Couldnt sit down properly for nearly 6 months. Had to buy a special cusion with a cut out!
My worst fall to date has got to be when I was riding a young event horse. I was in an arena schooling him on the flat. Something spooked him and I don't remember the rest.
My mum who was watching said he took off, attempted to jump out of the school, hit the top bar and summersaulted. Unfortunatly for me I stayed with him. I ended up underneath him, unconcious and bleeding heavily. I remember coming to in the ambulance and the 8 hours in A&E whilst they Xrayed and scanned me everyway possible because they thought I had broken my neck.
I was Very very lucky. I didnt break my neck, I had some soft tissue damage to my neck, extensive scarring on my right arm that had to be scrubbed because it contained gravel, a major concussion and wounded pride.
My helmet had a hoof print on it and the button from the top was found 20m away!
This is a photo of my arm after 2 weeks of healing and some maggot therapy!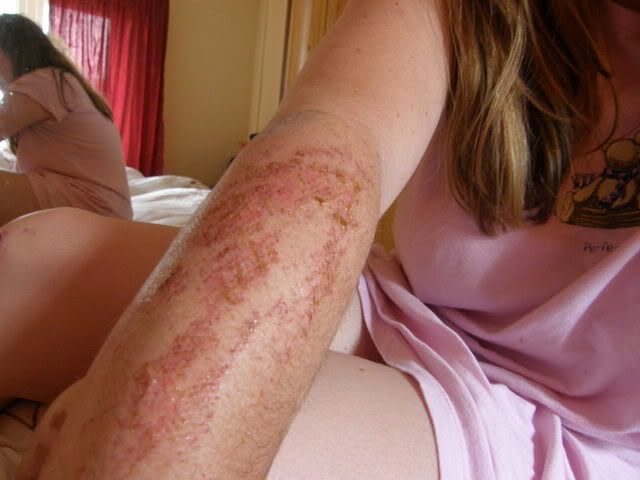 ---
RIDE your horse FORWARDS and keep him STRAIGHT


Oh I've got a few, but my most recent 2 falls went like this:

I finished up a training session on my mare, turned her out and me and the BO decided to work a couple of her horses, I rode her broodmare who hasn't had much riding and she rode her show horse for the season. I start riding the mare around the ring and she is just fired right up (i'm not a feisty horse person, i don't want a sleeper, but hot under the saddle isn't my thing) anyways i'm trying to slow her down, I get her to a walk, and all the sudden she rounds herself, gives a buck (which i sat) but then she reared and my one foot slipped from the stirrup (my heels were down really far from the buck as it took my by surprise), she gave a big buck and sent me over. I landed on her neck and rode that way at a canter for about 80 feet with one foot still stuck in the stirrup until the mare started going towards the other horse who was dancing on the spot. I decided my best option was tuck and roll...i didn't really roll, but woke up about 4 minutes later thinking it was summer (it was winter) and not remembering coming to the barn...i took about a month off from that one with a nasty concussion!

My most recent was on this really well broke mre, i have been practicing my dressage equitation and so learning the ques and such. The mare is a bit lazy and so will come out of the canter on a whim and is always needing motivation in any gait.

I was having a bit of trouble keeping her in the canter and so my BO said to get on the long line and then i can just focus on the cues. So we're going around and she decides i should canter without my hands (I wasn't comfortable with this at the point i was at but when i voiced that i got the "suck itup and push yourself" so made my attempt), so I'm going around cantering and asking for it 9it was actually going pretty well i had managed to flow through the upward and downward transitions quite well as the mare is notorious for slowing down), then she of course slows right down to a slow trot and as i am rebalancing myself so i can be centered when i ask for the canter again, the BO cracks the whip (this mare gets grumpy at the sound) so she crow hops then gives a little buck and i just went flying, bounced, hit my head on the weall and broke my brand new helmet! I did get back on and was lead around while I was seeing stars. But had a headache for a few days after that one.

The goal...don't make the same mistake twice and balance balance balance!
First time back in the English saddle after about 1 1/2 years, and I was on Jake, not an English horse. His canter is choppy and is being worked on, so needless to say I ended up hanging around his neck until he slowed down enough where I could swing over and land on the ground. Me and my trainer were in hysterics.

Same day, same ride, in the English saddle. Jake was trying to go a direction I didn't want him to. I asked him to Ho, and turn right and he stopped, and I didn't think he was going to go right, but he did! And I went left! Landed on my butt in a manure pile. Oh my gosh, did my tailbone hurt for a LONG time after that! I was really happy that Jake didn't take off though. As soon as I was off, he just kind of stood next to me like "What was that!?" lol. I definitely did not bounce on that fall!

Emily
I remembered another:

The ring I ride in is really just a small grass paddock, so when it rains a lot, the ground is quite squishy/wet. We also lunge in this paddock, so the grass in the centre gets churned up. I was riding Western, taking Jake along the outside left rail and turning right and simultaneously asked for a lope. As soon as I did, we took maybe 1 stride and he went down on his right side. I managed to pull myself away from the saddle, the horn only touching my abdomen. My right leg was under him, but he rolled up quickly enough for me to pull it out. I thought I was fine, but a few days later when I was riding, I noticed that putting alot of weight on it in the saddle (especially at the trot) caused some pain. I pinched a nerve in my lower leg, and it's actually still a bit swollen, and this happened several weeks ago. If I kneel down or ride in a saddle that has long stirrups, it agitates it a lot.

Kind of s.ucky, because in my saddle, either the stirrups are either on the 3rd or 4th hole and my drill master wants me to ride on the 3rd hole which causes issues at the canter (I get a stitch in my side), but riding on the 4th hole causes me to basically hover over the saddle and never sit in it. :/.

On Jan 10th I was at drill, unblanketing Jake when he sidestepped suddenly and planted his entire back hoof on my left foot (the one I sprained in September, of all things). I had cowboy boots on, so not a lot of protection. It's still slightly bruised, slightly swollen and slightly tender. I couldn't walk for a day without limping. :/

Emily
WesternJake, I had a 2200 pound belguin mare step on my foot and I found out once your foot to swollon to twice normal size cowboy boots don't come off. I think I was horrified when it had to cut off with a pair of leather sissors, so know what you mean about taking along time to feel the same again.

This topic has really taken off, but I guess when around horses your bound to have more than your fair share of accidents.
Quote:
WesternJake, I had a 2200 pound belguin mare step on my foot and I found out once your foot to swollon to twice normal size cowboy boots don't come off. I think I was horrified when it had to cut off with a pair of leather sissors, so know what you mean about taking along time to feel the same again.

This topic has really taken off, but I guess when around horses your bound to have more than your fair share of accidents.
I couldn't take my foot out/put it back in without extreme pain. Even now it still hurts to put it in there. Definitely not fun.
Emily
Yeah I think the pain wasn't helped by the fact I had just bought the dumb boots for showing only a week earlier!
I remembered another one to :L

When I was 9 I got my first loan pony (that lasted all of a month, dirty little cow she was...Arab mare 7yo newly broke, neighbour said "she'll be right" my parents were none the wiser at that point neither was I)
I was just learning to canter and it was going great, I was cantering straight lines because I wasn't confident enough to turn yet (I learnt to ride a bike the same way haha!)
She didn't want to canter on my last attempt so I squeezed and prodded her into it determined not to lose. She decided no, so threw a massive buck and sent me flying upside down to land neatly, still upside down, on a concrete block of all places. Smashed my helmet to pieces and sat up wondering where I was. ended up being forced to the hospital because I kept trying to go to sleep and had a nasty concussion.
---
R.I.P ~ Bubbles - 25yo tb mare - 13.04.2011 ~ 8:30am ~ passed away naturally and peacefully in my arms