Gets speedy during canter transition work
---
Hey everyone.
I ride a very speedy horse, and I have the ability to slow her down and stop her with little or no use of the rein. I know how to half halt using my whole body and not just my hands, and sit deep to slow without causing pain or making her want to run away.
During canter transition work, I find I can't use this. This is the exercise we were doing yesterday: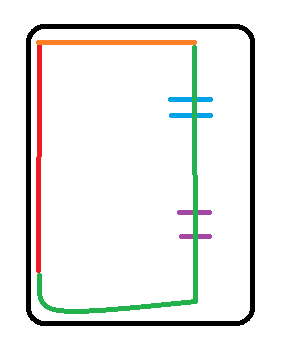 1. Walk orange.
2. Trot red.
3. Canter green over canter poles (purple followed by blue)
4. Walk orange. Repeat.
Trouble is, stopping in the short distance between the blue poles and the wall is HARD, and something we're working on. I found that I had to either skip the walk part and just work on getting down to a trot, or YANK on her face to get the walk. Both of these I didn't like. So then she would be all excited and her trot would be super fast, then it would take a canter circle or two to calm her down enough to go over the purple, but by the blue she would be running again. I know it's the transitions that are the problem, because when I do it all at a canter, she's lovely. Doesn't even hit a pole at all. Not to mention that she drifts left, so I also have to choose whether or not to fight the drift or get a good stop. If I fight the drift she doesn't stop much, and if I try to get her to stop, the drift gives me little or no room to actually slow her. (Note: I believe the drift is out of habit, because our trainer does lots of left turns. She herself admits she probably caused the problem, because most of the horses drift left. I believe this too because her preferred lead is the right lead. If this was a balance issue it would be the left lead, no?)
She's also beautiful at trot walk transitions and transitions within the trot and walk (slow to working to extended. Working on minor collection but nothing of major significance.)
What do you think? My error, horse error, exercise error? I personally think its just that I get so flustered when her canter is suddenly so fast out of the blue that I use all rein instead of what I'm good at. I honestly don't think it's horse error, unless there's something I should teach her. I also doubt it's the exercise's fault.
...Okay, now that I've answered my own question.....What should I change?
---
"The wise man thinks he knows nothing.
The fool thinks he knows everything."
How many canter steps are we taking about between the blue poles and the walk transition? Sounds like you might just be asking her to come back to walk too suddenly. Easy solution would be to back up the blue poles so she has more steps to accomplish the transition. That will let you both work on better transitions. Grids are great, but are not absolutes. Sometimes you have to adjust them help your horse do the exercise effectively.
---
You just have to see your distance...you don't have to like it.
That sounds right. Next time I'll let myself go around the corner more to slow.
The poles were bounces I think. I can only remember how it felt. You would take a stride over one, then the next stride was over another pole. Then four strides later, two more poles.
---
"The wise man thinks he knows nothing.
The fool thinks he knows everything."
What you might try is change both bounces to just one pole each. Canter pole one, do a nice 20 meter circle taking you back over pole one, forward to pole 2, 20 meter circle again back over pole 2, then transition to walk. Maybe the bounces are just creating too much "fun" affect! My horse loves those.
---
You just have to see your distance...you don't have to like it.
I would agree, she does seem to be excited. It might also be that the bounce makes her extend a bit, so its physically hard to come back to a nice collected canter before the poles come again.

You always have the best exercises! I'm going to have to try that out this summer.
---
"The wise man thinks he knows nothing.
The fool thinks he knows everything."