Giving Lessons to a 6-year-old
---
I recently took over a very easy lesson from my trainer who is expecting. The little girl is only 6, but she can walk, trot, canter, turn, and whoa in the round pen. Out of the round pen everything is on a lunge line for safety. She rides western and wants to barrel race, but I ride predominantly english so I had fun teaching her how to post this last lesson
Basically, we've hit it off already and I try to get her heels down and toes in and all the basic basics, but that doesn't really last long so we play games like simon say's with horse parts, red light/green light, walk around the pasture, and we "race". Any suggestions or games for future lessons for keeping it interesting?
that so cool. I would love to give you ideas but I got none sorry just had to say that really sweet :)
---
Our Hoofbeats were many, but are Hearts beat as One.
Just make sure you keep up with corrections along with your games. You want to make it fun and a learning experience to! (heels down took me YEARS to get, i started when i was 7. but i also have a bad ankle due to surgery. not sure if that effected my heels down issue or not lol)
You could always start teaching her the western games. obviously not at a fast pace. but start teaching her the basic patterns for barrel racing, pole bending, keyhole, down and back etc. if she wants to be a barrel racer then she may enjoy that :)
You could also try doing obsical courses aswell, nothing extreme, but if you have something she can hold and carry with her for the course (eg. a small bean bag, a horse brush etc) then set up a small course. like some logs to walk up, a poles to weave etc. and at the end have a bucket to toss the object into..... i'm not sure if that made sence so heres an example.
have a starting line. then say walk to a pilon, jog from that pilon in to another one (she can work on her posting here or heels down!). slow to a walk and weave through some pilons, walk over 3 poles, then go to the bucket and drop the object in.
you can change it up to make it more chalenging etc.
If your willing to print things out you could make up your own games :) like the horse colour game! teach her horse colours. take pictures of diffent horses in the barn that are diffrent colours (or if thats not an option take it from the internet. but i find kids seem to enjoy it more if they can see the horse themselves, kind of makes it more persinal) and tack them up around the arena at diffent spots. then have another seperate paper which each horse colour on it. then she can ride around the arena, fuind that horse and stick the colour to the horse.
Example:
say this is one of the ponys from your barn (its not. its actually one of the ex theraputic ponies from my barn lol her names Luna) you would print this picture out. (along with pictures of horses of other colours) and put them randomly around the arena. (you could even hide them to make it more chalenging)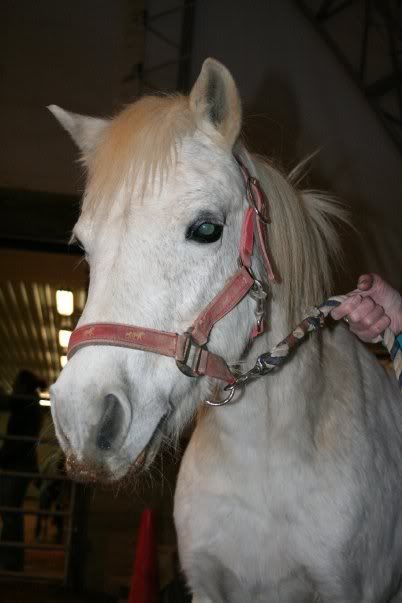 then on a seperate paper write/type the word :gray. give her this paper and let her ride around and find the correct picture.
Thats all I can think of off hand. I love games :) but most i can think of involve more then one rider.
Green Broke
Join Date: Apr 2009
Location: Queensland, Australia.
Posts: 4,488
• Horses:
1
Using cones for bending is always a great idea, it teaches riders how to "turn" and control the horse. This can be done at any of the four paces.

Also picked up flags off the pegs is a fun game, the rider can again do this at all four gaits and choose to halt or not when they pick up the flag. Walking/trotitng over poles is always enjoyable for younger riders and the game "Red Light, Green Light" on horses!

Goodluck.
---
Sir Success. Eventer.
2000 - 2013,

Well I Barrel Race and I can Sort of Help you with sopme games.One of my favorite games is
1) have the girl hold a ball in her hand
2) Have her canter up to a barrel
3) Have her stop
4) Drop the ball on the barrel
5) Turn around the barrel
6) Have her canter to a finish line
* Time her and see how fast she can do this
If you have another person (or just yourself will work, too) play "follow the leader" and tag at a walk and trot.
---
If the world was truly a rational place, men would ride sidesaddle.