Help me somebody, cantering in half-seat.
---
Can anyone tell me how you canter in half-seat? I want to start going out on more hacks and I need to learn how to . My trainer is ill at the minute.

P.S pics would be great too :)
Posted via Mobile Device
Anyone...
Posted via Mobile Device
Posted via Mobile Device
Posted via Mobile Device
I'm not sure what you're asking. Can you half seat at the trot but not sure how to do it at the canter? Or are you asking how to half seat in general?

At a half seat your leg does not change. You still want your hip directly in line with your heel, even contact through the inside of your thigh/knee/calf, ankles relaxed with your heel lower then your toe. Your upper body will be in front of the vertical by closing your hip angle. Your seat will be light in the saddle but not perching up way over it. It's the same no matter what gait you're riding.
Just as Upnover stated :)
Your position relies on the strength of your core. Without your core, you wont be effective in this position.
First you must allow your heels to do their job, which is anchor you in your tack. No gripping, no pinching with your knees or thighs. Stand up in your leathers and feel that weight flow from your head, down into your heels.
Once you've established your anchors, focus on getting your leg under you so you can remain balanced over your feet. If you are not balanced over your feet, you cannot remain the in the 1/2 seat. Your core must be activated.
Upper body slightly infront of the verticle, chest open as though it feels like you are lifting your heart.
When you are in the canter gait, your knees must act like hinges where they open and close and absorb the energy. When your horse goes in the upward movement in the canter, your knees close, when your horse goes down in the canter movement, your knees open.
You are wrapped around your horse, not just ontop. When your horse goes up in the canter movement, your calves are asking your horse to come up into your seat instead of you going down - does that make sense? So you are saying "come up to me".
You want to be strong in this position, so that you can still ask your horse to round up into your seat, where you can control speed and rhythm through your core - you're still an active particpant, you are not just "there" you are still using your body to keep your horse under you.
I feel like I am missing something....
Here is a picture - excuse my hands, they are like...waaayy to high :P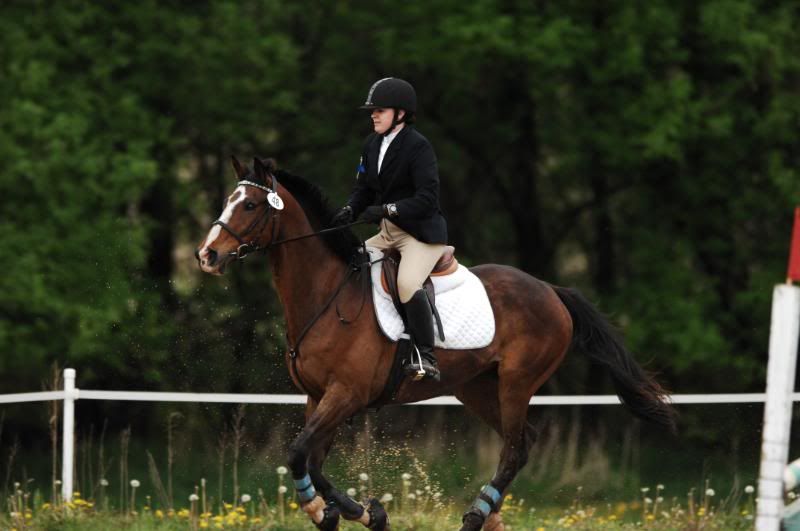 And another, we are going down a slight slop here.
---
Thanks MIE for the extra (and important!) details!! Great post!