Horse over 17hh?
---
I found a horse for sale that sounds really nice. He is a 5 year old draft x tb, pretty stocky. He is greenbroke, and 17.2hh.
He looks great in the pictures, and I love love love draft crosses, but 17.2hh seems pretty big!

I am about 5'9 (possibly grow to 5'10) and 140lbs.
The tallest horse I've ever ridden is a 16.2hh horse, which feels like a great height for me.
My current horse (now pasture pet) is a 15.1 hh quarter horse, and I loved my fit on her.

So, just wondering if I would probably be too big? Would it be scary to be up that high? haha I just can't imagine what it'd be like, so let me know your experiences.

I am not sure what discipline I want to focus on, but I've done reining, jumping and dressage in the past. I am really interested in cross country, trail riding, and I loved reining with my horse.
I don't think a 17.2 hh horse would do too well in reining though. :[ haha
Also, since he's green, I'd be a little nervous of the huge fall when/if he were to buck/bolt. :/
---
He knows when you're
happy
He knows when you're
comfortable
He knows when you're
confident
And he
always
knows when you have carrots.
For size comparison, this is me on my 15.1hh horse.
Bareback: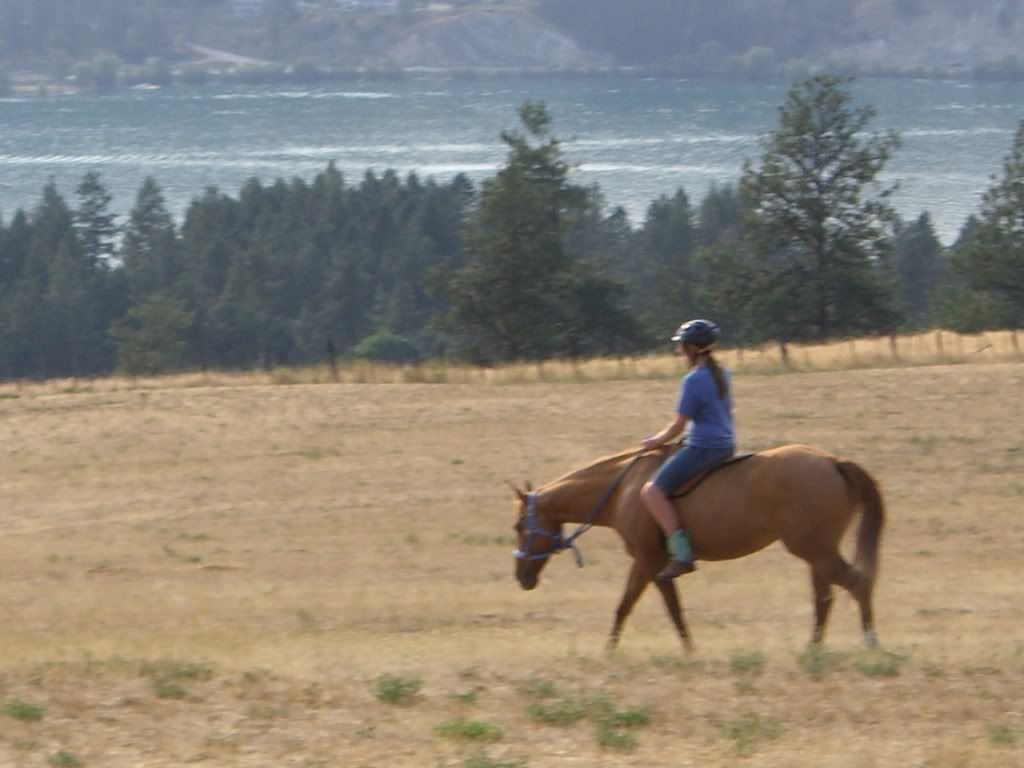 English: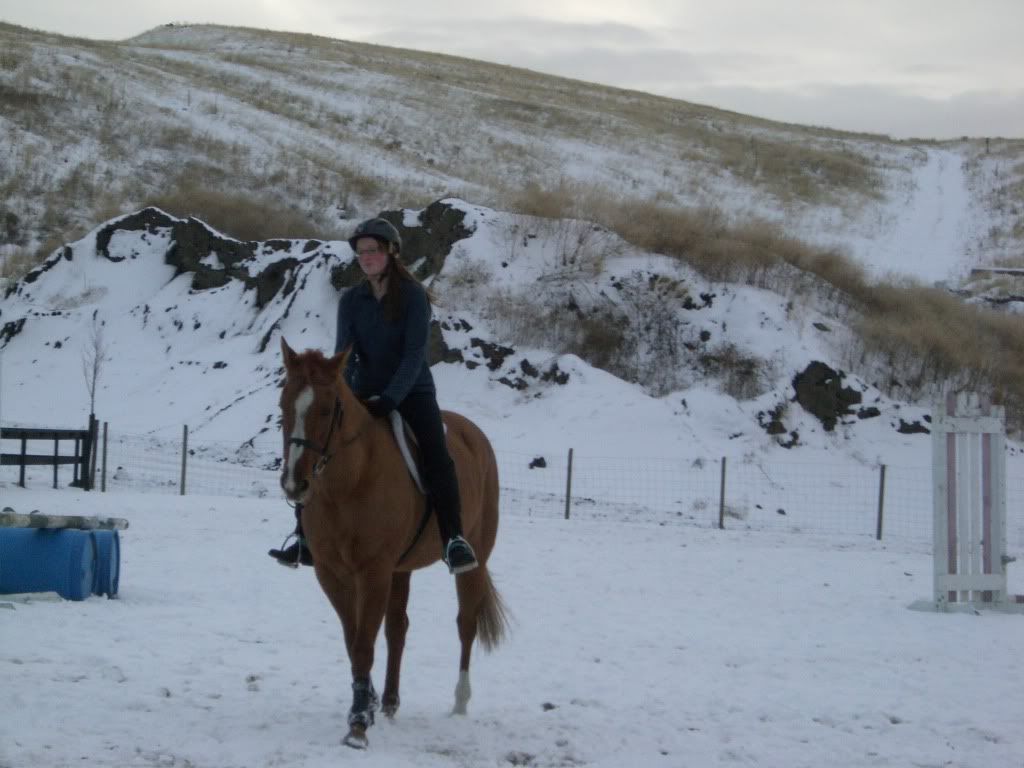 Western (excuse the face and hands, just having fun! hehe)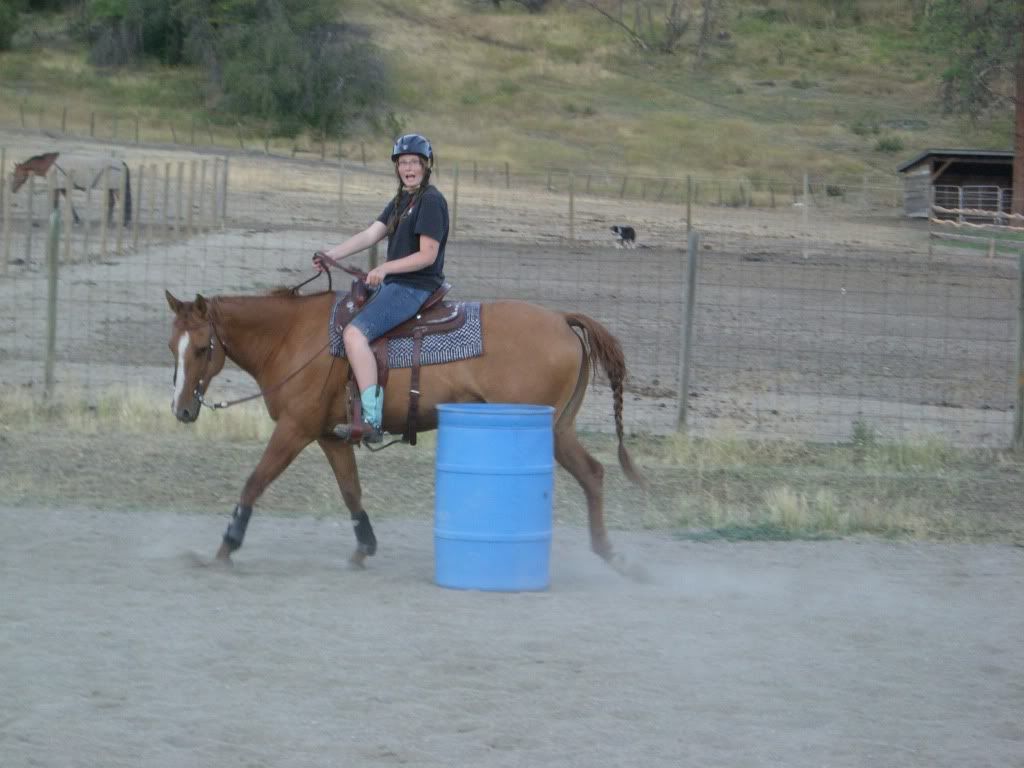 Sometimes when I look at pictures, I think I look too big for her. But, whenever I rode her, I felt like a pretty good fit, maybe a little bit too small for me though.
---
He knows when you're
happy
He knows when you're
comfortable
He knows when you're
confident
And he
always
knows when you have carrots.
Trained
Join Date: Sep 2011
Location: Germany- but not German =D
Posts: 5,151
• Horses:
2
I'm 5ft7 and my mare is a 6yo, 18.1hh westfalen ;)

In all honesty, its what you feel comfortable with.
As for being thrown, they're bigger, so bucks and messing around isn't as quick as it is with a smaller horse/ pony.

The one thing that winds me up is when people say you have less control over a bigger horse. If a 12.2hh pony didn't want you on its back- you wouldn't be there. Its all about training.

Try it out, it may be for you, it may not be. I wasn't looking for a big horse, she was just the right one. I don't know anything about reining though!

I would advise trying out different heights, if possible, find what you're comfy with and look in that range. But sometimes its not just height, temperament, confirmation, breeding and work ethic are all things to take in to consideration too.

I can't remember what you guys call it, but if you DO get him, please ask your vet to check his windpipe to make sure he doesn't roar- means that one side of the larynx doesn't function 100%, it doesn't make too much of a difference, unless you're looking to being a top eventer.
Im all for big horses. I like the feel of being up high and the power I know is under the saddle. The last one I rode was 17hh. I however am 5'3 and weigh a whopping 110lbs and I have to be honest and say that she hardly knew I was even on her back. In a battle of power she would win hands down.

Although I had the strength to control her I found she needed more weight on her back and she often gave me a hard time. I was lucky because she is very soft natured but her strength was enormous and if she decided she didnt want to walk on for example I could fight until I was blue in the face and she would just look at me like I was mad! Now she has a woman riding her that is way over 6' and has weight to match it and watching them together the horse is completely different.

Putting her on a lunge was also challenging simply because of her power and size. Although she was not being badly behaved it was challenging for me to hold on and keep her on the circle.

I would say go and ride the horse and see how you feel. I never fell off that horse I was riding but let me tell you when she bucked with me for the first time it was like looking down from a 2 storey building!

ha ha! finding big sized tack could also be tricky! I have a girth I bought for her and I know I will never use it on another horse!
Big horses are great! Of course, I look funny on them, but size really doesn't matter in horse handling, and the only concern I'd have with such a big horse (mine is 16,2HH, but I've ridden up to 18,2HH high horses) - how I'd mount him, if I had to dismount whilst trail riding.
I say, go and see, how you feel around him. If he is Your Horse, size won't matter at all, you'll just know it.
---
I have come a long way, to surrender my shadow to the shadow of my horse.
/James Wright/
I am 5'9 and here I am riding a 17.2 gelding of a students. I love the big horses!!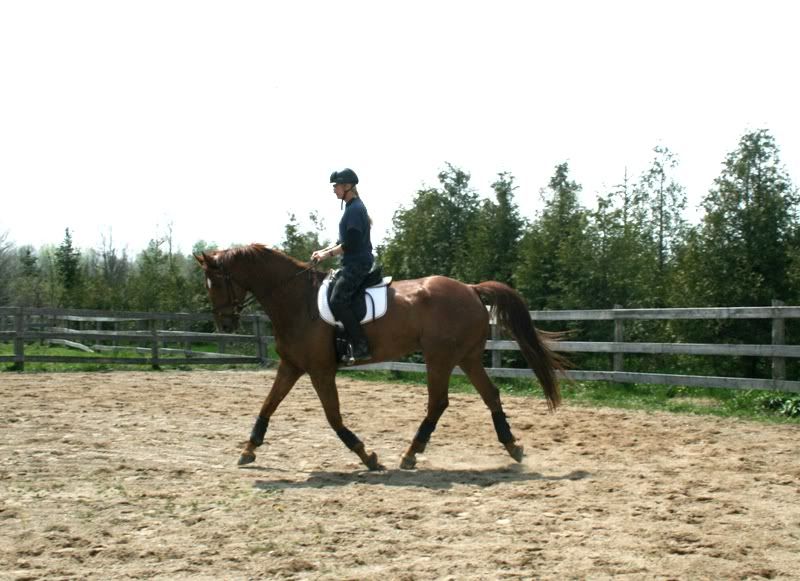 I love big horses too! My draft x is 17hh, but I'm also 6' tall so I feel pretty comfortable on him. And he is dead easy to handle. I don't ride him very much at all but when I do, I can pretty much move him around with just my seat and legs. When I want him to whoa, I just sink in to my seat, sit back a fraction and he comes to a dead halt. Calm as you please!

The only way you're going to know for sure is to go try him out. Good luck!
---
I am a real wimp, so a 17.2 intimidated me for sure, even tho my draftX is 16.2. Seemed like a huge difference when I was up there. My daughter felt the same way. I do think you should try it and see. Otherwise you will never know.
It is a bit more difficult to trail ride a larger horse-you do lots more ducking, unless, of course you are the one doing the tree trimming.
As for reining-there is really no reason you couldn't try it, I have seen one at a reining show about that size-but you will most likely never get any points for sure. Draft crosses are fabulous tho-there is really nothing like them.
---
Signature undergoing edits. Please standby.......
Thanks everyone! I guess I will never know if I don't try him out :]
I emailed the owners, and they said that he does buck, but with his head in the air and not a buck like he is trying to get the rider off.
Even if it's a little buck though, for a big horse, a little buck could feel pretty huge! haha
Maybe if I choose to go meet him, I will just get to know him the first time, instead of riding. Or, maybe they would possibly give him on a couple week trial. I find it tricky to test ride a green horse that doesn't know much, when I'm nervous about the test ride, and the horse and I don't know each other (or trust each other not to do anything crazy!)
franknbeans -- I guess it wouldn't hurt to try reining anyways! I just like it for the fun, and who cares how many people would be laughing at us!
Trail riding totally makes sense too, their backs are probably barely just getting under the branches, let along the rider! haha
The tack could also be an issue, I would definetly have to sell my precious saddle :[ And, hay... that would be pretty expensive for a big guy.
Thanks!
---
He knows when you're
happy
He knows when you're
comfortable
He knows when you're
confident
And he
always
knows when you have carrots.
Like everyone else has said...go try him out..if he's the one for you, size won't be an issue...now me personally...I prefer to stay as close to the ground as possible..so my cut off height is about 15.2...
---