Ok! So, I got the target today and took it out to the ranch. I put my horse in the round pen and started shooting. She didn't even notice. Didn't care at all. So, I shot for a while, worked on my aiming and loading the arrow without looking. Then I thought, what the heck, she doesn't care at all, so I tied her up and started shooting. Still nothing, just falling asleep. So I kept moving closer to her and shooting, until I was touching her and shooting. Still nothing. She'd watch a little, but no jump or any hint of a spook. Soooo, in keeping with that whole 'taking it slow' thing, I went ahead and shot from her back. (Note the sarcasm, lol) She kinda put her head up the first time, but didn't move. So I stayed there for a while, shooting from her back. She stopped her faint reaction after about 8 arrows shot. Then she started falling asleep again. Then we worked on her reinless response riding in the arena, and I had her transitioning easily through all the gaits, doing nice turns, and stops from all gaits without touching the reins. So then, I'm crazy, but I decided to go for it. I shot from her back from the stop, and then from the walk. It didn't even phase her, she did awesome. We left it at that for the day. It was probably the coolest thing I've ever done, I highly recommend it, lol. Things I have learned: a quiver is a must. I definitely need to get one. I had no idea what to do with the extra arrows, and I haven't figured out how to hold them and shoot.
Second, I don't know about this whole taking two weeks per step thing. I think it depends on the horse. Mine is a 17 year old totally been there done that kind of horse. So, that's just my experience so far. I haven't died yet. I wouldn't feel comfortable going that fast with most horses though. It was awesome though! I can't wait to do it again!
---
Last edited by Tessa7707; 03-25-2013 at

01:33 AM

.
AHHHH I'm so jealous!! I'm so excited to try, but I'm still pending permission to shoot in the hay barn area. :( My friend said just buy straw bales and set it up outside, which I'm thinking about doing. I can't wait to try and I'm thrilled your mare did so well! PICS!!!!
---
~He knows when you're happy
~He knows when you're comfortable
~And he always knows when you have carrots.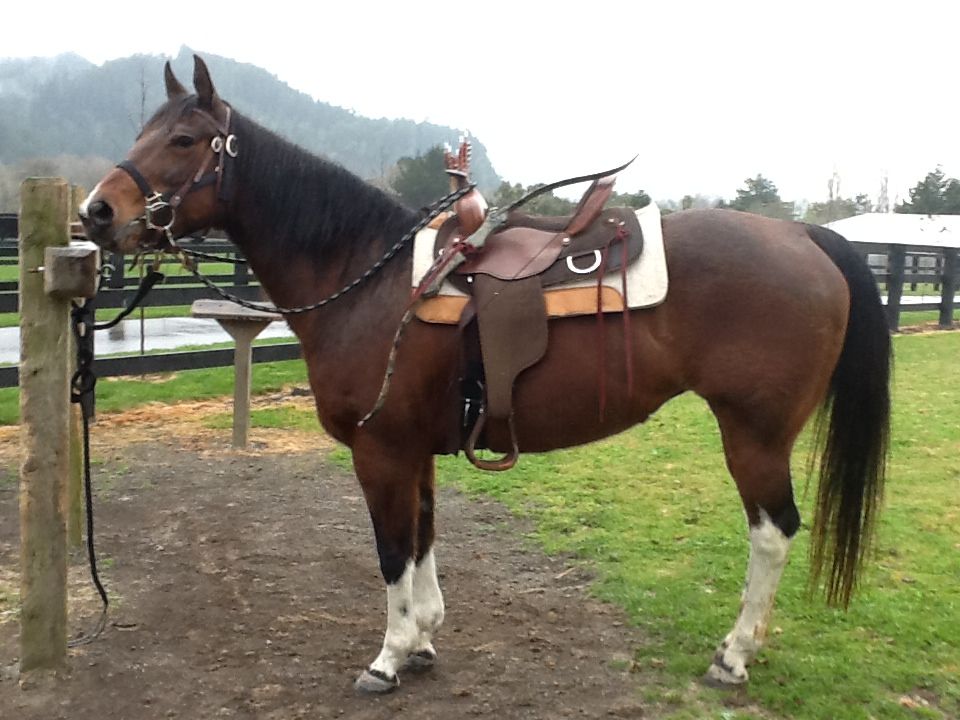 Still haven't had anyone put with me to take pictures!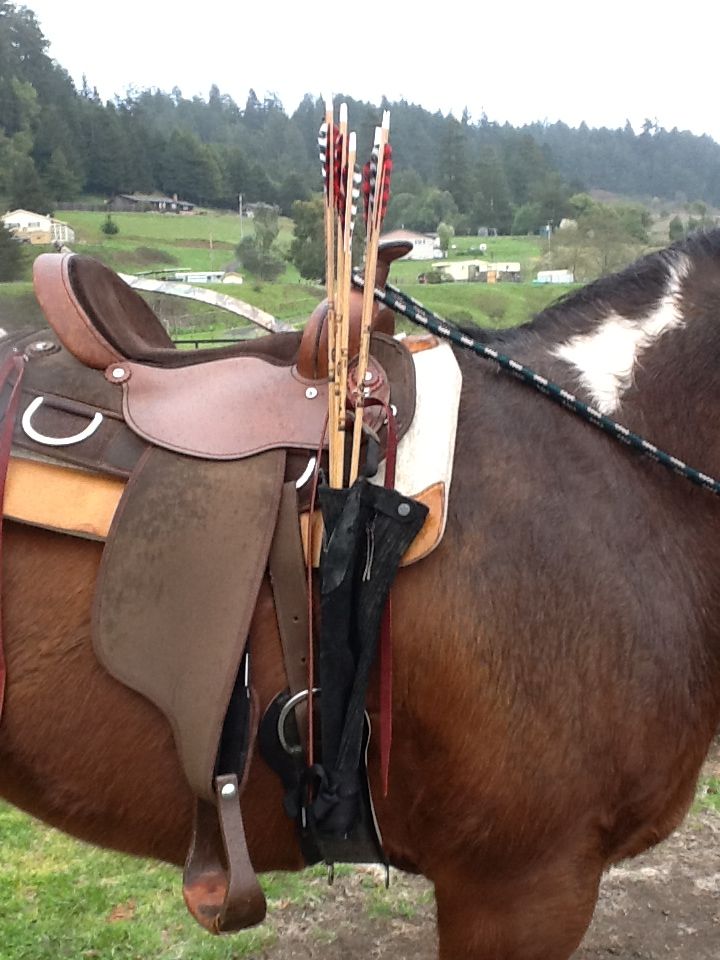 My redneck quiver made from a half chap, lol.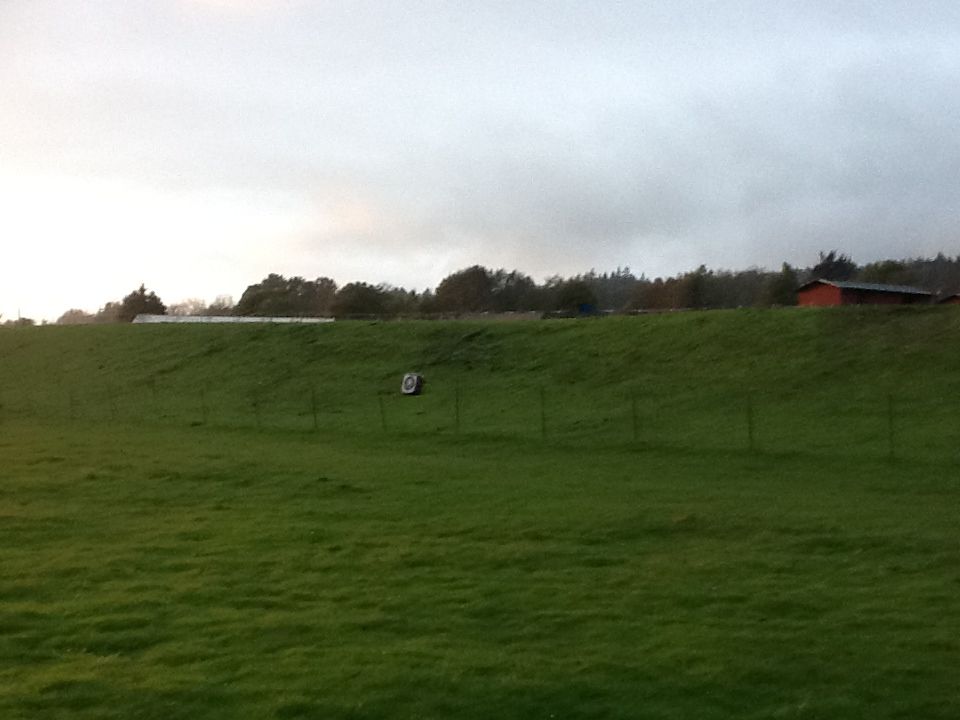 The beginnings of the range
How are things going for you and your horse? I FINALLY got the ok to shoot at the barn and set up two straw bales. The area is actually going to be perfect for shooting in a line like you want to do! Only today it was way to windy to shoot. So I played with the bow in the indoor with my mare. Just like Tessa, my mare couldn't have cared less. She didn't even lift her head when I twanged it. It was like she was bored haha. I walked and trotted carrying it in both hands and dropping the reins and twanging it. Still didn't care. I'm going to try actually shooting off her late this week when the wind goes away. I'm thrilled. The only down part is that my bow is a "normal" bow, not a shorter horse bow. I know that the lady who wrote that "how to train your horse for archery" article Tessa posted said she uses a normal sized bow, so I'm hoping it'll be ok. I don't have access (nor funds) for a true horse bow so it'll have to do! I also did all the riding int he arena in an english saddle. Not sure if that was the wisest choice, but oh well! I'm just sooooo thrilled with my mare.
---
~He knows when you're happy
~He knows when you're comfortable
~And he always knows when you have carrots.
Yay! That's awesome HQ! I don't have a legit horse bow either, it's just on the shorter side. The issue you would run into, from what I can tell, would be hitting your horse in the rump with the end of your bow when you're shooting backwards, like, twisted around shooting away from where you're going, if that makes any sense at all. I haven't had time to do it in a week or so! I miss it! My BO is putting up a new board fence down there. I have been doing it in a western saddle and I think an English saddle would be better because you can ride with a forward seat better in the English saddles. So you can stand up while the horse is cantering and shoot, whereas its harder to stand up in my western saddle. This is awesome! I'm so glad you're doing it!
We did it!!!!!!! I am SO happy about this!! I took her out to the "range" aka some stacked hay bales. I had my friend hold her while I shot off 10 arrows. Not a single. flinch. She didn't even prick up her ears or look at it. Literally no reaction at all!!!! It was more "ho hum...is this grass? Can I eat it?" hahaha. Then I decided to be brave and do it mounted. I still had my friend holding her and I let off one arrow. Again, NO REACTION!! She still found the grass more fascinating then anything I was doing on her back! So I had my friend drape the lead over her neck and she just stood there while I fired away! YAY!!!!!!
The only problem I really found is that due to my bow being a ground bow, It is reallllly hard to aim down at the target (cuz I'm above it cuz she is taller than the hay) and I couldn't adjust quite like I wanted to. I need to get a shorter bow. I thought whatever it'll just be long and might be touching her as I shoot, but instead her body is in the way of the shot.
This is the only still pic I got. It isn't super good, but you get the idea. I also got two short videos, but I can't figure out how to upload them without going through youtube. Maybe I'll do that tomorrow.
---
~He knows when you're happy
~He knows when you're comfortable
~And he always knows when you have carrots.
Oh, do note tho that we only did it at a halt today. Now that I know she is ok with it, I'll try it at the walk soon.

OH HELP!!!

I forgot! We just have two hay bales set up in an open field. I lost an arrow in the field next door and crawled under the barb fence to try and find it but couldn't. Anyone have any ideas of what I can put behind the target so that any stray arrows can be caught and not lost next feild? Any tips would be helpful.
---
~He knows when you're happy
~He knows when you're comfortable
~And he always knows when you have carrots.
Green Broke
Join Date: Aug 2009
Location: Vancouver, British Columbia
Posts: 2,808
• Horses:
2
This thread is awesome! We are doing a mounted archery clinic at our barn tomorrow, am sooo excited!
omg I've always wanted to do mounted archery! Subbing!
---
°*°~A canter is the cure for every evil~°*°
Have a great time at the clinic! I've always loved archery, but combining the two is just so. Much. Fun!! I can't wait to get good enough to canter a target. I'm glad you guys think it's Destinee too
---
~He knows when you're happy
~He knows when you're comfortable
~And he always knows when you have carrots.