Just got a new horse.
---
Okay, so I just got a new haflinger mare who is 3 years old. Sher's as sweet as could be on the ground and she was at a steal of a price. We were at an auction and we were told she was broke [I assumed green since she was 3] but she handled herself VERY nicely in the ring in front of a huge crowd, walking, backing, stopping and whatnot without any problems. So I got her home and gave her a bit of time to settle in and then I started working with her. I started with just a saddle pad, then moved onto a bag of feed, then onto me putting weight on her back, then me on her back. I rode bareback because I didn't have a saddle where were keeping her yet and she didnt mind at all.

She listened very well to cues, but if I asked her to trot she would either stop or pretend like she was going to either buck or rear, though she didn't. There's no medical problems and she is just fine at all gaits when I lunge her around the round pen.

My only problem is I'm not quite sure how to get her to trot. I'm in no rush and I have until next summer to get her where I want her. My plan is to take my crop out there and lightly tap her on her rear for encouragement. Are there any beter ways to do this?
Well since she kinda green(from what u discibed) i would have someone lead he at a trot or lunge her with u on her back. She may not be used to a crop and in that case you dont want to spook her.
---
Introducing...
Whisper-registered APHA mare
She doesn't really spook at much of anything, but thanks for the advice, I might try that(:
No problem :) Good-Luck!
~RH
---
Introducing...
Whisper-registered APHA mare
Pictures!!
---
Count My Strides - Shane, Bought 2-18-06, Mustang.
"I whispered to my horse, "i'm afraid of falling" and he whispered back, "i have wings".
Yea pictures! How dare you mention Haflinger without pics! lol
---
100% Anti-Slaughter and PROUD of it!

Congrats. And where are the pics?
---
The wind of heaven is that which blows between a horse's ears. ~Arabian Proverb

Here are your poictures, they are from today and arent that great. I'm very pleased with her, though. She's easily caught, saddled, bridles, mounted, and EXTREMELY calm. She definitely wants to please.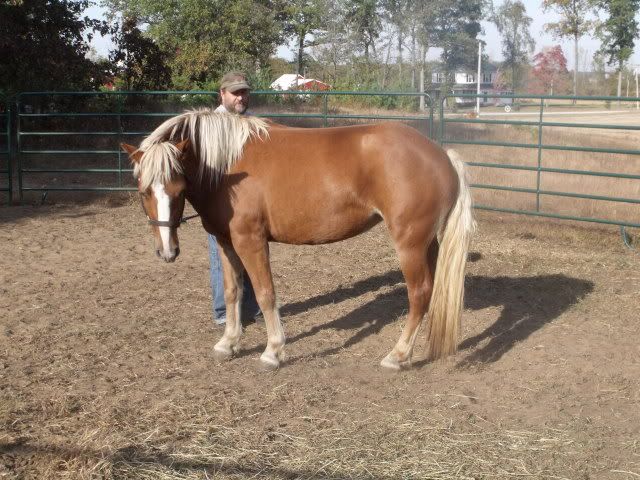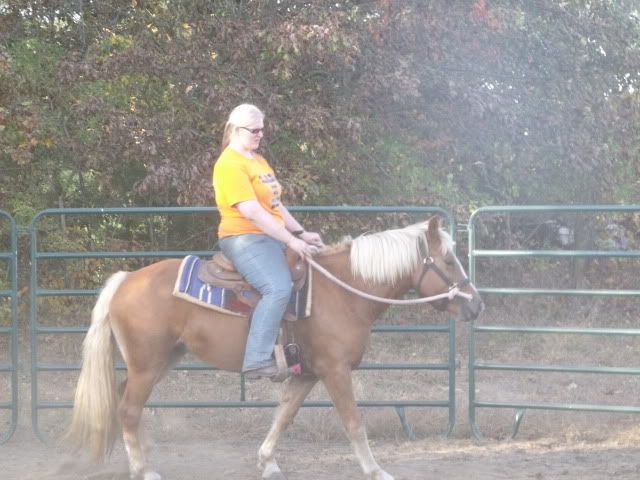 My mom was even comfortable with putting my little brother on her an letting me walk them around.
Opinions are very appreciated.
Started
Join Date: Aug 2009
Location: In the barn whenever possible.
Posts: 1,910
• Horses:
2
She's adorable. I've always wanted a haffy!
---
"Riding a horse is not a gentle hobby, to be picked up and laid down like a game of solitaire. It is a grand passion. It seizes a person whole and, once it has done so, he will have to accept that his life will be radically changed." -Ralph Waldo Emerson
Thanks, so far she's been a dream!