Green Broke
Join Date: Oct 2010
Location: Some times Llanelian - North wales, sometimes Hull in East Yorkshire (UK)
Posts: 3,679
• Horses:
5
Most of my major injuries are ones that you cant see from the outside.I've had a badly damaged neck (It was suspected boken for over 8 hours because the swelling made the Xray go funny and it was a 2 hr drive to the nearest cat scanner), Ive had a few broken ribs etc.
My worst fall came when schooling a young event horse, he spooked and bolted. I dont actualy remember anything after that. Mum (whoo was watching) said he took off, attempted to jump a 6ft fence (to get out of the arena) at a flat gallop. Unsuprisingly he didnt make it, he breasted the top rail and summersaulted, coming down on top of me (i'd managed to stay with him untill this point apparently). All 600kg of him landed upside down on me, scrabbled around for a bit and then he stood on my head as he got up (thankfully I had a top of the range hat on).
I woke up in the ambulance strapped to a spinal board (those things are horrificly claustraphobic) and spent hours terrified about whether my neck was broken or not. I had 2 crushed discs in my lower spine and I had huge amounts of gravel rash on my right arm, they scrubbed the gravel and dirt out of my arm with a nail brush and because I had a concussion they couldnt give me any pain meds. I was out of hospital the same day but only because the hospitals where chronicly short of beds and my mum is an extremely experianced Intensive care nurse who was able to keep an eye on me
My arm got infected because they didnt manage to get all the crap out of it and I ended up having to have maggot therapy to get rid of the dead and infected tissue. I have photos of my arm after the maggots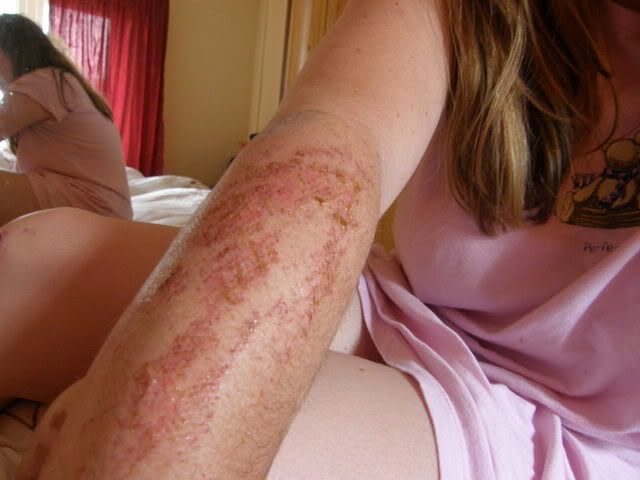 I must be the only girl who purposefully leave the hair on her arms to get thick as I have got massive scarring on that arm.
Picture of my hat after the accident.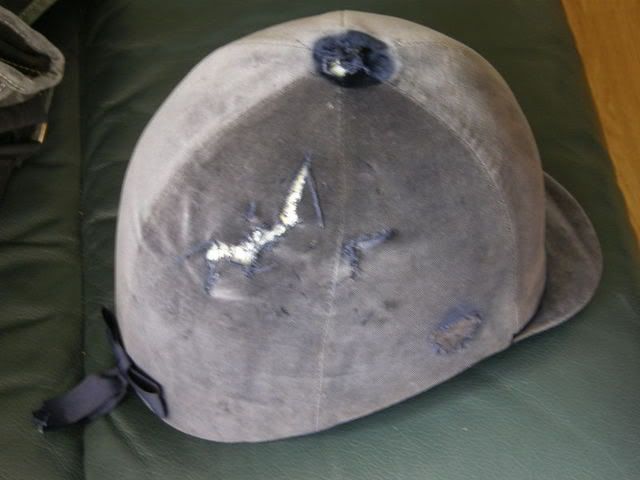 it could pretty much be turned inside out, the button that is supposed to be on the top had been fired over 20ft away from where I landed and you can just see the outline of a hoof print in the velvet to the right of all the rips.
My hat litteraly saved my life that day, without it I would be Dead, no 2 ways about it.
I wasnt jumping, I wasnt doing anything new, I was in the arena at this horses yard where he had been thousands of times before. He had never shown any inclination to do anything similar before and never has since. He had been used for the local RDA (Riding for the Disabled) group and I had just hopped on to give him a bit of a tune up.
I also knew one woman who was riding out on her elderly pony, it tripped, she fell, hit her head on a rock and died. She may have had a chance with a hat on
This is why I get so passionate about people wearing hats. Having seen the pain it puts relative through, I personaly am not so selfish that I would risk putting my loved ones through that pain simply because I didnt want hat hair.
---
RIDE your horse FORWARDS and keep him STRAIGHT


WOW!

Those are some nasty accidents!

Mango,you look sooo young! How old are you? You look to be 13-15 yrs and it's hard for me to picture a girl that young doing that but maybe you have good genes! I gasped when I say your pictures.

Faye,I'm glad you are safe as well as everyone else!...Helmets save!
I've never had any serious injuries and never gotten any pics, but I've been stood on by my old gelding (all 900lbs of him), which almost fractured my foot. We were standing on brick pavers and I was wearing rather thin-soled riding boots. He moved to get comfortable, came down on my foot and then shifted all his weight to that leg (well, not ALL of it, but it sure felt like it!). My boots laced up the front (they were knee-high boots) and the doctor had to cut the lacings away, then actually cut my boot to get it off me. He said he was extremely surprised it wasn't broken after they did x-rays.

I was also thrown from a paint mare I used to ride for my grandma's neighbor. Only time I've ever been thrown from a horse. I did something she wasn't expecting and wasn't used to (smacked her HARD with a riding bat to get her to move because she would not move away from the fence...normally I'd just tap her) and she bucked. I did a perfect somersault over her head with the reins still in my hand and landed in front of her on my lower back and forearms. Scraped the crap out of my forearms, but I was 13 or 14 and was used to bumps and scrapes from playing soccer, so they didn't bother me (although they were bleeding). She froze for a few seconds after I landed like "What the heck?!" then jerked the reins out of my hand and trotted a few yards away. Didn't have any trouble catching her and would have gotten right back on, but I figured I should go rinse my arms off first. We were close to the barn (usually we rode way out in the fields since the lady owned 40 acres) and when I showed the lady what had happened, she completely freaked. She ended up telling her husband and he forbade me from riding their horses ever again (didn't want us suing them if I got injured, even though I admitted that what had happened was my fault and I knew not to do it again).

The worst injury I've gotten that was semi horse-related is my torn rotator cuff. I say "semi" horse-related because it didn't happen while I was on a horse or moving a horse. It happened when I was moving 12ft welded-steel stall panels for my friend. Each panel weighs around 130lbs (not including any dirt stuck to it) and I was doing the heavy work. We'd pick each panel up, I'd take the majority of the weight (because I'm bigger than my friend) and put the panel on my shoulders, then we'd walk it over to the fence where she'd set her end on the top of the fence. I'd then walk the panel over the fence and drop it down the other side, slip through the fence, and we'd pick it up again to put it on the flatbed trailer to haul it up to the barn. We did this about twelve times. The repetitive motion caused my rotator cuff to tear and caused a sprain in my AC joint (where your clavicle and shoulder blade meet). The sprain has since healed, but because I had state-funded insurance (was unemployed at the time), they refused to approve the MRI needed to determine the best course of treatment for the torn rotator cuff. So, for the past year and a half, I have dealt with the intense pain and limited range of motion caused by my injury. It makes my job extremely difficult (not impossible, but VERY painful at times) and makes it so that I have to use the lightest saddle possible on my horse because I can't lift any significant amount of weight (really nothing over 10-15lbs tops) above chest height.
---
Do not tell me I can't...because I will
show
you that I can.
Weanling
Join Date: Jul 2011
Location: in a field full of horses right up the top somewhere :)
Posts: 577
• Horses:
4
Worst injury i've had is a broken thumb

urs looks a lot worse than mine!!
Green Broke
Join Date: Oct 2009
Location: Outside of Oklahoma City
Posts: 2,653
• Horses:
6
Haha I'm actually 17..I know I don't look it:P

wren- GOOD GOD! I've had that happened, and you better bet I wasn't in the mood to get on a horse right after! Dang! Way to cowgirl up, no joke!!!

Faye- Thank goodness you had on a helmet! Those things save lives, but I'm not one to argue about if people should or shouldn't wear a helmet. I don't, but there are millions of other ways that I could die from a horse that I could just simply not have protected myself from. The second you decide to get into horses, you have to realize, that this animal underneath you CAN kill you.
---
Be wary of the horse with a sense of humour. - Pam Brown
Wow, that's impressive! In a sad way it makes me feel better because I'm nursing bruised/broken ribs from a crappy fall last week. Who goes to the doctor for ribs anyways?! Not like they can do anything. All I can say is that sneezing and coughing are the worst! Best to you and your recovery though, love the positive attitude!
I have been kicked in the face lol
No pics though!
---
Cross Country- The act of hurling yourself and your equine partner at a stationary object with poise and grace while attempting to survive...

Glad I found this as just last night I managed to hurt myself!
I was trying to jump the new tire jump in the back feild on my crazy pony and he kept stopping and then taking off bucking. He ran out the feild with me so I rode back and got off to shut the gate. Now the stupid part, I let go of him and left him in the field as he normally stays for me, and went to the gate. He took off and ran by me, I turned to try and grab him and he sent a kick at me. Hit my left hip, and my elbow. Ouch. No pictures but image a tennis ball sized elbow, where no bones or anything are visible the way they normally are because it's so swollen. This is also the pony who I though broke my ankle, actaully a sprain, bruised/cracked my tail bone mulitple times, skinned my other elbow last year, still have the scar and hurt my knee. I should really start riding with a saddle and bridle or get a better pony (kidding Prize!) lol
It is definitly not funny to hit your funny bone. Especially when it gets kicked by a horse. And to think I didn't even fall off LOL
---
It does not matter how slowly you go so long as you do not stop. - Confucius
WOW the first was the worst so far. I fell off and my back cracked bad and that was it so no injury.
---