I am 5' 0" and it is hard for me to get on my 14.3 horse! haha! But I am going to try some of these methods to get on bareback!
---
RIP Minnie, 1981-January 15, 2010
RIP Maggie Mae I miss you
I have a 14.3hh gelding, and I'm 5'6". For mounting bareback, i stand on Arthur's left side and put my hands on his back, my left hand holding the reins. I bounce up and down a few times, without leaving the ground, just lifting my heels and gaining momentum, and then I jump up and over so my stomach is where my butt should be and my heads hanging over his one side. Then I swing my right leg over his back and sit behind his withers.

Funny you should bring this up....my friend came over and we made a whole video on trying to mount double bareback lol. It's hilarious. I got on first like described above, and then Sam would step on my outstretched boot with her left foot, grab my hand, and try to jump up lol. It's hilarious......it took us like 20 tries to get her on Arthur's back behind me lol!
Quote:
Hi i know this probably will not help you but if you have the time and are willing to try you should do what i did i taught my horse to lie dwn so i can mount then she gets up lol teachin to lie dwn is farely easy depending on how calm you and your horse are my mare is 6 years old buty ive only had her about 3 months (my mum gave me the tips on how to teach her this trick) it may sound a bit cruel at 1st but doing this right will not cause any harm you need to first of all atach a lead rope to the head collar preferably on one side then stand on the oposite side sling your horses leg gently! with another rope now lift that leg with the rope and guide horse to the same leg gently!!! lol as she has 1 leg up she will lay down mine now does this by me just touching her leg pulling the rope or or oposite rein slightly and talking to her and she will lie down on her own acord remember not all horses react in the same way! i like to teach my horses these types of tricks as while you do so you are buildin a bond between the both of you at the same time.
wait how do you attach the sling and ropes....? I have a 21 yr old gelding who's in great shape.....he won't hurt his legs by doing this will he? I don't think so.....can you message me on how to do this lol? Thanks!
i can swing up on my 18 hand percheron with no problem...i dont no how i learned i just remember always doing it. i can also jump on lilly from behind. shes only 14. 3 tho :)
Quote:
I've never found this an easy task. I'm 5 foot 2 inches, and even getting on my 14.1 hand pony is either a graceless and unpleasant (for both of us) scramble, or requires a boost or a mounting block. I don't do much bareback riding, mainly because of the trouble of getting on. I feel like I should ride bareback more often, like its an aspect of my equitation that's lacking. I do ride without stirrups fairly often.
Any tips? How about creative solutions? Am I the only "bounce challenged" rider out there? Anyone else green with envy over those gymnasts who go from ground level to 17 hands with swanlike grace?
That's funny. I'm 5'4 and 3/4
and I used to be able to vault onto my 16'3hh tb. I think it's going to be a matter of you practicing my dear. You can try to do what I'm about to do, which is teach your horse to lie down for those bareback rides. I have a really bad hip injury which I think a horse lying down for me, would be something I can benefit from
Otherwise my dear, time to practice mounting :)
I have friends who can jump on a 16 hand horse with ease and it makes me sick cause I can't do it. I have a hard time being a bit over weight but I think the best thing that I have seen in practice but because you have a shorter horse that may be a good thing to learn on. Grab on to the neck get a really good grip you can't hurt them they don't have nerves where you are grabbing and stand on the left side facing the horses end and vault your self over trying to hook you right heel over the horses hip and pull yourself up. I know easier said than done I agree. Would love to hear if you get it and how it goes and what works. GOOD LUCK
hehehehe............ I couldnt even get on my 13.2 pony bareback from the ground. Im so unflexible O.o ..........lol! i can barely get my foot in my 15 hand geldings sturrup, let alone his back from the ground! lol, oh, ya, and I'm under 15 years, hahaha.
You guys are funny. I think the one big obstacle that you can get trying to learn how to do it, is the horse. You need a very patient and tolerant horse because you're not only doing something a little weird but until you get you're going to running right into them and grabbing them and doing stuff they don't normally get exposed to
Green Broke
Join Date: May 2009
Location: Winnipeg, Manitoba, Canada
Posts: 4,510
• Horses:
2
So I finally got a few videos to show what I was talking about! It's not so much the "flying swingup" but I call it the "flying mount". I find a lot of horses are snarky about standing nicely next to an object, so I started doing this because it means as long as the horse is within a foot of an object, I can get on.
Haha, so unfortunately I'm a dolt and I actually kicked poor Justus in the butt when I tried it. Good little pony, that never happens but I think when the camera is on you, you always act a little different.
I showed Ashley how to do it as well, and she got it right on the third try!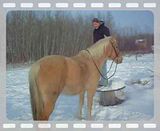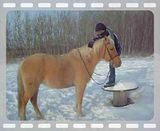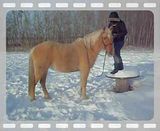 ---
Quote:
I hope God tells her to smash her computer with a sledgehammer.
i had once hopped over a horses rear to get on, but that was so long ago and it could have been a pony as i was a kid at camp at the time. i just got my first horse and am not at all experienced, with a 5 y/o to boot. he had an injury so he lost a lot of muscle so no point in buying a saddle until he regains it. so i have been walking him around bareback. Hes 17HH and i am 5'3", the top of my head is level with the lowest part of his back. hes not the most relaxed horse in the world, but will stand next to something thank god, but just picturing me swinging on to him makes me laugh. i have a "bareup mounting aid" coming soon, made by best friend. its a wide strap that does around where the girth sits, with a iron type thing to put your foot into. im not sure how its going t work but i hope it works well. the last time i went for a ride i slipped off as snow pants and a fur coat act like a water slide, and we were about 2 kms from home so i had a loooong walk back with no stumps and only barb wire on the way home. ill let you all know how it works as i had no luck finding reviews on it before i purchased it.