My Cousin is Finally Getting Back Into Riding
---
My cousin Tamara is finally getting back into horseback-riding with her twenty-four year old Arabian gelding, Mo. About three years ago, Mo stumbled and it tossed my cousin out of the saddle and scared her, and she quit riding... but now she's started up again!
We've ridden together only a handful of times, but not for a long, long time, or very, very far yet, as my cousin is slightly scared still and we're taking it easy on Mo because he has arithritis pretty bad in one of his front legs and sometimes limps.
We rode today for a little while. I took my four year old gelding Dakota because he needs to be ridden a little (he's gotten almost this entire year off).
My cousin and Mo (my cousin is like, 5"3 and Mo is 14.3 hands tall).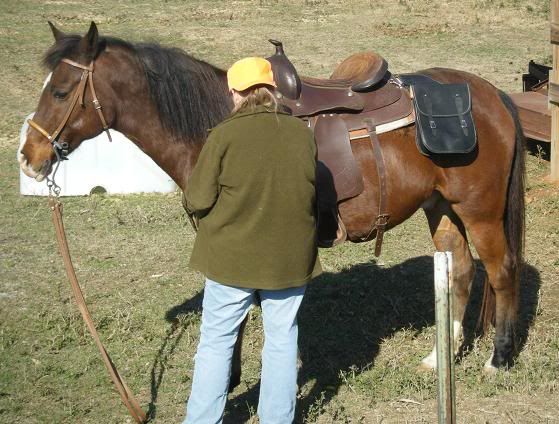 Dakota (he's 15.2/15.3-ish hands tall... and yeah, he's wearing hobbles, I didn't want to tie him with his bridle, so I hobbled him instead)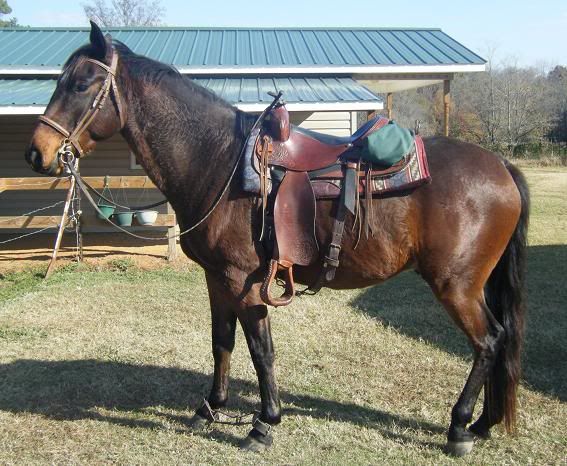 ---
Horseshoe Loop Farm: Home of Gypsie (22 y/o TWH mare), Dakota (10 y/o TWH gelding), Codie (18 y/o Walkaloosa gelding) & Harlow (9 y/o APHA mare)
Hope you guys had fun! That's great she's getting back into riding :)