I agree its offical you are now a real rider because anyone can fall off but a real rider gets right back on again. ; ) If your still sore alternate heat and cold the heat relaxes while the cold actually is what will help it get better at least thats what I have been told by several physical therapist.
---
Amanda
Horses lend us the wings we lack.
"Physiotherapist" - that's a good word.

When the bruising has gone down, when the discomfort has disappeared. Go find a physio. They are to be found in the telephone book.

Stand in front of him or her (they are usually 'hers'), pull out your hanky, put your hand on your back, step forwards saying 'ouch' and say: "I've fallen off me horrrse" in a wounded and pitiful voice (whatever that is).

With luck the lady in the white coat will take pity on you, she will usher you in to her parlour and work bench. She will ask lots of silly questions. Then she will proceed to give you a free session of hands on tender loving care - which most likely will hurt. But its necessary.

Within a weeks or you will be ready to do it all over again.
Hmmm...hope you haven't been hurt too bad. My first fall was 2.5 years ago. I didn't break anything, but I still have almost daily pain in my lower back & hip. Guess it would have helped if I had missed the rocks...
yeah thats what im trying to do. I go t right back on, and i'd like to forget that it ever happened.
Falling off definitely hurts but being fallen ON is even worse! I had a gelding go all the way down on a road with me a few years ago. A horse got loose and I (stupidly, impulsively) chased after it. It went out onto the main road (which was asphalt) and before I even realized how stupid I was, the horse I was riding (who was shod all the way around) fell around a turn and squooshed me. He was alright, luckily he had a soft landing (hehe). Myself, however... I couldn't see straight for a week & couldn't bend my right leg for a while either. However, I was back on a horse the next weekend and I'm actually buying the horse that fell on me next month
The good thing about accidents is we (typically) learn from what we did wrong. It makes you a better and more conscienscious rider. I am cautious even walking down roads now.
---
EQUI
LOVE
ouch! That had to hurt. Im leasing the horse I fell off of xD
Welcome to the
"comes a cropper"
club!!! This is an old English term.....
By the time John C. Hotten published his A Dictionary of Modern Slang, Cant, and Vulgar Words in 1859, the phrase has come to refer to any failure rather than just the specific failure to stay on a horse:
"Cropper, 'to go a cropper', or 'to come a cropper', i.e., to fail badly."
In the field hunt world you aint nobody until you come a cropper in the field. Now, YOU are a SOMEBODY!!!
Seriously, glad you're not any more than dang sore. It is just what happens, now and then. Sounds like you have the grit to be a fine rider.
Again....welcome to the club!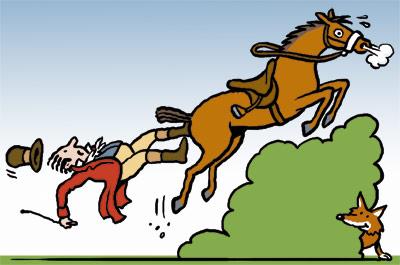 ---
Last edited by Allison Finch; 09-06-2011 at

08:17 PM

.
You're half way there, but you're not truly in the club until the ER doctor's first words to you are "you again?" Glad you were not badly hurt. Next time gravity takes hold, think roll when you hit the ground. Much better results that way!
---
You just have to see your distance...you don't have to like it.
Similar Threads
Thread
Thread Starter
Forum
Replies
Last Post
Another Fall.....

ChingazMyBoy

Horse Riding

57

10-06-2009

09:21 PM

Her first Fall

Dartanion

Horse Riding

6

01-22-2009

05:50 PM

My first fall

wanderlust

Horse Riding

17

01-11-2009

04:27 PM

Fall Fun

Moxie

General Off Topic Discussion

23

10-28-2008

03:36 AM

First fall!

melinda27858

Horse Riding

21

03-29-2008

06:40 PM