Need a bit of help getting back in the saddle.
---
I own a 14 year old Thoroughbred Gelding named Ridge. Since I bought him we've had to move him from one farm to the next. Until now we hadn't found a suitable farm for our needs. Distance has always been an issue for us, but now that we've settled that, the only problem is my fear of getting back into the saddle.

I've been riding for years now and I've had no fears or issues. I ride western and I usually ride on ponies.
I'm not very tall and I have a bit of a fear of heights, so my 15.1hh Thoroughbred feels pretty high up. When I first got him he hadn't been rode in years, so it was groundwork, groundwork, groundwork every week.
Months past and I pulled out a saddle and started to ride. He did absolutely fantastic and I was thrilled with the outcome.
After our first ride I felt more connected to him and more understanding of his fears and short-comings.
But what I was not aware of was the crow-hopping.

I've been on a crow-hopping horse before and I handled it well! Just something inside me freaks out when my horse does it. The saddle isn't foreign to me and I feel absolutely horrible but I just can't bring my self to get back on.
Every time he crow-hopped or bucked I got right back on and rode.
I don't know why I'm so afraid. It's not like this is new to me, but I think I need some tips on how to settle myself down before I attempt to get back in the saddle. He's not a bad horse, it's me that is the problem.
I don't want to get on and scare myself even more.
I've also been reading posts on here and all over the Internet but I decided that making a post was the best idea.

Thanks, Hannah.
---
No Heaven can Heaven be, if my Horse isn't there to welcome me.
I was full-on rodeo bucked off a horse a couple of years ago and it completely shattered my confidence. It didn't help that I fractured my ankle as I came off, and that the mare that threw me was a black and white pinto, which my gelding is also a black and white pinto. I would have panic attacks just thinking about climbing up in the saddle.

So, I finally made a game of it. We had a thread on here called "The Big Girl Panties Thread." I posted in it that I was going to (jokingly) literally put on my big girl panties and ride my horse...and there would be pictures. I got such a HUGE response to actually do it that I decided to go ahead and do it. Wouldn't you know, the moment I concentrated on having fun and not over-thinking getting on my horse, it became easy to ride him.
Posted via Mobile Device
We may need another BGP thread in a month or two
Quote:
We may need another BGP thread in a month or two
I actually think that's a great idea! Heaven knows I'm gonna need all the encouragement I can get with trying to get my beast ready for next show season.
Posted via Mobile Device
Thanks Drafty! I really think that that might help me! (:
---
No Heaven can Heaven be, if my Horse isn't there to welcome me.
Quote:
Thanks Drafty! I really think that that might help me! (:
You don't have to do exactly what I did (heaven knows how ridiculous I looked), but just make it fun. If you tell yourself "I'm gonna ride this horse come hell or high water," you'll fail. Make it less about riding the horse and more about spending time with your buddy.
For giggles, this is what I looked like: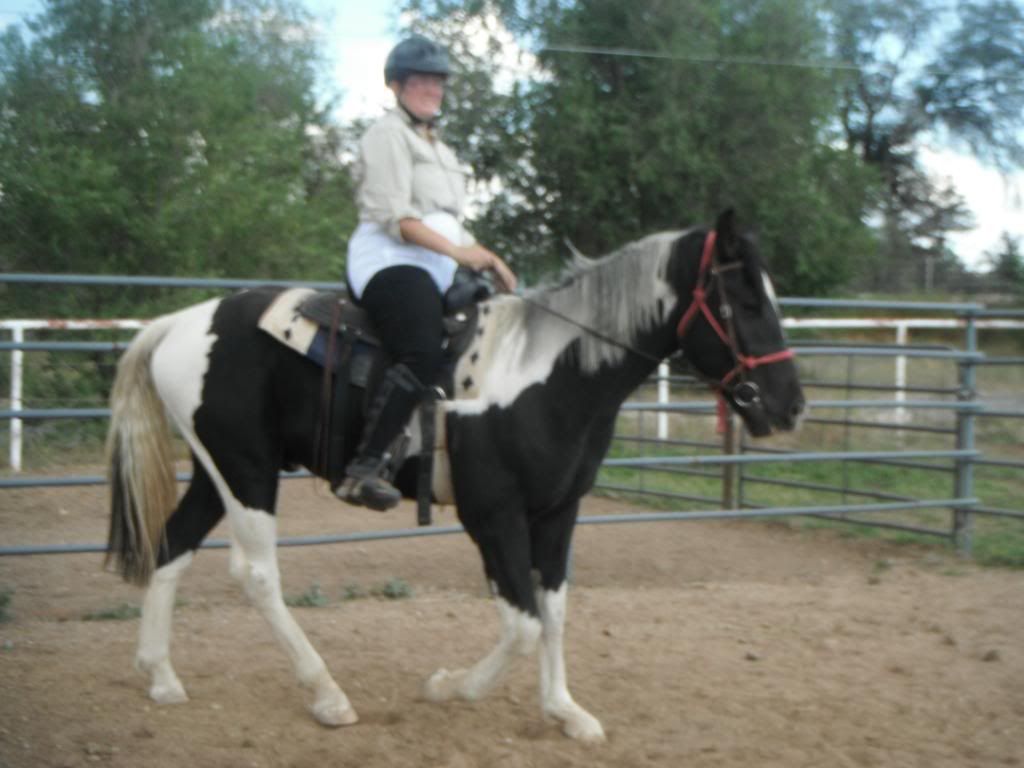 Here's where it gets good, though. I decided to ride back up to the barn (about 100 yards) and my friend (who is a trainer) was pulling a horse for a lesson. She convinced me to ride behind the mare she pulled as she walked her up to the barn so that my gelding could get used to following for trail rides. That mare did not like my gelding apparently, because the first thing she did was pin her ears and kick. Aires did a half rear and pivoted out of the way (she still caught him on the bit, though) and then jogged off out of striking distance. I rode the whole thing out without panicking one bit and was more concerned with him being okay than what had just happened. I rode back up to the barn and dismounted (still replendant in my big ol' white satin granny panties) right in front of my old BO, who is an old school cowboy. I half expected him to make fun of what I was wearing, and he might have, but he was happier that I had actually ridden than he was intrigued by my getup. His pride in my only deepened when my best friend, who was taking the pictures, and the trainer told him how I'd ridden out Aires' spook.
Posted via Mobile Device
I think you have gotten some great advice but I will throw in what I do and you can see if it helps.

When I am on a horse that is nervous or in a situation where I am getting nervous (even when I am no where near the barn ie for a job interview or something) I have a routine that I learned while riding. It calms me and keeps me focused and confident.

So I close my eyes and take a big breath in through my nose. Then I exhale. While exhaling I drop my heals, sink into the saddle, drop my shoulders and exude a posture of relaxation and calm. In my mind I imagine what it is that I want me and my horse to do. Then I take as many breaths as I need to "find my center." I find that even though I might be anxious the body posture change alone will relax my horse and then relax me. I do this routine every time I ride, when I first get on, even when I am on a horse that I trust and I feel great. If I am ever in a situation where my horse is unhappy and I think he might freak, ie a train is coming . I do the same thing and it really helps us get through it!

I hope this helps! Good luck and keep riding!
Drafty, you are still a superstar for that one
Quote:
Drafty, you are still a superstar for that one
For doing it or for being brave (dumb?
) enough to publish the evidence on the forum!
Posted via Mobile Device
SNORT!!! Drafty, you have some BRASS! I haven't met the horse yet that I won't ride but honest to God, I would not have been anywhere near brave enough to put those granny panties on and go out in public.
---