need some help on things
---
so i never had the money to take lesson and it was just the best stroke of lucking the world that i now have a friend that has has horses all her life. i have been riding (western) 3 years +/- and i ride her moms horse who is really sweet but i think she really knows what level you are at. the first time i ever rode her she would just follow my friends mom around and recently she has started challenging me which i what i need help with.
my first struggle is controlling the direction. not as in left or right, but she likes to try and to at a slight angle to move towards home or my friends horse. i try to keep even pressure on the reign opposite to where she is trying to go but she just keeps pulling her head. and if i really want to go the opposite direction from where she wants to go then i have to really pull to turn her. i have tried to use leg pressure to steer but she wants to go faster even with even pressure on the reins. i am trotting while doing this too. i have the same problem in indoors and cutting corners
my other problem i guess we could say is spring fever. with the change of weather she is doing more little bucks when i try to canter (which i am still getting the hang of). and recently (this past sunday) she did a decent size buck throwing me on the neck and i lost my grip of staying on. i am quite sore now but i really want to show her who's boss. i am not the person to fall off at the slightest buck either, i have actually ridden a lot of smaller ones and this was the FIRST time i have EVER been bucked off. now i am not saying the bucks are her challenging me because i have gotten better, but i dont like it and i really want her to stop. even on a lunge line she was doing her little hopping thing. how do i get her to knock it off and respect me. i am not really 'afraid' of the bucks, i get more mad that she is doing it than scared. when she does buck, i get more 'fearless' and i really want to ride it out until she stops, but after being bucked off on sunday, after i got back on i only got to do some walking and trotting. i really want to be able to do a nice canter and learn and get better, but i cant do that if i am riding bucks
at some point i will get a video of my riding (and probably mare hops and bucks) and i will post it.
advice??
*oh and with the cutting corners and gravitating to where she wants to go, she only does it with me. my friend can get her to not do it (or she just doesnt do it with her). my friend did ride her and she was doing her little hops and bucks when asked to canter*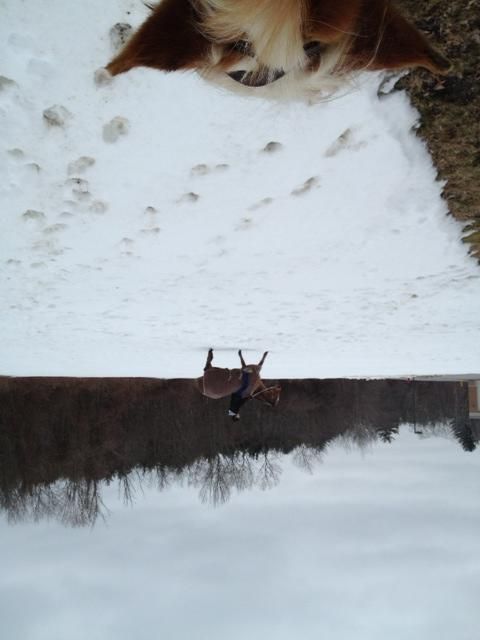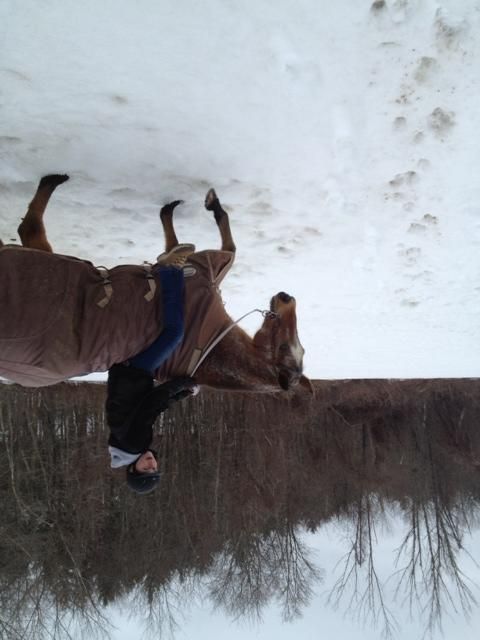 ---
You may be out of my sight, but never out of my mind. ~RIP Angel
---
Last edited by ilovepets; 03-18-2013 at

05:18 PM

.
As far as her gravitating towards home or the other horse and walking on a diagonal - leg pressure is key here. So that she doesn't speed up when given the leg pressure, you need to kind of tighten up on the reins while you apply the leg pressure so that she does not take it as a "speed up" command, but a "move over" command. My gelding does this with any new rider as sort of a way to test them. He knows better with me, but this is a very typical behavior of a horse testing you to see if they can get away with it.
Have you ever tried sidepassing? This is basically where you are asking the horse to move to the right or left, not forward or backwards. You do this by putting leg pressure on your outside leg. Lift your inside leg out from the horse's body a little so to "open up" space for your horse to move over. Keep the reins tight enough that they will not think you are wanting them to go forward. (but not tight enough they back up instead). This may be a good exercise for you to try with her in order to get her listening to your leg pressure better. Start out doing it from standing still. If the horse is not used to doing this, just try for a step or two first, and then release your pressure on the reins and your leg to let her know she did a good job. Then you can work up to more steps!
Sorry i keep thinking of things - You may not be using enough leg pressure to get her to move over. Sometimes it takes more than leg pressure, and more of a "kick" with your heel to make sure she knows you mean MOVE OVER.
i will try working with leg pressure next time i ride. i havent really tried sidepassing. i have done a tiny bit when trying to straighten out next to my friend for the start of out drill we are doing, but we havent worked on it in a while :)

any ideas for the bucking?
---
You may be out of my sight, but never out of my mind. ~RIP Angel
Yearling
Join Date: Oct 2012
Location: Brandon, Manitoba Canada
Posts: 1,045
• Horses:
4
When she tries to turn off and wants to go back, let her turn but then work her butt off in small circles at a trot, then trot her off the direction you were going, she definetly is testing you. I follow Clinton Anderson's method of training/riding, he says make the wrong thing difficult and the right thing easy.....
---
My horses are the joy in my life.....
Hmmm...the bucking could be from a variety of issues...just being a brat, saddle not fitting properly or having soreness, but my first instinct is that she's just being ornery and this is another way to test you and say "no I'm the boss." Start back at the basics. Do a lot of lunging and ground work. If she is already bucking while lunging, you sure don't want to get on her until she is lunging calmly. Don't worry so much about the canter at this point. You need to get her bucking under control before you worry about perfecting your canter. Do a lot of activities at the walk and then the trot when the walk is going good - keep her mind busy. Try walking in a serpentine (kind of an S or snakelike pattern), walk over logs, walk around barrels, etc...Then try more at the trot, then work your way up to a canter. Nerves can also be a factor. If she senses that you are nervous about getting into a canter, then she's gonna feel like she has something to be nervous about too. I'm just throwing random ideas out here, but maybe even start out trying to canter on her with your friend on the lungeline. That way, you can get comfortable with your balance at a canter, and may be more relaxed, causing the horse to be more relaxed as well.
the saddle fits and she is not sore, i think it is just becasue of the warm weather. as for trotting she doesnt buck, only with the canter. i have been lunged on here before and she did little hops, not really bucks. the otherday i think the minis in the pen were influencing her becasue they were bucking also. i will take your advice and try to keep her mind busy when i do ring work next (we usually trail ride). i will try the perpinetines but i might run into her sidestepping problem (thats what it called right?). when we are trotting and i am waiting to go into the canter, i am not nervous. she might be feeding off the slight excitement i have.
---
You may be out of my sight, but never out of my mind. ~RIP Angel
if horse is also bucking on lunge line, this could be due to discomfort. I kinda think it's her just expressing her opinion, but if she's always been good to lunge before, but now is bucking at the canter, with or without a rider, then maybe saddle or back issue is a possibility.

All the things the mare is doing are not seperate things. They are all her carrying out her thought, ignoring your directions. How or where she bows out is not the point. IT's that she is not listening to your application of the rein.
She may just need to have you apply a bit of a spanking to get her to beleive that you mean what you say and you'll enforce it.

that, and if you can do groundwork where you move her around in various directions to get her listening to you.

if you've been riding fro 3 years without instruction, then maybe it's time for you to look into getting some. at the very least , look into some videos. If your friend hasn't been able to help you with this so far, she won't be able to. we can give a small amount of advice over the internet, but it's hard to really teach via electronic print.

Do you want to stay here, where you are with this (and it'll likely get worse), or do you want to put in the energy and find a real teacher and learn some new stuff? Either way is ok, it's what is fitting for YOU.
she is good with around work. i will try using more leg pressure and small circles if she doesnt listen. i will see if i can ride in a indoor because the field is all snowy and we cant lunge there.

i am riding again this weekend, so i will post on saturday or sunday on how it goes.
---
You may be out of my sight, but never out of my mind. ~RIP Angel