I've enjoyed reading this thread. Have to agree with the "tank" description. I've only ridden one draft, lovely Percheron mare, so I am very limited in my knowledge. However, she was wonderful in the walk and canter, but oh my, that trot could loosen my back fillings!

Gotta agree with kevinshorses, would love to have that mare (though I'm sure she's deceased now) but I don't have the same "equipment" to trade!LOL!
---
Be the kind of woman that when your feet hit the floor each morning the devil says, "Oh crap, she's up!".

Started
Join Date: Mar 2009
Location: Middle-of-Nowhere, Illinois
Posts: 2,225
• Horses:
1
If Thoroughbreds are Greyhounds, draft horses are English Mastiffs. That's the best analogy I can give you.
All the drafties I've ever ridden have been like big, round, comfy, lofty, smooth couches. Although my big guy is a bit klunky and clumsy, his trot is heaven. It was really weird the first time I got on my draft colt. I was used to Thoroughbreds and Quarter Horses, and he had a lower center of gravity and a heavier, slower step. But like I said, I could trot on him all day long. :) If you ever get a chance to ride a draft, go for it.
---
"A musician must make music, an artist must paint, a poet must write, if he is ultimately to be at peace with himself.
What a man can be, he must be." Abraham Maslow, 1968

I'm the complete opposite - I've ridden more draft/draft crosses than anything else since I started riding!
As has been said, they do bounce into canter, so that's something you have to remember. And yeah, they're a bit wider (the "tank" description is accurate!!) so a good stretch is advised before you get on board! Oh, and use a mounting block/step - getting a leg-up onto a 17hh Clydesdale is NOT for the faint-hearted!!
Here's a group of us at a place called Cumbrian Heavy Horses in the Lake District - the only dedicated heavy horse riding centre in the country!
(I'm in the middle, in the orange hi-viz, on the
biggest
horse - an 18.2 gelding called Ollie!)
And here's two of us racing down a track!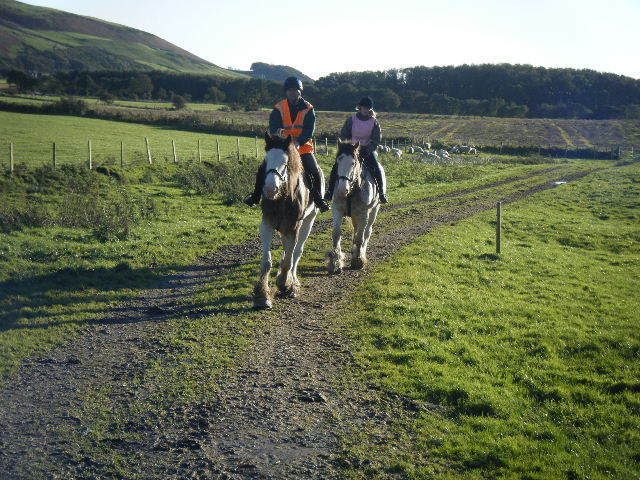 I rode my Sally bareback once - it was like sitting on an armchair.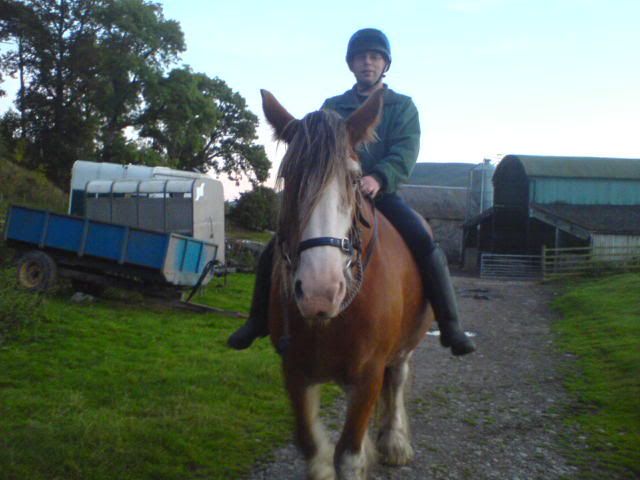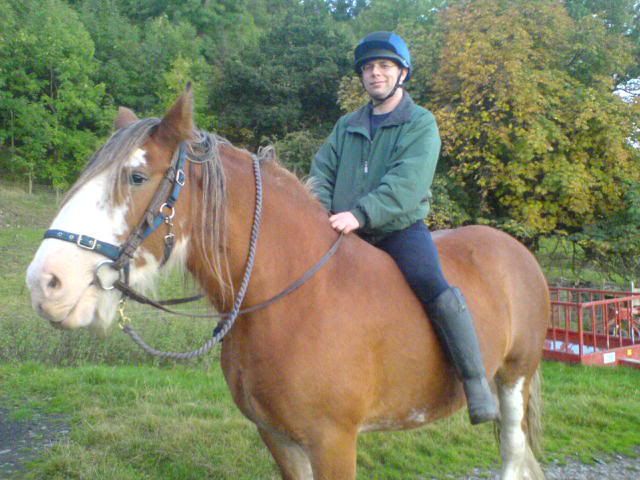 ---
Cheers,

Daren
Wow Daren, those are some awesome pictures.
---
Always remember that feeling of looking at a big, open country over the ears of a good horse, seeing a new trail unwind ahead of you, and that ever-spectacular view from the top of the ridge!!! Follow my training blog:
http://robertsontraining.blogspot.com/
Thanks!
Look for my thread on Clydesdales - there's TONS more!
---
Cheers,

Daren
My Jack (18.3hh shire) is a great ride, everyone who rides him can't help but smile
He's responsive, makes downward transitions in two strides, is forward going and all paces are extremely comfortable - his width and the fact that rising trot means you have a moment of freefall
are the only differences...that and his slow but steady walk!
He looks really nice!
---
Cheers,

Daren
How stunning is he!!! haha would love to see him out doing dressage, you must have mega long legs, such a big horse to keep together!
Quote:
How stunning is he!!! haha would love to see him out doing dressage, you must have mega long legs, such a big horse to keep together!
That's one of our plans...among many! We'll be starting with ridden shire/heavy classes in the shows this season and seeing how we progress!
This is my perch mare! She does everything and anything and is the best money I've ever spent. I got her as a green 4 y/o and now shes doing great in dressage and hunters. Just recently we started schooling flying lead changes and she has picked them up very quickly. Please dont mind my position I'm working on getting it stronger again!