Riding in a halter
---
Hi do any of you ever ride in a halter? sorry if this is a stupid question
. i tried riding in a halter once. And it worked!
That used to be the way I would ride most of the time. If I felt like riding, I'd snap a lead rope on one side, tie it on the other, and hop on. I could gallop with one of my horses with not even a halter or a pad. He was a great horse.
Posted via Mobile Device
I sometimes ride in a flat halter when I'm lazy. Just snip the lead rope on either side and ride like a normal bridle. You don't have much stop and it's very easy to brace against, so I would only ride like that on a horse I was confident would stop in it. You turning also isn't as great as in a normal bridle, but depends heavily on the horse what kind of response you'll get.

I regularly ride in a rope halter. A slightly different beast. You don't ride a rope halter like you ride in a bit. If you know how to ride in one, most horses are pretty responsive. A rope halter is "harsher" than a flat halter.
Yeah I ride in halters all the time! Especially when I'm just messing around.
Actually, when I only have a short time to ride, I just bring a rope and string it around his neck and ride bridleless (a long-sleeved shirt works too! haha!) Since he's trained to neck rein, it's not much different. We can w/t/c like that. I did breeze him once like that but I had a hard time slowing him down so I only do that when I'm feeling a bit stupid
---
Courage doesn't always roar. Sometimes it's the voice at the end of the day that says "I'll try again tomorrow"...
My Arabian actually is better in just a halter and lead rope we used to jump 3 ft with just a halter and lead rope bareback. I miss it he's 25 now and was hurt over the summer he's just getting back into work, but I don't think I will ever get the chance to jump him bareback again with just the halter and lead rope. When I go down to the field to get him I always ride him back halter and lead though.
ill ride my gelding in a halter if im just having a lazy day. My friend jumps her mare bareback in just a halter and shes great! :)
My gelding and I after our lazy ride, we got lazier lol
my friend jumping her mare over a little jump in a halter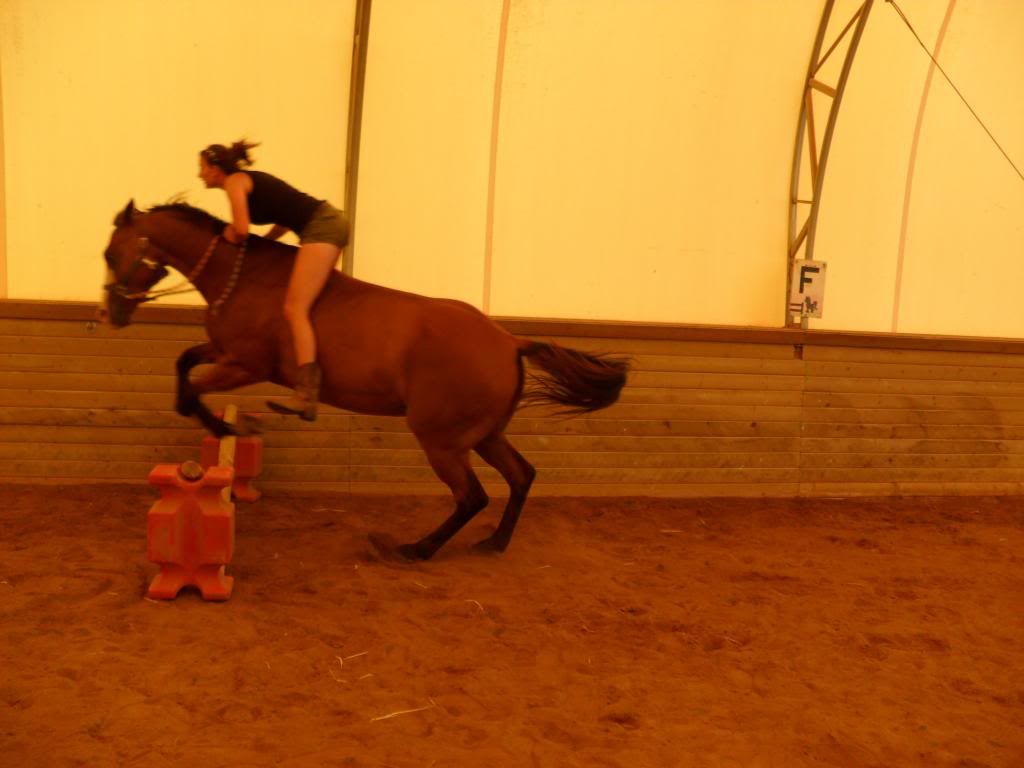 ---
Beauty is not diminished by those who refuse to see, hear,feel or in any way sense it. If you refuse to see beauty its you who is weakened.
Pharly and Shadow refuse to take bits so I ride with a hackamore or a halter. They are both very responsive in a halter.
I often get very lazy. I like to utilize all tools available to me for my horses but sometimes I just get on in the halter and play. Selena in particular responds very well to one, but she is also a reiner that can go completely bridleless too.
---
Pssh.I didn't pick up the wrong lead
It's called a counter canter...
...A very advanced maneuver.
I ride in a rope halter often, my horse also does well in a mechanical hackamore, a sidepull, a cordeo or completely tackless, and we are currently doing a little of bitted training, just for the sake of skills. He was backed in a halter at the age of 4 and has always done great in it, as well as many, many other horses I know who have been started the same way. I love the feeling when you know you don't need any tack and can trust your horse the way he is. :)
And, as others are posting pictures, too...
---
I have come a long way, to surrender my shadow to the shadow of my horse.
/James Wright/
I ride in halter a lot too. I think it's a good break from the bit for my horses and also a "test" of how efficient my leg aides are too!