Having been a feedlot pen rider up here in Allberta, riding in the winter was part of the job. Colder the day, longer we were on the horses. Proper warm clothing that allows freedom of movement is essential. I love my Carhart gear. For footwear I have my winter riding boots, larger size so room for thermal socks. Feedlot horses wore borium shoes and snow pads but that is a huge expense. I now keep my horses barefoot in the winter and compete every weekend.
Like others have said, make sure your horse is cooled out and dried off before you turn them back out after you ride. Sweat blankets work great.
We ride in the winter and have about the same weather as you. We live ND. As long as it's warm enough for us, we will ride, above zero. Usually we walk along the roads but do go into some deep snow too. Just take it easy so the horse doesn't slip or get worked into a sweat
Posted via Mobile Device
I ride year round, I have to feed him year round, so we should get out!
I ride regularly to about 10F, so -12C or so for you. I used to ride with a trainer all winter, in the indoor we went to about 0, or -17, but she did have a propane blower that we could stand them under. I don't really ride at all below 0, that is just too hard to cool out the horse. Our rides also get slower the colder it is, just walking at low temps, but really, just walking is amazing for schooling new skills and makes it interesting. The summer comes and I don't seem to school as much, I just want to get out there. Colder than 0 I do groundwork, or snuggle & scratch :)
As far as what I wear? It is all pretty subjective. In NS, it is probably more humid & wetter than where I am. We have like 0 humidity in the winter. I do wear disposable hand & toe warmers. They can get pricey, but if I don't wear them I stay inside & get mighty cabin fever. I have a wide array of winter fleece & down. I do have to say I resemble the Stay Puff marshmallow man many days.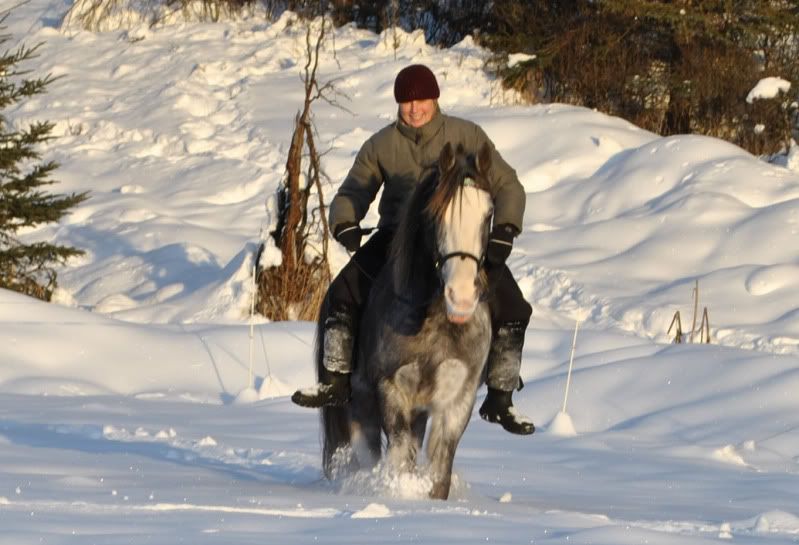 Good luck & just do it!
---
Last edited by AKBarbWire; 10-13-2011 at

04:21 PM

.
For what it is worth from a little island at the far end of the Atlantic currents, there is nothing quite like a ride out on a sunny winter's day with snow lying on the ground. However it is rare over here if the temperature drops below minus 2 or minus 3 centigrade.

Snow is not so much of a problem but ice is and a thin layer of snow over ice can be lethal. If the horse inadvertently slips on ice then a torn ligament can easily result. Take extreme care on the slopes.

We would pack out the feet of a steel shod horse with grease

Dressing the rider up is easy enough, just remember to wear gloves
Dressing up the horse is more complicated but over here we would probably fit a windproof/waterproof rug to keep the horse's body warm.

Most of the ride would be conducted at the walk - but what a lovely walk.

However in Canada, there is that ice cold air, which cools a body down by merely breathing it - Oh - ugh - I'm not used to that and neither is my very fussy mare. Little Britain may be small but it is rarely icey cold.

Enjoy and tell us all about the ride.
As long as there's no wind, riding in the winter can be great. I don't mess with ice, but fluffy snow is great. The deeper it is, the slower you need to go. It's very tiresome on the horse's legs. Only ride in areas you know so you don't accidentally sink into a 4' snow drift. Almost did that one in an area I thought I knew, so now I mostly follow snowmobile tracks. Just make sure to have a fleece or wool cooler handy to dry your horse off completely before turning him back out. Give it a try. Most horses love it.
---
You just have to see your distance...you don't have to like it.
Started
Join Date: Sep 2011
Location: In Sunny, HOT and HUMID S.C.
Posts: 1,517
• Horses:
2
I've never thought about all that. Fall, Winter and early Spring are the best times to ride here. Summers are to brutal to do very much riding except early morning and for short periods. Winters here are great. Even a brutal Winter (might have a night that gets as low as the teens F), there's almost never snow and usually if there is "snow" it = flurry. Nothing on the ground.
I guess instead of complaining about our Summers I should just be even more appreciative of our Winters.
Around here -15 is a normal day.. you don't normally start seeing above 0 until February or so! I let my horse get his full winter coat, and I would definitely ride bareback but he gets a bit frisky in the snow. My horse is also stabled year round with turn-out during the day. I doubt that he'd be worked enough to sweat, just enough to walk around and work on some stuff. :) Thanks for the tips everyone! Keep em coming if you have some more
---
The love for a horse is just as complicated as the love for another human being. If you never love a horse, you will never understand.
Rip Java; May 2000 - February 2012, xoxo
Also, he goes barefoot from December until March, so the snow thing shouldn't be too much of an issue
---
The love for a horse is just as complicated as the love for another human being. If you never love a horse, you will never understand.
Rip Java; May 2000 - February 2012, xoxo
Thinking about this I remembered I had a video from last winter. The 2 younger girls are riding bareback and my wife and I are riding with saddles. I think it just depends on how comfortable you are in your riding whether or not to go without a saddle. Just make sure you know the area you are riding and dress warm.


---
Everyone should be allowed at least one bad habit, and that's NOT owning a horse!
Mares RULE! Geldings drool!
i've ridden in the winter - just dress appropriately and know your terrain.
one of my fav winter pics: